The Miami Design Charrette

Saturday, June 21, 2014 from 7:30 AM to 5:00 PM (EDT)
Event Details
We are pleased to announce the Miami Design Charrette on Saturday, June 21st in the Wynwood Arts District, providing a unique opportunity for young entrepreneurs and environmental leaders to collaborate with current experts on growth plans for Miami-Dade County.
The Miami Design Charrette invites locals to shape a vision for smart and sustainable growth across Dade county, offering key strategies to cope with the imminent threats of our time: rising seas, diminishing resources and an increasing population. Workshop participants will consider how to accommodate the county's ever-growing population, while continuing to protect vital environmental resources and providing residents with higher quality of life.
We will open the Charrette with a morning bike tour of Wynwood led by Wynwood Mural Tours (BYOB - Bring Your Own Bike!), and we will close with a social happy hour at Gramps Bar. A nominal fee of $12 covers all seminars and workshops in addition to breakfast and lunch; larger donations will enable interested students and disadvantaged citizens to attend. For more information and sponsorship opportunities, please contact Celeste De Palma at outreach@tropicalaudubon.org.
Miami Design Charrette — Environmental Leadership Skills Applied to Miami's Challenges in Resiliency and Sustainability
Sat., June 21st, 2014 8 AM - 5 PM | The Light Box — Wynwood 
7:30 AM                Registration opens
8-9 AM                  Wynwood Mural Tour: Bike Tour of Wynwood (BYOB: Bring Your Own Bike)
9-10 AM                Continental Breakfast & Video Presentation
10 AM-12 PM        Presentations + Q & A                                                                           
                             Opening Remarks + Goals
                             What is the problem — Sustainability vs. Resiliency
                             Current Practices — MDC in growth, transit and climate change
                             What can we do about it? — Regional look into the future
                             Best Practices around the World — Why not Miami?
                             Businesses Must Lead the Way!
12-1 PM                Lunch
1-1:20 PM             1 Picture Is Worth a 1,000 Words 
1:30-4:45 PM         Charrette Design Focus Groups (see below for map)
                             1)    Central (Miami-Downtown-Wynwood)
                             2)     Coastal Corridor (Eastern Coast-Beaches-Key Biscayne)
                             3)     Southern U.S.1 Corridor (MetroRail Corridor)
                             4)     North Inland Miami-Dade County
                             5)     Sweetwater-Doral (Everglades edge)
                             6)     West Kendall-Homestead
4:45-5 PM             Close + Next Steps                                                                                         
5-7 PM                       Happy Hour @ Gramps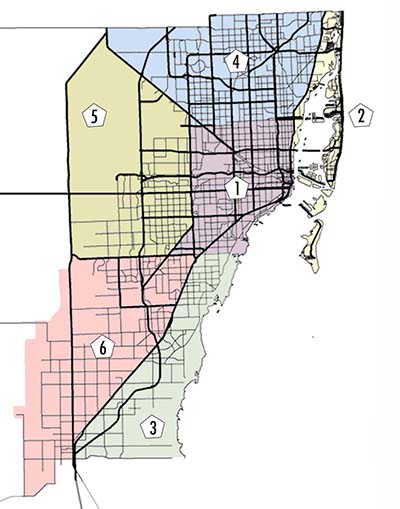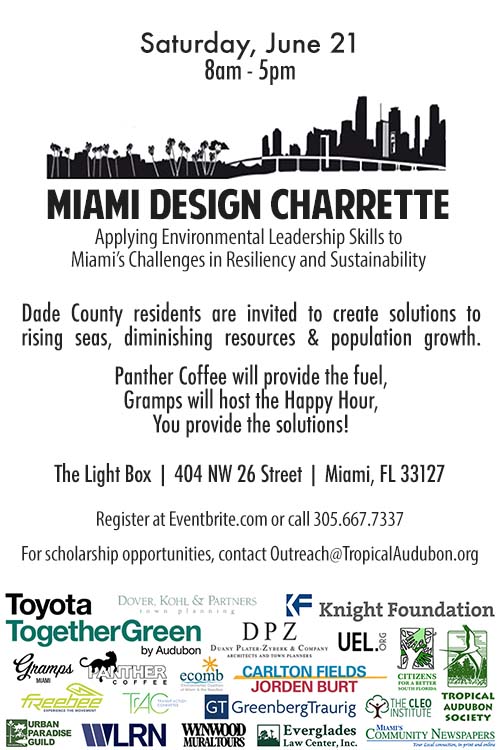 When & Where

The Light Box
404 NW 26th St
Wynwood, Miami, Florida 33127


Saturday, June 21, 2014 from 7:30 AM to 5:00 PM (EDT)
Add to my calendar
Organizer
Tropical Audubon Society (TAS) is a 501 (c) (3), non-profit organization that endeavors to conserve and restore natural South Florida ecosystems, focusing on birds, other wildlife and their habitats through advocacy and education for the benefit of biological diversity and humanity itself. TAS is a chapter of the Florida Audubon and the National Audubon Society.
Florida International University (FIU) - As Miami's first and only public research university, offering bachelor's, master's, and doctoral degrees, FIU is worlds ahead in its service to the academic and local community.Designated as a top-tier research institution, FIU emphasizes research as a major component in the university's mission. 
Carlton Fields Jorden Burt serves business clients in key industries across the country and around the globe. Through our core practices, we help our clients grow their businesses and protect their vital interests. 
Coffey Burlington - For more than 35 years, Coffey Burlington's lawyers have dedicated themselves to advocating for a diverse multitude of individuals and businesses in state and federal courts throughout Florida and the United States. Service, Integrity, Results. By providing the best service possible, with integrity, we help our clients achieve the results they desire.
The Everglades Foundation is a 501(c)(3) non-profit dedicated to leading efforts to restore and protect the greater Everglades ecosystem. Since its founding in 1993 by a group of local outdoor enthusiasts, the Foundation has become a respected and important advocate for the sustainability of one of the world's most unique ecosystems.
Greenberg Traurig helps clients bridge diverse legal systems and cultures, with a focus on efficient and effective strategic advice and legal services.
Knight Foundation supports transformational ideas that promote quality journalism, advance media innovation, engage communities and foster the arts. We believe that democracy thrives when people and communities are informed and engaged.
Toyota TogetherGreen (TTG) - A partnership between Audubon and Toyota to fund conservation projects focused on innovation, leadership, commitment to community and dedication to diversity.  To date TTG has trained more than 450 conservation leaders. In turn, they have mobilized more than 300,000 people to reduce energy use, protect wildlife habitat, and improve water quality in every state in America.