Location
Sheraton Miami Airport Hotel & Executive Meeting Center
3900 Northwest 21st Street
Miami, FL 33142
TMC is the go-to comic book show in stunning South Florida in February! Created by & Dedicated to fans with an Old-Time Comic Con Spirit!
About this event
We are back for the Winter Classic !!! Local and nationally recognized Comic Book Vendors and Creators will be attending.
TMC3 Comic Book Artists & Social Media Guests!
Our Comic Book Artists and Social Media Guests include:
Jeff Dekal, Dan Fraga, Shawn Crystal, Andrew MacLean, Eric Bonhomme, Alexis Ziritt, Ralph Cabrera, Greg Kirkpatrick, Dan's Sketchart, Natan Melendez, Chris Conidis, Legend, Andres Labrada, Papa Likes Comics, The Shiek of Snapper Creek Porterhouse Papi and ....the Simply Sensational Jennifer Van Damsel - !!!
TMC3 Comic Book & Comic Art Dealers:
Miami Con 3 Exhibitors (What a Line-Up!!): Hiram's Collectibles, TFTV, Borderlands, Heroes Aren't Hard To Find, SuperWorld Comics, Dave & Adams, Mike Carbonaro, Tomorrow's Treasures, A&M Comics & Books, Dr. Comics, Nick GQ Comics, Design Crafters, Past Present & Future, Nerdy Girl, Goblin's Heist, Glen Cohen Books, Carlito's Comics & Collectibles, KnowWhere Comics, Zoso Comics, LP Comics, Steve-O Comics, Mike O'Reilly Comics, Flash GCT, Eddy Cespedes Comics, Miami Trader and Jersey Jack Pinball - !!!
ADMISSION IS JUST $5 - WHAT ELSE CAN YOU DO FOR 5 BUCKS ?!?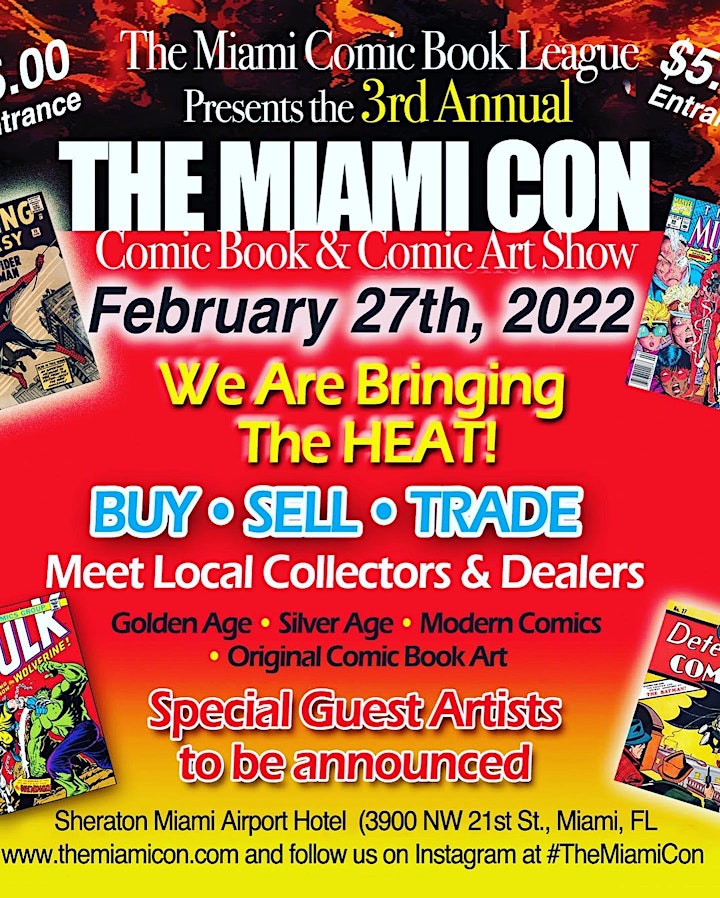 SPONSORS OF THE MIAMI CON INCLUDE:
Edward Enis and Crammo Corp.
Michael Farrar, Esq. - Michael J. Farrar, P.A. Real Estate and Probate Law