Description
THE METROPIA EXPERIENCE CHICAGO LINEUP & PERFORMANCE SCHEDULE: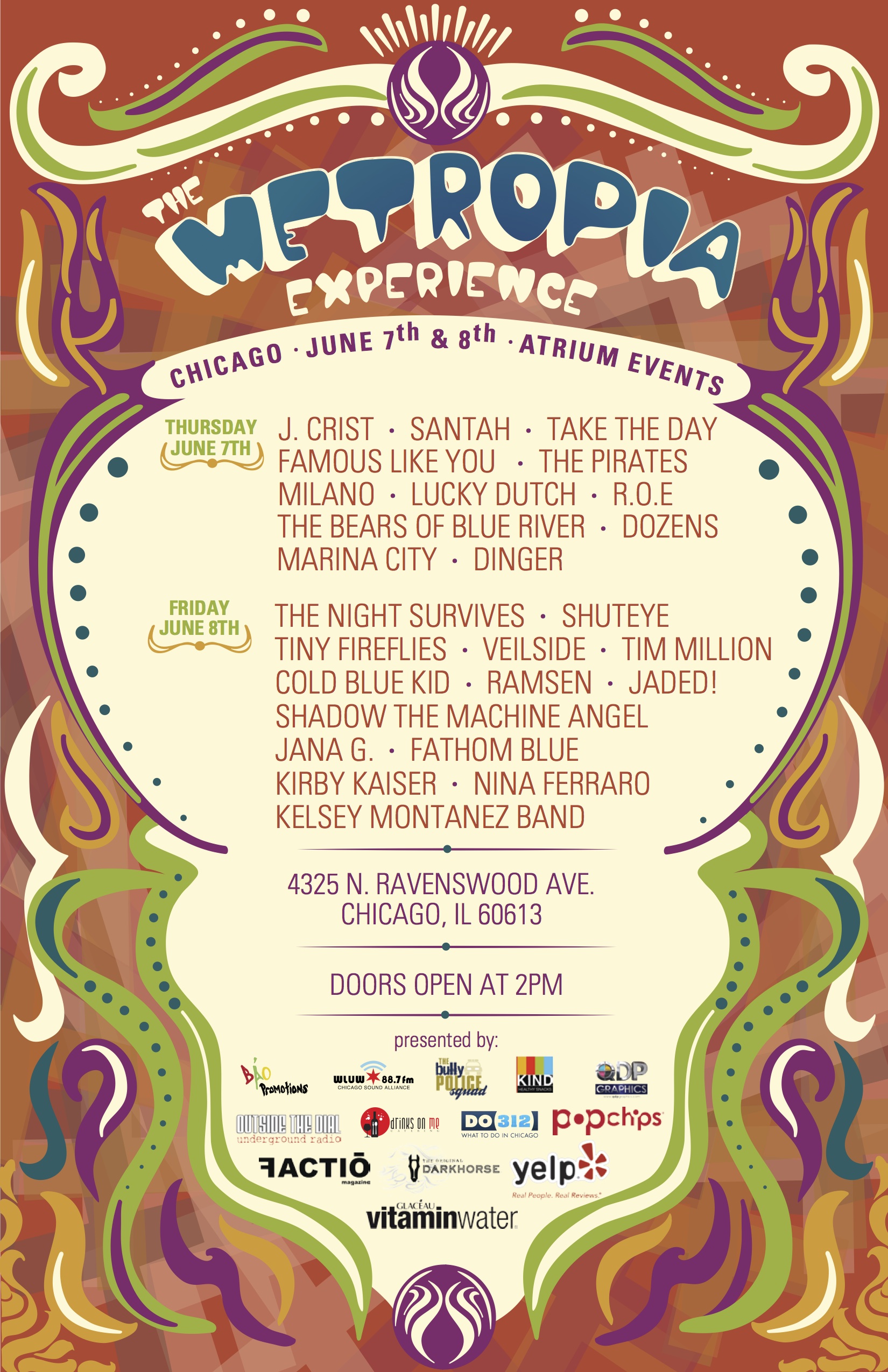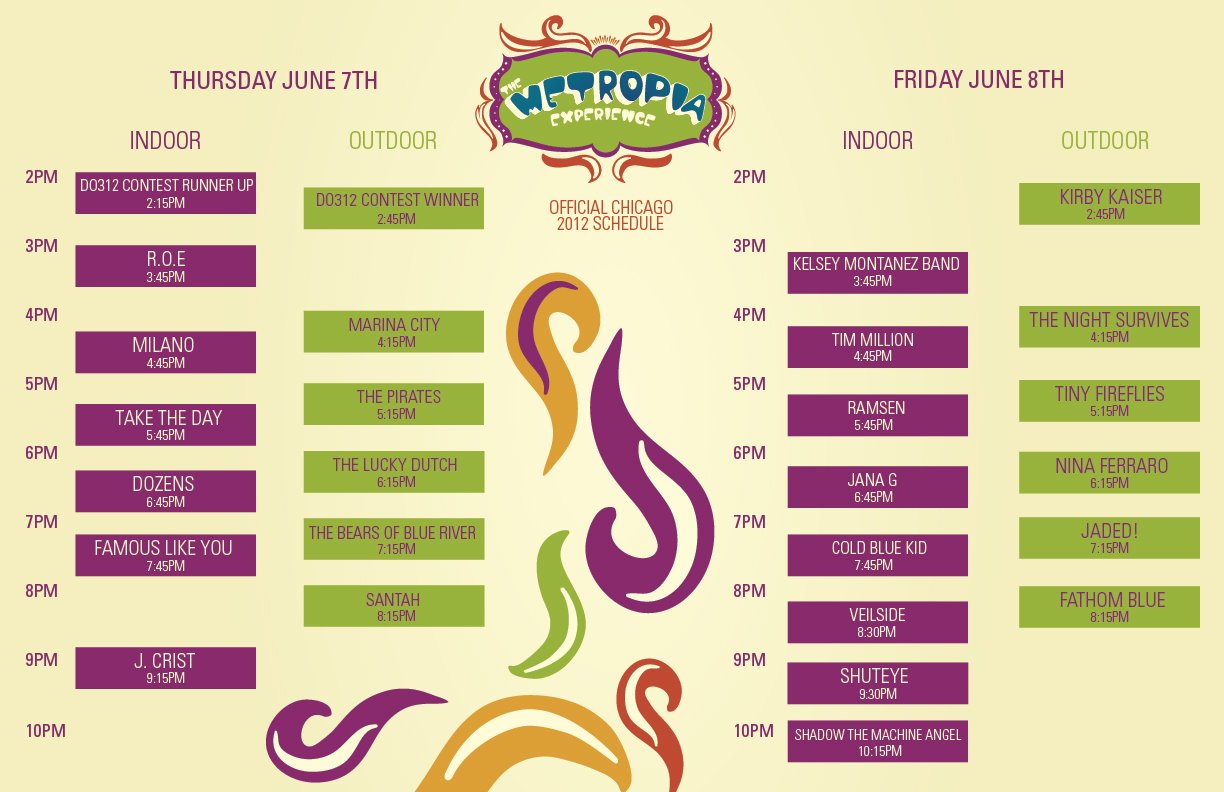 Do you ever go to a city and wonder, what's this place all about? METROPIA answers this question to the core!

This event experience delivers an original approach to a city's artists, musicians, food fare and innovations in technology... ALL in one space. METROPIA features stand-out regional bands in the underground jam community and live-electronic scene.

The Experience hosts METROPIANS to a variety of music genres ranging from rock and roll, DUBSTEP, Indie Pop, Indie Rock and more. Music aside, culture and charitable causes unique to the host city play a significant role.

Join The METROPIA Experience Chicago June 7 & 8, 2012
Visit www.themetropiaexperience.com for more details
Follow METROPIA Chicago on Twitter:
https://twitter.com/#!/MetropiaChi
LIKE METROPIA Chicago on Facebook:
www.facebook.com/METROPIACHICAGO
EVENT DATES:
JUNE 7TH 2:00-10:00pm
JUNE 8TH 2:00-11:00pm
IMPORTANT NOTE: The METROPIA Experience Chicago is a limited admission event, selling only a limited number of tickets. Be sure to purchase your tickets in advance to ensure your admission to the festival. Once we reach our capacity, we cannot allow any additional people in! Everyone with a ticket will be guaranteed admission. Walk Up Sales will be available based on capacity and on a first come first serve basis. NO CHECKS ACCEPTED!!!
Customer Service Information: Should you need any assistance with your order, please send us an email to info@baopromotions and someone will return your email within one business day.

Ticket Delivery Information: Upon completion of your ticket purchase, you will receive a confirmation e-mail. We will require ID upon your arrival to METROPIA in order to issue you an event bracelet. Each attendee will only be issued 1 bracelet and your name and ID will be cross referenced at our WILL CALL booth.

Refund/Return Policy: The METROPIA Experience Chicago takes place rain or shine. All ticket purchases are final, we are unable to refund any ticket sale purchases. Should an act of God prevent the event from taking place, refunds for the full value of the ticket (minus the small processing fee) will be issued.

Privacy Statement: When purchasing tickets to The METROPIA Experience the purchaser is required to provide us with the information necessary to process their ticket order: name, address, credit card number, and other information required by Eventbrite, the official ticket company for The METROPIA Experience Chicago. Eventbrite uses the personal data information you provide to answer your question or resolve your problem. The METROPIA Experience Chicago,and our affiliates also use this information to help us improve the content and functionality of our websites, to better understand our customers and markets, and to improve our products and services. The METROPIA Experience Chicago and our affiliates may use this information to contact you in the future to tell you about products or services we believe will be of interest to you. If we do so, each communication we send you will contain instructions permitting you to "unsubscribe' from receiving future updates, promotions or information.