The Men's Sexual Mastery Forum

Thursday, 26 March 2020 from 19:00 to 23:00 (GMT)
Event Details
BECOME AN UNFORGETTABLE LOVER
DO YOU WANT TO
Attract your dream woman and keep her satisfied and happy?

Pleasure a woman beyond anything she's ever experienced?

Reach levels of sexual intimacy and pleasure that you didn't know were possible?

Approach every aspect of sex and love with clarity and confidence?

Open your heart fully to your current or future partner?

Claim your masculine energy and feel confident and powerful in your sexuality?

Become an unforgettable lover?
Love and sex are becoming increasingly confusing if you are a man in the world today. With movements like #metoo, feminism and daily news reports about how some guy is in trouble for the way he interacted with a woman - many men are becoming paralyzed in their love and sex lives because they don't know how to relate to women anymore, worried that they may say or do something that won't be well received. 
The dynamic between men and women has changed drastically over the last couple of decades. Women are taking on more of a masculine role and becoming more sexually empowered and men are scratching their heads, wondering what their role is now in this new dynamic. There are tons of support systems out there for women, for their sexuality, for their empowerment - but next to nothing in this area for men. Additionally, most of the world seems to be trying to disempower or demonize men and masculinity. So, where does this leave men? 
The sex lives of most men are stuck on a flat-lined, numbed out loop.


Here's how this loop plays out:
Boys are raised to believe that you shouldn't connect to yourself or your feelings. 

But you should also know your purpose in life, even though that purpose can only be known if you know yourself and understand your feelings.

But that's ok - you can just pretend! Just pretend to know your purpose and have your shit together in life and it's no pressure at all to be feeling one way and acting another.

Also, get a lot of chicks because if you get a lot of chicks then you have a lot of value, even though that value doesn't actually make you feel like you have any value.

OH, and don't fall in love because that's for pussy's.

And in case you didn't know, love is a basic need like food, shelter and water - so when you feel the extreme pain of loneliness and emptiness just jerk off to porn so you can disconnect from the pain and fill that complete void of total unfulfillment that stems from lack of love and lack of full, true self expression with one millisecond of pleasure before going back to living life as a "man". 

Seems easy enough.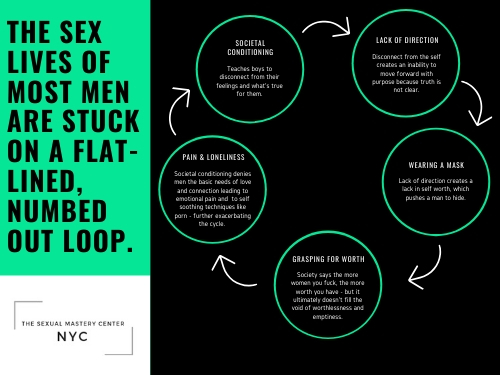 We are told that men aren't supposed to explore their sexuality or their masculinity fully and freely. They aren't allowed to connect to their heart. We are told that men should never admit to any weakness, let alone sexual uncertainty or dissatisfaction. And they should NEVER, under ANY cirucmstances - talk about their sexuality with other men! The fact of the matter is that men are experiencing the exact same issues, hang ups and insecurities in their sex and love lives and the truth is - a man is powerful when his dick, gut, heart and head are all in alignment.
Passion, power, love and logic.
It is the mission of The Men's Sexual Mastery Forum to free men from this closed and narrow view of love, sex and masculinity that directly cuts off their true potential as lovers and ability to create a powerful tribe & brotherhood - causing suffering. To connect men back to the essence of life. Sexual energy is our life force. We are created through it and we are never more alive then when it is flowing fully through our bodies. Allowing this aliveness to spill into all other areas of life, love and success.
What to expect: 
The Men's Sexual Mastery Forum was created by Justina Victoria - Men's Sex Coach, founder of Sexual Mastery NYC (www.sexualmasterynyc.com) and host of "So Hard: A Podcast for Boys" on Itunes. 

This event is for straight men, whether single or in a relationship, who want to grow their knowledge of sexual dynamics, expand their capacity for intimacy, broaden their masculinity and develop their ability to connect to women. Since men are conditioned to fear speaking about their sexuality around other men, this forum is set up in a way to make those attending feel relaxed and for men to come together in the spirit and trust of brotherhood.
No nudity or sex. Think personal development seminar in an Irish Whiskey Museum. Justina will be presenting the knowledge and expertise she has given to her clients to powerfully upgrade their sex and love lives. 
The Men's Sexual Mastery Forum is an opportunity to learn new concepts about love and sex that will lead to greater fulfillment and power within. 
7:00pm When you arrive, you will be ushered into the whiskey tasting room, where you will be offered to taste 3 types of whiskey (included in the ticket price) while waiting for the event to start. 

7:30pm The Men's Sexual Mastery Forum begins with Justina's opening talk. The event will last until 11pm. 

Taking place on March 26th, a Thursday, keeping your work schedule open and your weekend free to immediately start implementing the tools you will take with you from this powerful event.


A Message from Justina:
Attending this event will do a world of good for any man. It will create brotherhood, something seriously lacking in our society today. It will open the discussion on how men are constantly being told that they are wrong or bad - being used as society's punching bag. It will connect men back to the essence of their integrated, healthy and nourishing masculine energy, increasing the ability to experience confidence, pleasure and connection, not just with women but in all areas of life. 
I welcome you. 
Save This Event
When & Where

The Irish Whiskey Museum
119 Grafton St.
D02 E620 Dublin
Ireland


Thursday, 26 March 2020 from 19:00 to 23:00 (GMT)
Add to my calendar
Organiser
Justina Victoria is a Men's Sex Coach and founder of Sexual Mastery NYC. 
She coaches men to create the mind-blowing sex and intimacy they crave and she and uses her vast knowledge of love, personal development, relationship dynamics and human sexuality to help men and women understand each other. 
​
Justina is a certified Sex, Love & Relationship coach through The Tantric Institute of Integrated Sexuality, trained by Layla Martin, world renown sex coach. She also studied under Marisa Peer, voted Britain's best therapist. 
​
Her expertise include:
​
Sexual confidence

Pleasuring your partner with ease

Performance anxiety & penis size insecurity

Dependence on porn

Healthy relationships

Finding purpose

Healing after heartbreak or divorce

Deepening love & intimacy
​
In her years of experience, Justina has encountered and helped men remedy a myriad of issues preventing them from living their most fulfilling sexual life including: 
​
Lack of confidence with women

Sexual shame

Fear of commitment 

Communication 

Purpose

Wanting to feel more during sex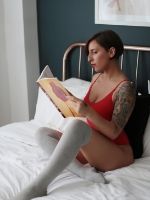 To learn more about Justina, visit www.sexualmasterynyc.com