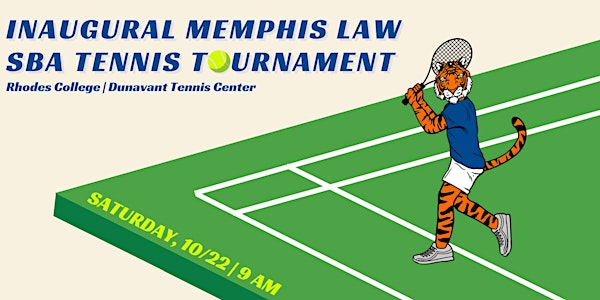 The Memphis Law SBA Inaugural Tennis Tournament
Join the Memphis Law Student Bar Association for our biggest fundraiser of the year!
When and where
Location
Dunavant Tennis Center 2000 North Pkwy Memphis, TN 38107
About this event
The Memphis Law SBA Inaugural Tennis Tournament
Join us on October 22nd at the Dunavant Tennis Center at Rhodes University!
Co-ed Round Robin Tournament | Prizes for 1st, 2nd, and 3rd place and more!
PLAYER INFORMATION: please arrive by 8:30am to warm up and enjoy light pre-game refreshments. Your ticket includes food and drinks throughout the day, the tournament t-shirt, and tournament merch.
ATTENDEE INFORMATION: please arrive anytime after 9:00am. Your ticket includes lunch and drink. Ticket prices increase to $15 at the door.
*Play at your own risk*
Frequently Asked Questions:
Is the tournament for men and women? Yes! All are welcome to participate.
Do we sign up as a team or an individual? Just sign up as an individual and we will take care of the rest! This is a doubles tournament, but you will be added to a bracket and set up with a new partner every round.
What is a Round Robin Tournament? A round robin tournament is a style of tournament where every player plays against every other player over the course of the tournament, and the winner is determined by calculating which player has won the most matches overall.
How many rounds of tennis will we be playing? Since this is a round robin tournament, there will be six (6) 25 minute rounds, BUT each player will only play four (4) rounds and have two (2) byes.