Location
The Farm SoHo
447 Broadway, 2nd Flr
New York, NY 10013
Description
The Meeting of the Minds: A conversation with South Africa's Enterprising Next Generation.
---
​​​​In celebration of the 40th anniversary of South African Youth Month, Ndosi Strategies, our sponsor Brand South Africa, and partners invite you to join us for the 1st Annual Meeting of the Minds: South Africa's Enterprising Next Generation - to be held on Saturday June 25, 2016 at the Farm Soho in New York City.
Come engage with South African youth entrepreneurs, both U.S. and S.A based-- from a variety of industries, including; fashion, STEM, business, and finance (to name a few) as they convene in New York for a discussion on their business ventures, the youth's roles in South Africa's development, and the entrepreneurial movement as a tool to move the country forward.
Moderated by: Yolanda Sangweni, Deputy Editor of ESSENCE.com, and Founder of AFRIPOP!
KEYNOTE address by international branding & business expert, the founder of the award-winning African brand and reputation advisory firm, Brand Leadership Group.
Mr. Thebe Ikalafeng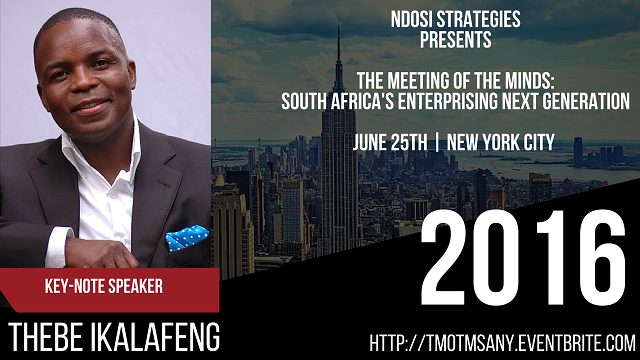 The conversation will be followed by a reception with appetizers and wine.
You can now read more about our participants at :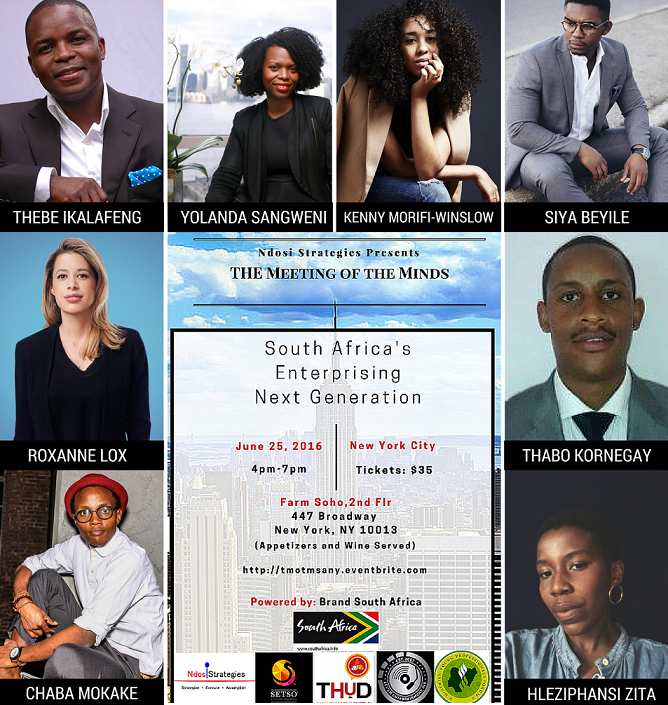 Reception includes appetizers and wine.
You can learn more about our participants at:
For partnership and sponsorship opportunities contact: Yoliswa.Cele@ndosistrategies.com