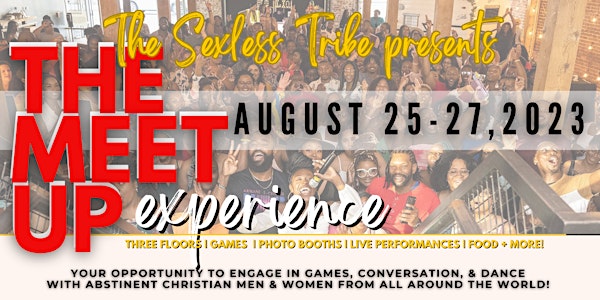 THE MEET UP EXPERIENCE
THIS IS YOUR OPPORTUNITY TO ENGAGE IN GAMES, CONVERSATIONS, & DANCE WITH CHRISTIAN ABSTINENT MEN & WOMEN FROM ALL AROUND THE WORLD!
Date and time
August 25 · 7pm - August 27 · 7pm EDT
About this event
**** VENUE ADDRESS WILL BE EMAILED WITH TICKET CONFIRMATION EMAIL ****
 CLICK HERE TO VIEW EVENT PAGE
The Meet Up is not an event, it's an EXPERIENCE. It presents a unique opportunity for you to engage in games, conversations, & dance with abstinent, Christian men & women from all around the world! Too often those who are living an abstinence lifestyle feel alone, like they are the only ones who have stayed committed to this lifestlye. Truth is, there are so many abstinent Christians, but they are spread out across the world. The Meet Up Experience's goal is to gather everyone in one space creating the opportunity for romantic connections & new friendships to be made. Grab someone & head to the photo booths to take some photos & videos, head to The Game Room to interact in some playtime, hang out on the rooftop for some in-depth conversation accompanied by a live saxophonist or hit the dance floor as the DJ plays live music. You don't have to live this abstinence lifestyle alone, there is an entire Tribe waiting to meet you! The space and opportunity is being created. Will you take advantage by attending The Meet Up Experience?
8/25: PRE MEET UP: Before The Meet Up Experience join us at The Pre Meet Up. This is your opportunity to meet some of the people that will be attending The Meet Up Experience the following day. Be ready to engage & interact with The Tribe!
8/26: THE MEET EXPERIENCE :
FREE PHOTO BOOTHS WITH PRINTED PHOTO STRIPS
GAME ROOM
ROOFTOP
FOOD BARS WITH UNLIMITED DRINKS
CUSTOMIZED KEEPSAKE
OFFICIAL MEET UP T-SHIRT
LIVE DJ
LIVE SAXOPHOIST
LIVE PERFORMANCE
No Children Allowed. This event is for adults 21+
THE VENUE
The Meet Up will take place in the heart of Atlanta's Centennial Olympic Park District. Upon arrival you will enter in on The Main Floor, an open & airy space with original hardwoods, exposed brick, & warm natural light. From there you have the option to take the elevator up to The Rooftop Terrace, an intimate open air space with a captivating panorama of the Atlanta skyline, or go downstairs to The Cellar, featuring stone walls & whimsical lighting. The venue is Wheelchair accessible via The Cellar elevator.
LIVE DJ
DJ Earl The 3rd will have you singing your heart out to your favorite Maverick City song & dancing to the hottest Christian Hip Hop, Soca, & Reggae music.
FOOD + DRINKS : The Hot Food Bar will be stocked with a variety of hot & delicious food! Try as many dishes as you want & enjoy ! Unlimited Soft Drinks & Water
HOT NOODLE BAR:
Classic Lo Mein Noodles, Sesame Ginger Chicken, Stir Fry Beef, or Vegetable Stir Fry
Served with chopped peanuts, cilantro, sesame seeds, and gochujangofu.
TACO BAR:
Flour Tortillas, Fajita Chicken or Blackened Fish
Toppings: chipotle slaw, jalapeños, cotija cheese, sour cream, cilantro cream sauce, lime wedges
House-made tortilla chips, salsa, & fresh pico de gallo
8/26: POST MEET UP: The Meeting Up doesn't stop at The Meet Up Experience! After The Meet Up Experience, we will change into our Meet Up t-shirt & meet up at a location for The Post Meet Up ( location will be later disclosed ). This will extend the opportunity for us to interact & get to know each other even more.
PAYMENT PLAN OPTIONS | Don't let money stop you from attending!
The Meet Up Experience is an answered prayer for many who have been praying for like minded friends, accountability partners & a romantic connection. The goal is to allow as many people as possible to attend because when will they have the opportunity to be amongst abstinent men and women, of all ages from around the world again? If finances is an issue for you, check out the options below that can help you fund your Meet Up Trip!
PAYING FOR YOUR MEET UP TICKET:
PAYPAL CREDIT: Available at check out when purchasing your Meet Up ticket. You will pay them back once a month for 6 months or once a month for 12 months.
PAYING FOR YOUR LODGING OR TRANSPORTATION:
THE APP ZIP (FORMERLY KNOWN AS QUADPAY ): Will pay for your lodging accommodations & or plane ticket. You will pay them back in 4 installments every two weeks.
THE APP KLARNA: Will pay for your lodging accommodations & or plane ticket from their vendor list & you will pay them back in 4 installments every two weeks.
AFTERPAY: Will pay for your lodging accommodations & or plane ticket. You will pay them back in 4 installments every two weeks.
WE CAN'T WAIT FOR YOU TO JOIN US AT THEE GROUND BREAKING, TRAILBLAZING, CULTURE SHAKING, MEET UP EXPERIENCE!