Description
Susan Burton was incarcerated six times, after which she began to rebuild her own life and then started helping others in the Los Angeles neighborhood where she grew up. She describes this journey in her memoir, Becoming Ms. Burton: From Prison to Recovery to Leading the Fight for Incarcerated Women.
Susan Burton is now the founder and executive director of A New Way of Life, a nonprofit that provides housing and other support to formerly incarcerated women. She is a nationally known advocate for restoring basic civil and human rights to those who have served time in prison.
Ms. Burton received the 2010 Citizen Activist Award from the Harvard Kennedy School of Law and in 2015, on the 50th Anniversary of Selma and the Voting Rights Act of 1965, she was named by the Los Angeles Times as one of eighteen New Civil Rights Leaders in the nation.
Ms. Burton has been a Starbucks® "Upstander," a CNN Top 10 Hero, a Soros Justice Fellow, a Women's Policy Institute Fellow at the California Women's Foundation, and a Violence Prevention Fellow with the California Wellness Foundation. She lives in Los Angeles.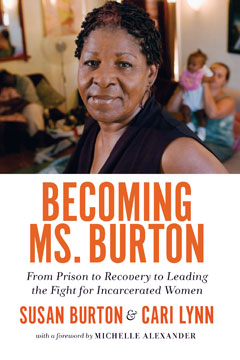 Ms. Burton has been featured on national television programs and major news outlets like The Daily Show with Trevor Noah, CNN, and PBS. Read (or listen to) her NPR interview on Fresh Air with Terry Gross.
"Day in and day out, Susan is always there, welcoming women returning home from prison, providing them with as much support and guidance as possible, and walking with them into the courthouse. Over and over again. Like Harriet Tubman, who famously helped to build the underground railroad for runaway slaves who yearned to be free and reunite with their loved ones, Susan has committed her life to helping those held captive today make a genuine break for freedom, attempt to rebuild their lives and families, and hopefully begin to heal from the trauma of it all."
- Michelle Alexander, author of The New Jim Crow
Donate a copy of Susan Burton's book to a local woman in prison: The evening before Speak Your Peace, Susan Burton will be speaking and signing books at the Swannanoa Correctional Center for Women. We would like to provide a copy of Susan's book to each of the 366 women incarcerated there. Special edition books for incarcerated women are provided by the publisher for $13 each. You can make a donation of any amount at the "Tickets" button above. Donations are tax deductible.
Click here to learn more about The Mediation Center's re-entry work with the Swannanoa Correctional Center for Women.

Questions? Contact The Mediation Center at info@mediatewnc.org
Click here for directions to the Ferguson Auditorium on AB Tech's Asheville Campus.