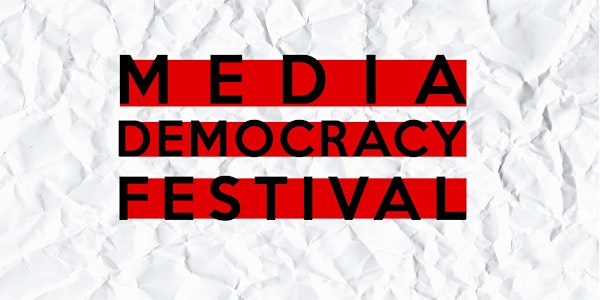 The Media Democracy Festival 2019
When and where
Location
Birkbeck, University of London, The Clore Centre Torrington Square London WC1 E7JL United Kingdom
Description
The Media Democracy Festival brings together media democracy campaigners, journalists, researchers and citizens to take part in discussions on a range of issues from challenging bias to confronting Islamophobia and from how we can take on the tech platforms to producing a media manifesto for the next election. It has a fantastic range of speakers and workshops throughout the day.
The Media Democracy Festival is about imagining a media that informs, represents, and empowers us, and planning how we get there.
This year the festival is growing so that more people can attend. Our aim is to build a diverse and powerful movement for Media Democracy in the UK.
Speakers: Ash Sarkar, Owen Jones, Dawn Foster, Clive Lewis MP, Maya Goodfellow, Faiza Shaheen, Tom Mills, Kate Osamor MP, Anamik Saha, Grace Blakeley, Natalie Fenton, Matt Zarb-Cousin, David Wearing, Rachel O'Neill, Clare Hymer, Asad Rehman, Dalia Gebrial, Eleanor Penny, Hicham Yezza, Dan Hind, Michael Walker, Liz Fekete, Nathan Schneider, Juliet Jacques, Des Freedman, Layla-Roxanne Hill, Narzanin Massoumi, Helen Belcher, Sarah O'Connell, Sophie Varlow, Justin Schlosberg, Marijam Didžgalvytė, Jack Frayne-Reid, Jonathon Shafi, Yohann Koshy, Vanessa Baird, Nick Mahony, Aurelian Mondon, Joss Hands, Teun Gautier, Patrick Chalmers, John Vidal, Riley Quinn.

Join us on 16 March and be part of building a democratic media.
Tickets:
£8 Solidarity ticket - help cover costs so others can come who can't afford tickets
£5 Standard ticket
Students & unwaged ticket - We have a number of free tickets which will be available to students and the unwaged, please contact us at: admin@themediafund.org to reserve a free ticket. These tickets are made possible by the sale of solidarity tickets.
Programme: