Sales Have Ended
Registrations are closed
Looking to register for the replay? If it's been less than one week since this program aired, email support@nyadventureclub.com with your name, email address, and the webinar replay you're interested in viewing. We'll then send along an invoice, and once paid, you'll get access to the replay for the remaining time.
Sales Have Ended
Registrations are closed
Looking to register for the replay? If it's been less than one week since this program aired, email support@nyadventureclub.com with your name, email address, and the webinar replay you're interested in viewing. We'll then send along an invoice, and once paid, you'll get access to the replay for the remaining time.
Can't make it live? Register and get access to the full replay for one week! New York Adventure Club | www.AdventureClub.com
About this event
While today's Meatpacking District is mostly known for chic restaurants, avant-garde art galleries, and the Whitney Museum of Art, it had been New York's meat packing hub for over a century. At its height, the neighborhood was home to around 250 meat purveyors that helped put America's finest meat on the tables of New York's restaurants — from small mom & pop eateries to America's top steakhouses like Delmonico's and Peter Luger. But what exactly did these companies do, and how did they evolve from purveyors of meat to local eateries into exporters of meat throughout the world? It's time to explore one of the most important industries in New York City history, from one family of butchers who called the neighborhood home for over seven decades.
Join New York Adventure Club as we unpack the rich history of New York City's Meatpacking District, with a focus on one of its premier meat purveyors responsible for processing, packaging, and distributing meat throughout New York, the greater metropolitan area, and eventually the world.
Led by native New Yorker Jacquelyn Ottman, a fifth generation member of one of New York City's pioneering family of butchers, our virtual experience surrounding the transformation of the meat packing industry in New York's Meatpacking District will include:
The early history of New York's Meatpacking District, and what influence other neighborhood markets like the Fulton Market (South Street Seaport) and Washington Market (World Trade Center/ Tribeca) had on its evolution
The inside story of the Ottman family's meat-purveying business, which started in 1859 delivering fresh meat in horse-drawn carriages to America's finest hotels, steamships, and wealthy private families
How technological advancements such as vacuum packaging changed modern society, from helping transform restaurant kitchens across the world, to catapulting the NYC market into a top global meat exporter, to forever changing the way consumers buy meat in supermarkets
The importance of the now-famous "High Line" to the meat packing companies, long before it became an elevated park
Rare historical photos from the Ottman family's private collection, and untold stories handed down from previous generations of Ottman family members who worked in the Meatpacking District's West Washington Market and the Fulton Market since 1859
Why so few meatpacking facilities are left in the neighborhood, and the role they still play in supplying NYC's restaurants with high quality meat
Afterward, we'll have a Q&A with Jacquie — any and all questions about New York's meat packing industry are welcomed and encouraged!
Can't make it live? Don't worry, you'll have access to the full replay for one week!
See you there, virtually!
*Immediately upon registering, you will receive a separate, automated email containing the link to join this webinar
**For the best possible viewing experience, please ensure you're using the latest version of your internet browser — Google Chrome is the most compatible. Exact technical requirements and a webinar user guide will be shared in the automated confirmation email upon registration.
***A full replay of the experience will be available to all registered guests for up to a week
About Jacquie
Jacquelyn Ottman is a native New Yorker and a fifth-generation Ottman, who worked at Ottman & Company since age 13, literally starting in the mailroom. A member of the Culinary Historians of New York, she is the author of three books on her personal culinary history, including "Ottman and Company: One Daughter Remembers" (KDP 2017), the story of her family's 150-year old NYC meat purveying firm.
A graduate of Smith College with a degree in Art History, for 30 years, Ottman pioneered the field of green marketing, authoring five books, advising the U.S. Energy Star label, USDA, and Fortune 500 firms. An engaging and accomplished speaker, she shared her insights and strategies with audiences in North and South America, Europe and Asia. You can find her at Twitter, @JacquelynOttman, Linked in https://www.linkedin.com/in/jacquelynottman/, and at her website, http://www.WeHateToWaste.com.
Testimonials
"Loved the genuineness of Jacqueline. She was really great. What a story. So interesting the entire history of the company and evolution of the area. Loved the old pictures. So personal yet also really universal and totally relatable." -Noelle
"I loved getting to know the family history of the meat packing district." -Joan
"I enjoyed hearing the family stories especially behind the maid packing company. Very lively leader good photos, And I appreciated hearing the evolution of the region in the repurposing of many parts of the city there." -Sharon
"Depth, engagement, Jacqui's personal involvement, relationship to the subject and its players, relevance to the city now." -Sally
"Speaker personally knowledgeable, smart, funny, cool, and very well prepared. Slides were diverse and great. The asides and off the cuff remarks were welcome." -Susan
"Fun to learn the history of a family, an industry, a neighborhood and NYC all in one!" -Leslie
"History is fascinating; photos were great. Fun for NYC history nerds!" -Jude
"The speaker was extremely knowledgeable about the topic, was a very good speaker, had excellent photos, was enthusiastic about her topic." -Sarah
"History of company tied with the history of New York neighborhood." -K
"I learned so many new things. I loved the anecdote of the metal detectors!" -Liz
"Deep knowledge of the presenter, well organized and presented." -Sean
"Excellent presentation clear fascinating great pictures." -Gwen
Disclaimer
By attending a New York Adventure Club experience, you accept our terms of service.
Categories: Virtual, Neighborhoods
Organizer of 'The Meatpacking District: A History of NYC's Meat Purveyors' Webinar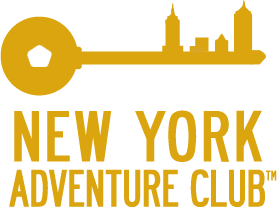 NEW YORK ADVENTURE CLUB
Unlock Your City
We give you insider access to the city's best-kept secrets. But we're so much more than a tour company.
WHO WE ARE

We are a community-driven club that curates the most unique experiences in town, with a focus on history and storytelling. We show you a city you never knew existed, and offer a community you can't live without.
You won't find our special-access tours and exclusive events anywhere else. Think after-hours tours of New York City's most celebrated spaces, themed parties in unexpected locations, and weekend excursions to incredible destinations. All of our events end with social hangouts so you can meet people who love exploring as much as you do.
THE 'CLUB' IN NEW YORK ADVENTURE CLUB

Our current community is more than 23,000 members strong and includes everyone from recent NYC transplants to lifelong residents. Whatever borough you're from (or city or country, for that matter), we'll make it easy for you to take full advantage of the unique places and great people this city has to offer.  
WHERE WE GO
To ensure a one-of-a-kind experience each and every time, we handpick events and outings specifically for the New York Adventure Club community. Recent events include:
* An after-hours tour of New York City Hall
* Special access into some of New York's most coveted private social clubs, including the Explorers Club and National Arts Club
* Petting baby kangaroos, holding sloths, and feeding leopards at Staten Island Zoo

* An NYPD Precinct tour, including a meet-and-greet with detectives and Emergency Service Unit crew members
* A tour of the Polish Consulate led by the Consul General and Vice Consul General of Poland

* A special-access tour of Brookhaven National Laboratory and its Relativistic Heavy Ion Collider (RHIC)
* A Halloween party in a historic gothic crypt, complete with a five-piece brass band
Subscribe with our newsletter to get the inside scoop on the city's most interesting events: http://eepurl.com/1cnVH
Unlock Your City with New York Adventure Club