The Meaning of Buddhist Refuge - Live-streamed Morning Workshop
In this morning workshop, discover lasting solutions to problems large and small through the practice of Buddhist refuge. Everyone welcome!
About this Event
"Refuge" is whatever we turn to when we need to resolve difficulties and find happiness. In this increasingly complex world, it often seems when we make a change to solve one problem, a problem is created somewhere else. Rather than putting all of their effort into changing external circumstances, Buddhists incorporate inner solutions into their problem-solving toolbox. In this Saturday morning workshop, Gen Rinzin will define and explore the Three Jewels of Buddhism: Buddha, Buddha's teachings, and the spiritual community. By integrating the practice of Buddhist refuge into daily life, we will find all the support we need to progress on the spiritual path and find true happiness.
Everyone is welcome to attend this workshop exploring the practice of Buddhist refuge. Through gradual training in meditation, the Three Jewels can become a source of true refuge, an oasis of peace in this turbulent world.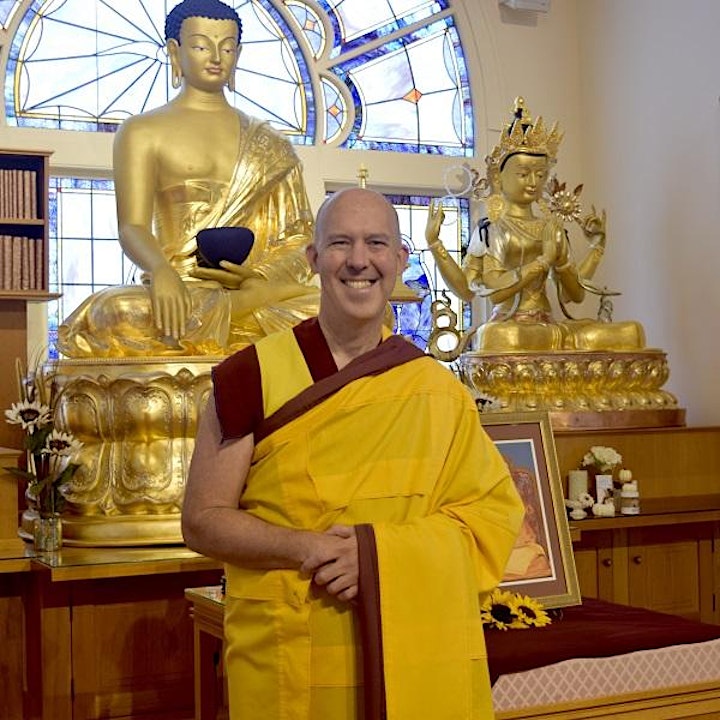 About the Teacher
Gen Kelsang Rinzin was ordained as a Buddhist monk in 2004 and taught at Heruka Buddhist Center in Fort Collins for 15 years. He was appointed to the Resident Teacher position at Kadampa Meditation Center Washington in October 2020. Gen Rinzin communicates his love of Dharma with a down to earth approach and humor that helps others to appreciate and understand the teachings and put them into practice. His teachings are clear and practical so that the listener can readily integrate the methods for keeping a peaceful mind into their busy, modern life.
Schedule
Session 1 - 9:30-10:45am
Session 2 - 11:15am-12:30pm
Stay for an optional 30-minute Q&A after Session 2
Registration
$35 ($25 for monthly supporters of Kadampa Meditation Center WA).
This event is being offered by live-stream for those in the Pacific Northwest region of the US (including WA, ID, MT & AK; outside this area? Find a Kadampa Center near you). Registrants will receive a link enabling them to watch and listen by phone, tablet or computer.