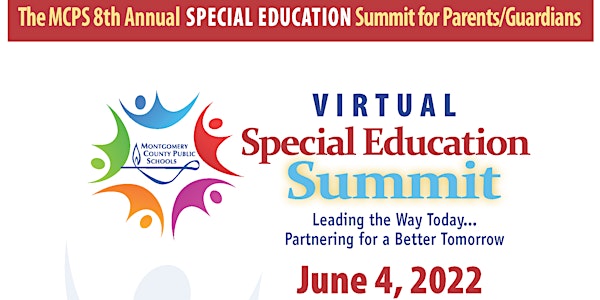 The MCPS 8th Annual Special Education Summit for Parents/Guardians
The MCPS Special Education Summit is virtual this year offering engagement in breakout sessions on a wide variety of parenting topics.
About this event
ENGAGE IN A DAY THAT FEATURES
• Keynote Speaker
Patricia Crain de Galarce, Ed.D.
Director of the Center for Inclusive and Special Education
Lesley University Graduate School of Education
Associate Dean GSOE
The keynote address will engage parents in reflecting on developing compassionate family narratives to navigate a sometimes challenging journey. Parents will walk away with tips on gentle self-care.
• Breakout sessions on a wide variety of parenting topics
All sessions are hosted in Zoom. Links to join are found on the Summit website
FREE—No cost to sign up
For more information call 240-740-3900
REGISTER TODAY
Attendees can register on the summit website, here:
https://www.montgomeryschoolsmd.org/departments/special-education/events/