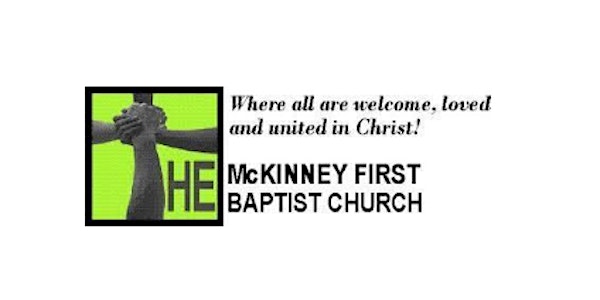 The McKinney First Baptist Church Sunday Morning Worship
The McKinney First Baptist Church Sun. Morning Worship @10:15 AM. Services Will Be Held In Our Newly Renovated GYM, Doors Open at 9:45AM
When and where
Location
TMFBC Sunday Morning Worship 401 West Erwin Avenue McKinney, TX 75069
About this event
GLORY TO GOD!
COME WORSHIP SUNDAY MORNING
Please join us for our 10:15 AM Worship
The McKinney First Baptist Church (hereby referred to as TMFBC) services are held in our temporary facility, the recently renovated Church Gym, while renovations continue in the main sanctuary.
We've reopened in this ever-changing COVID-19 environment.
Since we're a large group, it is prudent we take some precaution to reduce the chances of spreading COVID 19 when we gather.
Please read before registering to attend services at TMFBC
DO NOT REGISTER OR ATTEND THESE SERVICES IF YOU DO NOT AGREE WITH OR ACKNOWLEDGE THE INFORMATION PROVIDED BELOW.
Face masks are highly suggested to be worn at all times.
By attending Services at TMFBC, you agree to the following:
1. I have not experienced any symptoms of illness including fever, cough, fatigue, and shortness of breath in the last 48 hours.
2. No one in my immediate household has experienced any of the above symptoms in the last 48 hours.
3. I have not knowingly been exposed to anyone diagnosed with the COVID-19 virus nor anyone currently under quarantine with me for the virus in the last days
4. If I should begin to feel ill while at your event, I will notify the venue coordinator and immediately seek medical help.
I understand that this release discharges TMFBC (The McKinney First Baptist) from any liability or claim that I, my heirs, or any personal representatives may have against the ministry with respect to any bodily injury, illness, death, medical treatment, or property damage that may arise from, or in connection to, any services attended at TMFBC (The McKinney First Baptist). This liability waiver and release extends to the ministry together with all leaders, members, and attendees.