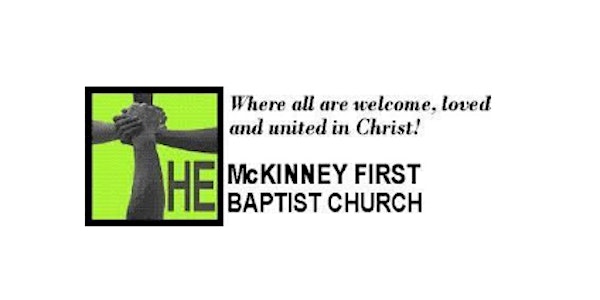 The McKinney First Baptist Church Sunday Morning Worship
The McKinney First Baptist Church Sun. Morning Worship @10:15 AM. Services Will Be Held In Our Newly Renovated GYM, Doors Open at 9:45AM
When and where
Location
TMFBC Sunday Morning Worship 401 West Erwin Avenue McKinney, TX 75069
About this event
GLORY TO GOD, SUNDAY MORNING SERVICE HAS RETURNED!!
Please join us for our 10:15 AM Worship Service
The McKinney First Baptist Church (hereby referred to a10s TMFBC) services will be held in our temporary facility, the recently renovated Church Gym, while renovations continue in the main sanctuary.
We're Reopening in this ever-changing COVID-19 environment. Since we're a large group, it is prudent we take some precaution to reduce the chances of spreading Covid 19 when we gather.
With that said, based on the size of the Gym and our Covid 19 guidelines, those who desire to attend Sunday Morning Worship Service are required to Register go online.
Please read before registering to attend services at TMFBC
DO NOT REGISTER OR ATTEND THESE SERVICES IF YOU DO NOT AGREE WITH OR ACKNOWLEDGE THE INFORMATION PROVIDED BELOW.
Face masks are required and to be worn at all times.
By attending Services at TMFBC, you agree to the following:
1. I have not experienced any symptoms of illness including fever, cough, fatigue, and shortness of breath in the last 48 hours.
2. No one in my immediate household has experienced any of the above symptoms in the last 48 hours.
3. I have not knowingly been exposed to anyone diagnosed with the COVID-19 virus nor anyone currently under quarantine with me for the virus in the last 14 days.
4. If I should begin to feel ill while at your event, I will notify the venue coordinator and immediately seek medical help.
I understand that this release discharges TMFBC (The McKinney First Baptist) from any liability or claim that I, my heirs, or any personal representatives may have against the ministry with respect to any bodily injury, illness, death, medical treatment, or property damage that may arise from, or in connection to, any services attended at TMFBC (The McKinney First Baptist). This liability waiver and release extends to the ministry together with all leaders, members, and attendees.
TMFBC Guidelines and Q & A for Church Reopening
TMFBC will reopen for in person services on April 3, 2022. Services will begin at 10:15 for regular Sunday Worship. The leadership of TMFBC have taken into consideration concerns you may have prior to the reopening. We are asking all individuals who wish to attend to please register online prior to attending (Senior Saints may call into church office)
FAQ
1. When will TMFBC return to In-Person Worship?
Our target date of return will be Sunday April 3, 2022, at 10:15 in the newly renovated church gym. The doors will open at 9:45 for entry.
We will monitor the CDC reports of COVID-19 cases to determine when we may be able to open at full capacity.
2. Will I be required to register to attend? YES
Any person who would like to attend In-person services will be asked to register for each Sunday morning service. Members can call the church at 972-562-1877 and leave a message or log into, Event Brite to register. (Login site to be listed here)
3. Will temperatures be checked prior to entering the building? YES
All persons entering the building will have their temperature checked. Any person with temperature of 100.4 °F [38 °C]† or greater will not be allowed to enter.
4. Will services continue to be provided online and Facebook? YES
Services will continue to be broadcast on Facebook and through the church website.
5. Will we have In-Person Sunday Morning Bible Study classes? NOSunday morning bible study classes will remain online. The Sunday morning bible study classes have been changed to 8:00am.
6. Are Mask Required? YESMasks are always required while in the building. If you forget your mask, one will be provided to you. If you do not comply with mask wearing, you will be asked to leave.
7. Will the building be professionally sanitized? YES
The building will be cleaned prior to our reentry. The building will be cleaned weekly after each Sunday service.
8. Will there be hand sanitizing stations? YES
Sanitizing stations will be placed at all entrances into the gym.
9. Will we continue to "Welcome Visitors"? YESOur welcome to TMFBC will no longer be conducted as previous. Welcome will be done by the Pastor from the pulpit during Pastoral observations. Members can give a "WAVE" to visitors. Please refrain from hand shaking and hugging.
10. Tithes and Offering We encourage you to continue to give your tithes and offerings on-line. For those in attendance there will be a tithe and offering drop box in the sanctuary. There will be a specific time for giving. You can give your offering before and after services.
11. Will we continue to have communion? YES
12. Will the Choir sing? NOThe full choir will not sing. The Praise Team will continue as they have been for the past year.
13. Will We Have Baptism? NO Baptism will resume when we are COVID-19 free.
14. Will Youth church and the nursery be open? NOAt this time, we will not have Youth church and Nursery available. We will consider at a later date.
15. Will weekly in-person bible study and S.H.O.P. resume? NOBible study and S.H.O.P will remain online until further notice.
16. Will we allow visitors who do not register to attend services? YESAny visitor will be allowed to attend if we haven't reached our seating capacity. Since we do not want to turn visitors away, we will try to accommodate them and request that they register for future services.
Sincerely
The TMFBC Reopen Committee, TMFBC Trustees
Deacons and Pastor Louis Rosenthal