The MCHRI SPARK Partnership: Designing Non-ototoxic Aminoglycosides
Description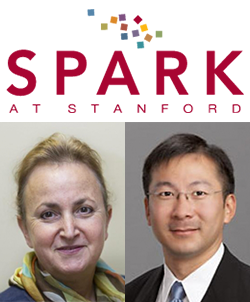 The MCHRI SPARK Partnership: Designing Non-ototoxic Aminoglycosides
The Stanford Maternal and Child Health Research Institute (MCHRI) partners with the Stanford SPARK program to support innovative maternal and child health projects that will advance research discoveries into promising new treatments for patients. Hear from Dr. Daria Mochly-Rosen, founder and co-director of SPARK, provide a brief overview of the translational research program, mentoring and educational opportunities in drug development and commercialization, and resources available to participants of the program.
In this seminar, Dr. Alan Cheng, associate professor of otolaryngology and a SPARK scholar, will discuss his collaborative work with Dr. Anthony Ricci to create a safer drug version of aminoglycoside antibiotics – a commonly prescribed antibiotic that is one of the leading causes of hearing loss in children. With MCHRI and SPARK support, Dr. Cheng and his research team have developed the first series of antibiotic compounds and are testing the new version of non-ototoxic aminoglycoside antibiotics. He will present current research in this area, progress in the drug development stage, and the future direction of this work.
SPEAKERS

Daria Mochly-Rosen, PhD - Professor of Chemical & Systems Biology; Founder and Co-Director of SPARK
Alan G. Cheng, MD - Associate Professor of Otolaryngology (Head and Neck Surgery Divisions)
---
The MCHRI Seminar Series highlight compelling clinical topics, innovative research, and the latest developments in maternal and child health. The series provides a unique platform for engaging in conversations and collaborating with other researchers across the community.
The seminars series is open to all, including faculty, staff, trainees, postdocs, and all members of the research community. Seats are limited, and reservation is required. Limited lunch will be provided on a first come, first served basis. Attendees are welcome to bring their lunch to the event.
Check out more MCHRI Seminar Series!
Questions about registration? Please contact Roxanna Van Norman.