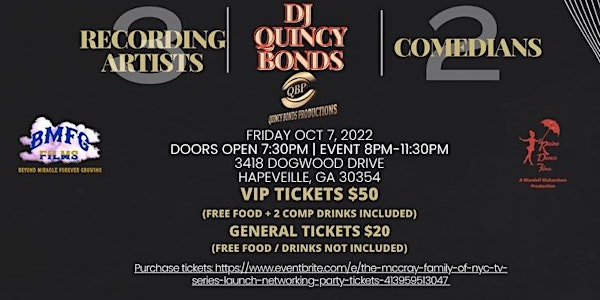 The McCray Family of NYC TV Series Launch & Networking Party
New Comedy TV Series Launch & Networking Party. Meet the cast, live entertainment from comedians and recording artists, food and drinks
When and where
Location
3418 Dogwood Dr 3418 Dogwood Drive Hapeville, GA 30354
About this event
Host By:
Hand & Hand Foundation is a federal 501©3 non-profit organization in California that helps children become productive citizens by giving them the things every child should have such as food, clean water, shelter, protection, and education. Its main mission especially being environmental is the preservation and evolution of life because our home is our planet, and all life depends on the environment. Hand & Hand Foundation understands that sustainability is the most important factor in anything, so their programs are all financially and environmentally sustainable.
Since Boss Lady Mae is the Founder/CEO of BMFG Films, which is producing/filming its first Comedy TV Series, "The McCray Family of NYC", Hand & Hand was glad to be the host of this amazing event because she has joined their team to provide grant writing services and other necessary services as needed so they can continue to build on our success for our children and environment.
TV/Movie Production Company Of This Event:
Beyond Miracle Forever Growing Films aka BMFG Films, LLC is a new film and television production company located in Atlanta, Georgia, and founded by Boss Lady Mae. She welcomes the opportunity to partner up with Raine Dance Films on several TV/Movie projects.
Boss Lady Mae is looking forward to bringing a fresh new perspective to the industry as she wows the audience through her game-changing movies and TV productions. She knows it can be done by teaming up with Raine Dance Films under the direction of Mr. Wardell Richardson and Quincy Bonds of Quincy Productions.
BMFG Films, President/CEO
Boss Lady Mae is a multi-talented Best-Selling Author/Professional Freelance Writer/Ghostwriter, Filmmaker, Business Consultant, Accountant, Human Resource Consultant, Project Management Consultant, Former Radio Host, Media Personality, and Public Speaker. She has been writing professionally for 21 years. Being a strong advocate for Women, she rose to stardom as the Founder/Executive Director of Boss Ladies on the Move (BLOTM), the best group for Forward-Thinking Women. She is also the Founder/President/CEO of BMFG Films, LLC, CEO of Boss Ladies View, LLC, Creator/Executive Producer/Scriptwriter of The Barkays' Biopic-Documentary Series, Creator/Executive Producer/Assistant Director/ Scriptwriter of The Boss Ladies Movie, Creator /Executive Producer/Assistant Director/Scriptwriter of The Boss Ladies TV Series, Creator /Executive Producer/Assistant Director/ Scriptwriter of A Modern Day Jezebel, Creator /Executive Producer/Assistant Director/ Scriptwriter of The McCray Family of New York City TV Series, Creator/Executive Producer of Boss Ladies Talk Show, Creator/Executive Director/Scriptwriter of the Gospel Stage Play (Single Ladies, Wait On Your Boaz), and a VIP member of National Association of Professional Women (NAPW).
Earlier on in her career, Boss Lady Mae was an in-demand Media Personality for events all over Atlanta and surrounding areas. She is a Best-Selling Author, Blogger/Editor at Stardom101 Magazine, the Founder/Editor-in-Chief of HBOSS ATL Magazine, and was also a Contributor at Richtopia Magazine (based in London) for a few years. She has 24 years of public speaking where she has done workshops, trade shows, seminars, and webinars. She also hosted concerts, fundraising galas, and conferences. As a member of All American Entertainment Booking Agency on their All American Speakers website, which only features the best talent, she speaks frequently on Women's Issues or Women in Business. You can book her at https://www.allamericanspeakers.com/speakers/Boss-Lady-Mae/397429. She is also an expert on Professional Development, Marketing, Women's Issues, Women in Business, Media, and Entertainment with WMC SheSource where she can be booked at http://www.shesource.org/experts/profile/mae-merriweather-aka-boss-lady-mae.
Her success to date is only the beginning. As a best-selling author and screenplay/scriptwriter, she certainly understands the power of the written word. She has penned six screenplays, ten stage plays, four documentaries, two TV shows, three sitcoms, hundreds of articles, over one hundred and sixty-five eBooks as a ghostwriter, and eight books that bear her name. Her ability to spin words into compelling stories keeps her busy as readers clamor for more. Her first book, Texting Attractive Men: What Single Men Say Is IRRESISTIBLE when Receiving Text Messages from Women, was released on Amazon in January 2015 and had more than 500 downloads in the first week. Her follow-up books have done just as well. A Modern Day Jezebel Saved by Grace is a modern spiritual romance that's been getting great reviews. She is working on the script because it will be an Independent Movie in 2023. The first installment of her five-book series, The Boss Ladies, Book 1 was number one on Amazon with over 45K downloads in two days and got five-star reviews in 2015. The Boss Ladies, Book II was released later and is doing extremely well with The Boss Ladies, Book III coming in December of 2022. Her first self-published book, Single Ladies Wait on Your Boaz, a Christian Romance, was released in April of 2015 and the reviews were awesome. The story is inspired by Pastor Jentezen Franklin's famous message about Boaz. Boss Lady Mae just put her own unique spin on the timeless love story of Ruth and Boaz. Because this Christian Romance was so dear to her heart, she turned the story into a stage play that is set for a live taping in Atlanta, Georgia in the spring of 2023. She has released on Amazon Give A Man A Fish, Amber Alert in 2015, and Same Ole, Same Ole released in 2016 with her latest book, "The Enchanting Tales of Marley, Carley, and Zahara" (children's book) is set to be released in December of 2022, "The Tales and Journey of Mississippi Po'Boy" is scheduled to be released in the fall of 2023. Her Memoir will be released in late 2023 or early 2024. Boss Lady Mae is the author/writer to watch so make sure you download her books on Amazon or order through her author's website @ http://bossladymae.net coming in November 2022!
Raine Dance Films, CEO
Wardell Richardson is an award-winning actor, award-winning producer, director, writer, and CEO of Raine Dance Films. He has been in this industry for 15 years plus. Wardell has produced and starred in the following films in which the first 3 out of the 5 are still airing on Amazon Prime:The 30-Day Rule (Award-Winning Actor and Producer) GreedFleshThe Last Time (Award-Winning actor, producer, and collaboration)Dream On Dreamer was just recently finished and WILL also be airing on Amazon Prime.
Please don't hesitate to check his credentials on IMDB.com. Also, his film company Raine Dance Films is steadily becoming one of the best film companies in Atlanta with a top-notch team of veterans including Tiffany Roberts who is sought by many in the industry for her talents ranging from writing (recent film picked up by a company in LA for over 40 million) and directing, Pennye Rogers who is the CEO of WCEG Talk Radio and CMO of RDF, Deondai Colquitt who is a sought after line producer and just added Michael Angelo who is an award-winning filmmaker of Mangelo Productions and have many award-winning films airing on Amazon Prime and Peacock. Please check his website www.rainedancefilms.com.
Every donation and sponsors of this event will receive a Tax-exempt letter for your sponsorship or donation to file with your tax return with the IRS. (purchasing tickets is not included)
***Portion of your donations will go to Hand & Hand Foundation to help provide children with food, clean water, shelter, protection, and education.***