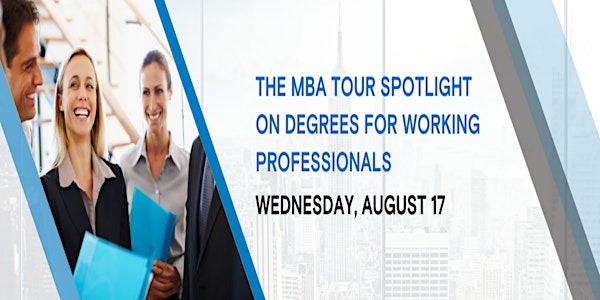 The MBA Tour Spotlight on Degrees for Working Professionals
Spotlight on Degrees for Working Professionals
About this event
The MBA Tour Spotlight on Degrees for Working Professionals will highlight MBA programs catered to working professionals looking to continue their education with added flexibility.
During this interactive event, you can:
Get insights from schools. We bring together multiple business schools to shed light on different aspects of the non-traditional MBA journey. From an insider view of what's needed to stand out and develop a winning application, to career prospects and how an MBA can help you transform your career, we've got you covered.
Engage with schools. Join business schools for small group conversations on a specific topic. All sessions are open to join and are a great opportunity to explore what's important to you.
Plus join the community and meet others on the same journey! Connect with people to ask, and get answers to, your questions or create groups with shared interests.
This is your chance to speak directly with top-ranked part-time, online, and hybrid MBA programs,
such as Northwestern Kellogg, Chicago Booth, Duke University, Boston University, Carnegie Mellon
University, Georgetown University and more! Learn more about what to expect here.
Join us for free on:
Wednesday, August 17th
5:00pm – 9:00pm Eastern Time
Online Event
Sign up today !