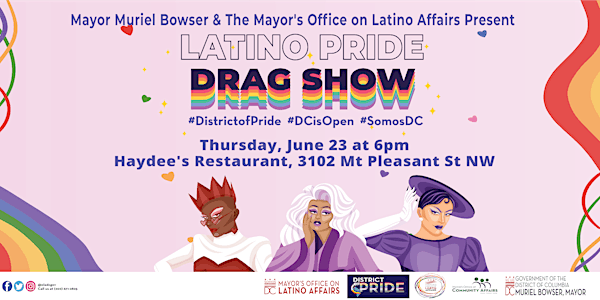 The Mayor's Office on Latino Affairs Present: Latino Pride Drag Show
Location
Haydee's Restaurant
3102 Mount Pleasant Street Northwest
Washington, DC 20010
Join the Mayor's Office on Latino Affairs to Celebrate the District of Pride with a Drag show at Haydee's Restaurant!!
About this event
Join the Mayor's Office on Latino Affairs (MOLA) and the Mayor's Office of LGBTQ Affairs (MOLGBTQA) for a District of PRIDE Showcase: Latino Pride Drag Show!
This event will magnify the voices of DC's Latino LGBTQ+ residents. We hope to continue to uplift the LGBTQ+ Latino community and foster equity, inclusion, and diversity. #DCvalues #SomosDC
Speakers and Presenters:
Jose Gutierrez holds a bachelor's degree in Psychology from the University of Ana G. Mendez in Washington, DC. Jose is a local and national long-time human rights and social justice activist, immigration advocate, Latinx LGBTQ historian, artist, writer, and poet. He is the founder of the Jose Gutierrez Archives, the Latino LGBTQ History Project, the DC Latino Pride, and the co-founder of the Rainbow History Project. Jose works with the DC Gov DHS, currently, he is developing the "Jose Gutierrez Archives" www.JoseGutierrezArchives.org and he is writing a book about the history of Washington, DC Latinx LGBTQ.
Marilyn Sulay is a Mexican American trans-Latinx woman who has been in the DC area since 1994. She was one of the first trans-Latina women to contribute to the Latino LGBTQ movement in the area. She was also the first Miss Universo Latina USA for the Rainbow Visibility Platform organization. She has worked as Health Educator for Whitman-Walker clinic, and most recently with NovaSalud. She sits as the vice president of MULUSA, a non-profit organization that empowers the Latinx Trans community.
Gigi Couture is a Salvadorian American, born and raised in the DMV, one of the most recognized trans-Latinx women in the area. She has had the title of Miss DC Capital Pride, and Miss MULUSA, among many others. Gigi is a local artist that has given the Latinx LGBTQ community a spotlight locally and nationally.
Paty Hernandez is a well-known activist in El Salvador and a staunch human rights defender of LGBTQ+ PEOPLE. Currently, at Casa Ruby, Paty works to provide services for newly arrived members of the LGBTQ+ community. Previously she was the legal representative and executive director of the Solidarity Association to Promote Human Development (ASPIDH-ARCOIRIS TRANS) in El Salvador.
Alexa Elizabeth Rodriguez is originally from Usulután, El Salvador. Her passion is defending Transgender and people living with HIV rights. She founded the first working and support group for people living with HIV and Trans Women, in her hometown "Mi Nueva Familia" (My New Family). Alexa has continued her work in the DMV (DC, Maryland, and Virginia) and around the US with many organizations including DC Health Department. She is the Director of the Trans-Latinx DMV a Two-Spirit led organization that centers on the needs of Black & Indigenous Trans-Latinx people living in Washington DC, Maryland, and Virginia, and functions as a regional Chapter of The National Trans-Latin@ Coalition. Alexa has been awarded with many recognitions. She has been an activist for over 20 years fighting for the rights of the people living with HIV and members of the transgender community. As an immigrant-indigenous and transgender individual, Alexa will continue to fight to make sure her community does not fail.
For more information or to keep up with the Mayor's Office of LGBTQ Affairs, follow us on Twitter, Facebook, and Instagram!