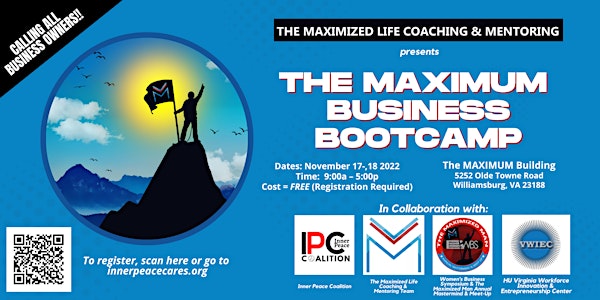 The MAXIMUM Business BootCamp
2 Days of intense training with professional partners
When and where
Location
The MAXIMUM Building 5252 Olde Towne Road Williamsburg, VA 23188
About this event
The Maximized Life Coaching & Mentoring
presents The MAXIMUM BUSINESS VIRTUAL BOOTCAMP
Boot Camp Features:
2–Days of intense training with professional partners (Attorney; Accountant; Banker; Insurance Professionals and more).
Leave with the essential information EVERY business needs!
Participants will receive an outline to develop their Business Portfolio.
Training designed to help scale, grow, and retain your business.
***Eligible Participants:
Small Business Owners affected by the Pandemic
Small Business Owners needing a fresh start and reboot
Those aspiring to be Small Business Owners
Those wanting to pursue child care businesses
THIS EVENT IS SPONSORED BY:
Inner Peace Coalition, Inc
Registration and attendance at Inner Peace Coalition, Inc. & The Maximized Life Coaching & Mentoring Event (IPC/TMMLCM) and other activities constitutes an acknowledgement of the risk of COVID-19. This includes, but is not limited to, possible exposure to COVID-19.
By registering and attending the Event, I agree to follow the venue's applicable restrictions and policies. I agree to temperature checks and possible COVID-19 testing. While IPC/TMMLCM and venue have taken preventative measures to reduce the spread of COVID-19, IPC/TMMLCM cannot guarantee that its participants, volunteers, members, or others in attendance will not become infected with COVID-19. I knowingly and freely assume all such risks related to illness, even if arising from the Released parties.
In the event that I do not abide by the restrictions and policies of the venue, and I am asked to leave the Event by the venue, I understand that I will will not be eligible to complete the course. I will be invited to return on another date and time.
I acknowledge that if I am sick, I should not attend the Event. I hereby release and forever discharge IPC/TMMLCM, affiliated partners, and sponsors, including their directors, officers, employees and volunteers, from any and all claims, losses or demands, including, but not limited to, personal injury and all of the consequences thereof.