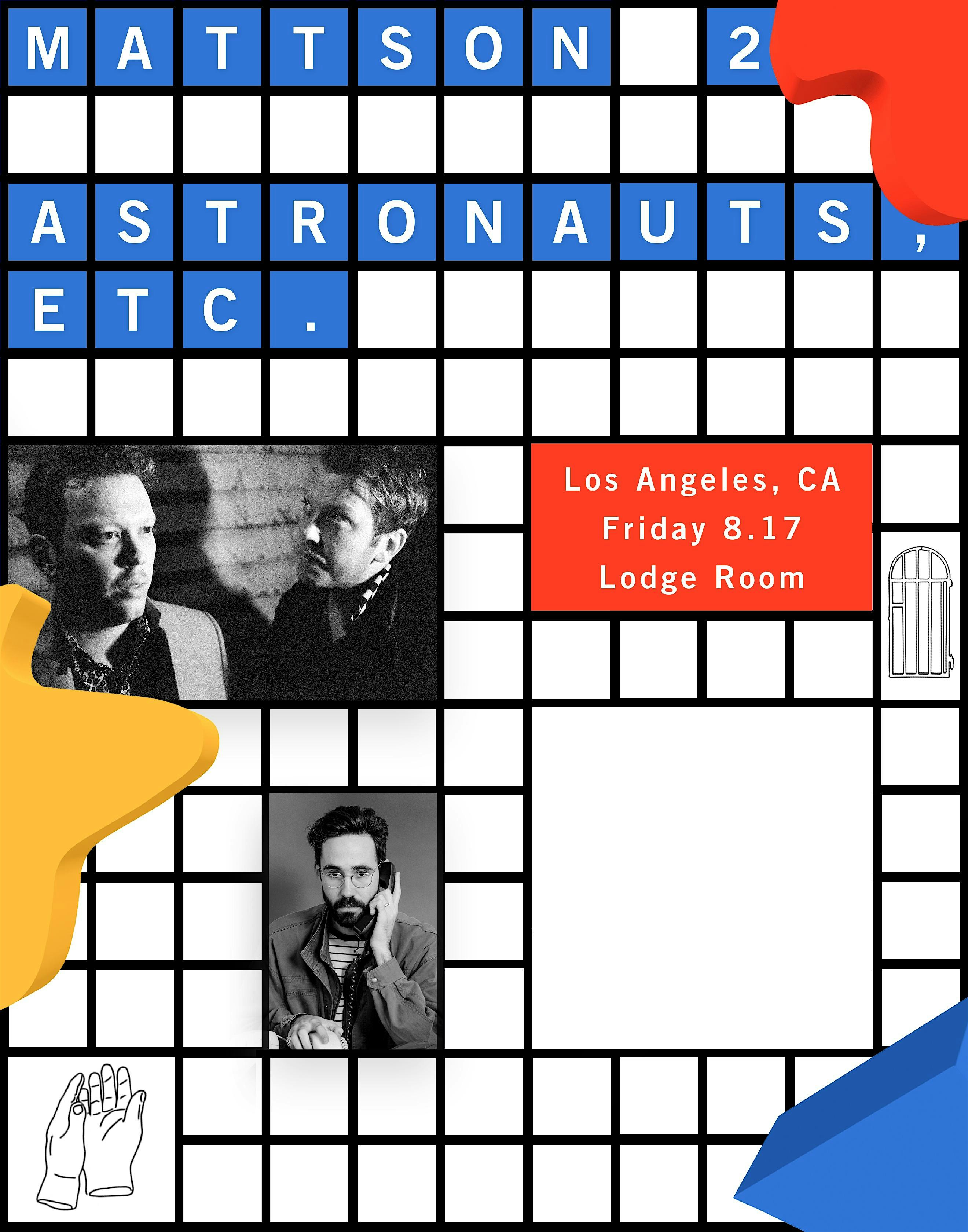 About this Event
The Mattson 2
If you could soundtrack the jangle of the sea and the jazz of the surf, The Mattson 2 would most certainly be the composers. The identical twin guitar and drums duo are truly a marvel of jazz-rock orchestration and arrangement. The duo shimmers and shakes with the soaring modern wizardry of Jared Mattson's untamed, layered guitars and Jonathan Mattson's tribal jazz hard-bop drumming. They channel the gorgeously hypnotic gods of surf, sun, and neon-punk-jazz of our modern universe, evoking evolved realms of experimentalism, rhythm, and story. The identical twin's deep telepathic kinship navigates colorful forms of beautiful weirdness and exotic landscapes of layered improvisation, transcending the concept of modern musical performance. They have toured relentlessly throughout Japan, Brazil, Paris, Spain, Portugal, Denmark, Finland, The Netherlands, and the United States. The Mattson 2 have Bachelor's and Masters of Fine Arts degrees in music from University of California San Diego, and University of California Irvine respectively. Mattson 2 have collaborated/shared the stage with Chaz Bundick, Toro Y Moi, Badbadnotgood, Ray Barbee, Tommy Guerrero, Cornelius, Chocolat & Akito Katayose, Silver Apples, Money Mark, Thomas Campbell, Nicole Mitchell, Mark Dresser, Farmer Dave Scher, and Tortoise members Jeff Parker, John Herndon, and John McEntire. 
Astronauts, etc.
Tony Peppers (aka Astronauts, etc., née Anthony Ferraro) lives just outside of time. His best friend's father told him in the 4th grade that he was really an old man. It makes some sense, then, that he was diagnosed with arthritis at age 10 and dropped out of school at 20 because he really needed to think things over. He still is, but at 27 Tony has some things to say, and he's saying them on his new album, Living in Symbol.
It's been a circuitous seven years for the Oakland-based classical pianist turned pop arranger. Between stints on the road with Toro y Moi, he wrote his first LP, Mind Out Wandering. Recorded mostly live to two-inch tape, the album was a conscious departure from the bedroom pop direction of earlier material. Its production was precise and nakedly clean, showcasing the musicianship of his band and earning comparisons to early Bee Gees records and Philly soul.
When Chaz Bear (Toro y Moi) offered to produce his next album, Tony began devising a collection of songs that would capitalize on the intersection of their sensibilities. The world had begun growing rapidly stranger, and he found his reference points shifting toward outsider music, Latin psychedelia, and the haunting orchestral arrangements of David Axelrod.
A new voice was coming out of Tony, taking cues from oracular crooners like Lee Hazlewood and Kevin Ayers and delivering cryptic messages pitched far below the falsetto that had come to characterize his sound. It would seem disjunctive if it wasn't so natural; you can hear Tony finally stepping into himself as Bear's production carries the songs onto a bizarre and timeless wavelength. Living in Symbol serves as the surreal coming-of-age diary of one weirdo floating through the ooze of the Information Age.
Performers
Date and Time
Location