The Matthew 25 Gathering: Justice And Mercy Contending For Shalom

Tuesday, February 19, 2019 at 3:00 PM

-

Thursday, February 21, 2019 at 12:30 PM (EST)
Event Details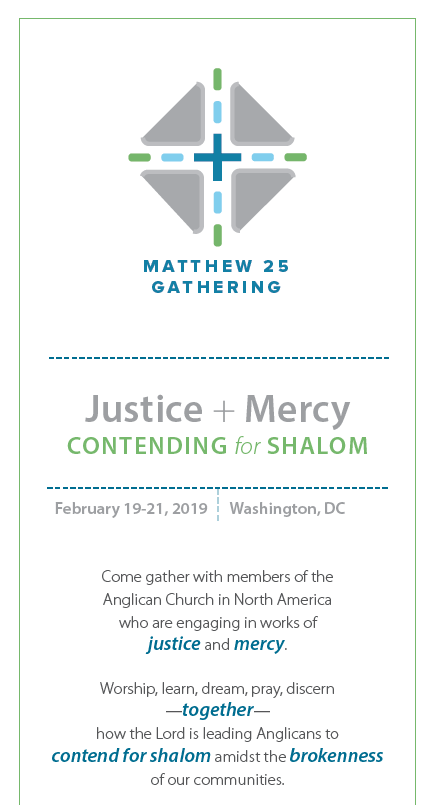 We are Anglicans in North America who care about Justice and Mercy. At Archbishop Beach's initiative we regularly gather practitioners, organizational leaders, clergy, lay leaders, and others who are engaged in contending for shalom among vulnerable, marginalized and under-resourced communities.
At this 3rd annual gathering we have three goals:
To be a learning community...how do we keep growing, clarifying, and being challenged thoughtfully?

To offer encouragement and networking relationships...who else is doing the kind of work I care about? Who might have some great ideas or offer support?

To enjoy a few days of refreshment, healing, and celebration...what are the life-giving waters from which I can drink so that I don't get burned out, empty, and discouraged?
As contemplative activists who are part of the global and historic Anglican stream, we have a rich background from which to draw and a robust theology to offer. We also have a lot to learn and discern as we seek to "understand the times and know what to do" (1 Chronicles 12:32).
Where: In the Washington, DC, area at Restoration Anglican Church, where we get to engage the resources of this hub of power and policy. Check out the Pre and Post Gathering Options.
Come! We want your voice and story and expertise in the room.
See www.anglicanjusticeandmercy.org for more information and a glimpse of previous M25 Gatherings.
FAQs
Is this event a conference, a retreat, a gathering of friends and fellow laborers on the ground?
All of the above. The setting will also allow us to reflect together on diverse justice and mercy work across North America.
How do I get to Restoration Anglican Church in Arlington, VA?
Restoration Anglican Church is located in Arlington, VA - just outside Washington, DC. There are two airports serving Northern Virginia - Reagan National Airport (DCA) and Dulles International Airport (IAD). Reagan and Dulles are located in Virginia and are likely the most convenient for getting to Arlington.
What are my transport/parking options getting to the event?
Taxis, rental cars, and ride share services are available from the airport to get to Restoration Anglican Church/hotels. If you are staying at a hotel or find lodging on your own, you will be responsible for transportation between your lodging and the church. If you choose a homestay with a Restoration Anglican family, we expect that most people will be able to arrange their own transportation through taxi/Uber/Lyft/other.
Where can I stay near Arlington?
You have three main options for lodging during the Gathering:
1. Finding housing on your own and providing your own transportation to/from the Gathering.
2. Staying in a hotel and providing your own transportation to/from the Gathering. See the last FAQ below for information on room blocks at nearby hotels.
3. Staying with a Restoration Anglican family in their home, including possible help arranging transportation between their home and the church for the Gathering.
Please indicate your preference as you register on the Eventbrite, including providing any additional information needed if interested in the Restoration homestay.
Are meals included?
Included:  Tuesday dinner and Wednesday lunch and dinner.
On your own: Breakfast, Arlington offers a taste of the world and lots of coffee.
What is the schedule for this event?
Tuesday, February 19th:
3:00pm - Arrive; First Gathering; Networking and Connecting
6:00pm - Dinner; Networking; First Plenary
9:30pm - Compline ends
Wednesday, February 20th:
8:00am - Second Plenary
10:00am - Third Plenary
12:00pm - Trip to MLK Monument and Prayer Walk
4:00pm - Workshops
6:00pm - Dinner; Fourth Plenary; Networking
9:30pm - Compline ends
Thursday, February 21st:
8:00am - Fifth Plenary
10:00am - Collective Conclusions
11:00am - Eucharist
12:30pm - Matthew 25 Gathering 2019 Ends
What are the workshops on Wednesday, February 20th? Tell me more!
Workshops will include, along with thoughtful plenary speakers, topics on Anglican Social Teaching, Fundraising and Grants, Holistic Community Development, Homelessness, Peacemaking, Immigration Legal Aid, Soul Care Prayer Practices, Multi-ethnic Church Planting, Caring for the Physically Vulnerable, Creation Care and Agricultural Ministries, Human Trafficking, Refugees, Systemic Injustice and Advocacy as a Response, Elder Care, Addiction and Substance Abuse.

Prayer ministry will be offered over the course of the entire Gathering.
Is there an opportunity for a pre-Gathering spiritual retreat?
Yes!

You can 

view here for more information and how to register.
A Spiritual Retreat for Matthew 25
In Luke 4, we see that Jesus went on spiritual retreat before starting his very active ministry.  In that spirit, we are offering the chance for Matthew 25 participants to begin our next gathering with a spiritual retreat at Corhaven, a retreat space offered by Coracle about an hour and a half from our M25 meetings at Restoration Anglican in Northern Virginia.  We have space for 5 men and 5 women on a first-come basis, and sleeping arrangements are in dorm style rooms, with linens provided.  The bulk of time will be spent in silent retreat, with group conversation over dinner followed by evening prayers on Monday night, and then Eucharist on Tuesday morning.  Dinner and breakfast is included.
Time: Monday, Feb 18 1pm - Tuesday Feb 19 12pm
Fee: None
Transportation: Retreatants are responsible for transportation to and from Corhaven, located in Quicksburg, Virginia off of  I-81 between Front Royal and Harrisonburg.
What's the weather like in Arlington in February?
February in Arlington can be quite cold - so it's important to dress warmly.
Average High/Low: 46°F / 29°F
What are the available room blocks if I'm staying at a local hotel?
1. Homewood Suites by Hilton Arlington Rosslyn Key Bridge
1900 North Quinn Street, Arlington, VA 22209
$145/night
Use this link to book:
https://homewoodsuites.hilton.com/en/hw/groups/personalized/D/DCALHHW-RAC-20190215/index.jhtml?WT.mc_id=POG
Or call 703-348-2828 with Group Code: RAC
2. Residence Inn, Marriot
650 N Quincy St, Arlington, VA 22203
Reservations are under Restoration Anglican Church Matthew 25 Gathering.  
Direct contact with the Residence Inn:  650 N Quincy St, Arlington, VA 22203, 703-310-1999 but booking line will likely work best. 
 3. Comfort Inn Ballston
1211 N Glebe, Arlington, VA
Call 1-703-247-3399 (or 703-524-8739), Event: Restoration Anglican Church: Group #3514902.
950 N Stafford St, Arlington, VA
You have the option to contact Hilton Arlington Hotel or Hilton reservation hotline to make reservations. You will need to provide the group code
(RAC), 
arrival date, and hotel name. The Hilton reservation hotline is
1-800-445-8667
 and the Hilton Arlington Hotel can be reached directly at
703.528.6000
.
Our direct link: https://www.hilton.com/en/hi/groups/personalized/D/DCAVAHF-RAC-20190219/index.jhtml?WT.mc_id=POG
| | |
| --- | --- |
| Group Name: | Restoration Anglican Church Matthew 25 Gathering |
| Group Code: | RAC |
| Check-in: | February 19th |
| Check-out: | February 21st |
| Hotel Name: | |
| Hotel Address: | 950 North Stafford Street |
|   | Arlington, Virginia  |
|   | 22203 |
| Phone Number:    | |
When & Where

Restoration Anglican Church
1815 N. Quincy St.
Arlington, VA 85253


Tuesday, February 19, 2019 at 3:00 PM

-

Thursday, February 21, 2019 at 12:30 PM (EST)
Add to my calendar