Location
Nanakuli Public Library
89-070 Farrington Highway
Waianae, HI 96792
Sales Have Ended
Registrations are closed
Mahalo! Please remember to send your proof of donation to secure your spot.
Learn about how we create sustainable, profitable and long-lasting businesses that move our communities to action, and change generations.
About this event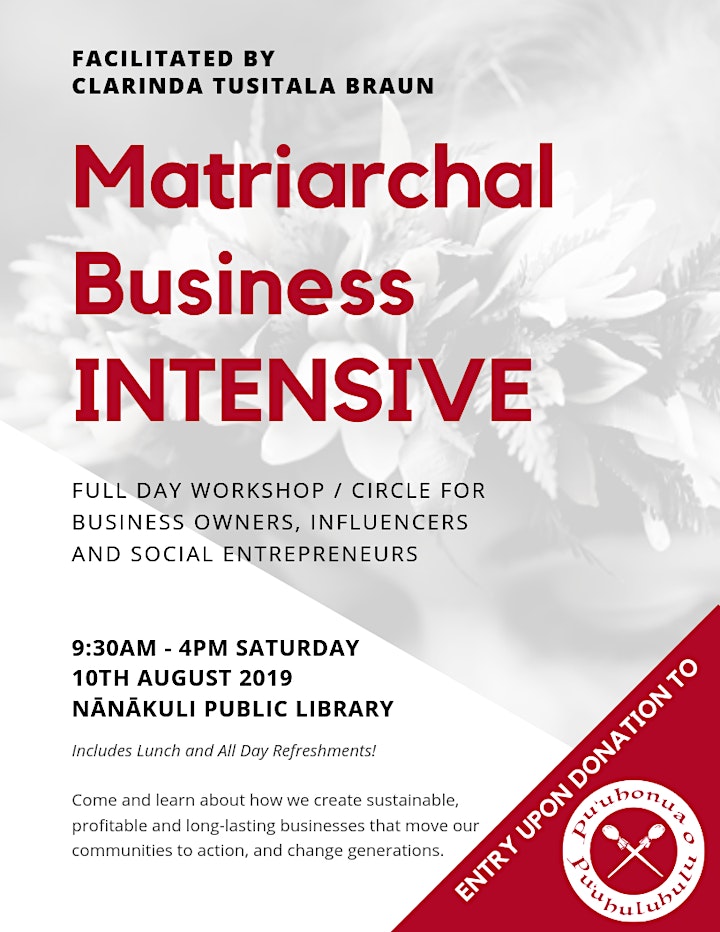 ***ENTRY UPON DONATION TO THE KIA'I OF MAUNAKEA***
Join us as Clarinda shares:
- How we can monetize our message for sustainability and maximum communal impact
- "The Biology of an Audience": The science of connection and influence
- "Emotional Momentum" (Foundations): A highly-converting natural & ethical sales journey
 that unites and moves audiences to a specific positive action
And
- Her own journey with success, struggle, and the stories that informed the growth of her work and influence.
We will also open circle to discuss and explore:
- Matriarchy as a proven successful system (no matter your gender, with or without children) for sustainability, longevity and collective growth
- The failings of age-old business models, and how the lack of necessary foundations cause burnout, lack of purpose, limited impact and "corrupt power"
- Our TRUE narratives VS our perceived (and internalized) narratives, and how we bridge the educational gap within our communities
- The mana in your "Origin Story" and why it MUST be told
- Why it's particularly imperative for black, indigenous women, womxn of color
, māhū/fa'afafine, to deeply unpack our stories and wisdom for the benefit of our communities
- The uncovering of "language secrets": Clues of our unconscious competence and how we use that to innovate, differentiate, create new offerings and self-brand
- How generous, well-crafted presentations and offerings can build six-figure sustainable businesses and ventures
And,
- The ancestral and communal clues that call forth our purpose, privilege and conscious responsibilities for business longevity.
This workshop is a prerequisite to the 12-Part Online Course of the same name. If you are interested in enrolling, this workshop day is THE opportunity to deep dive into the course foundations, and assess if it's the right fit for you.
About Clarinda
A Fijian and Samoan mother of two, Clarinda Tusitala Braun has spent the last 10 years consulting hundreds of talented business owners and thought leaders to earn six-figure+ incomes, sustaining themselves, their families and their communal impact. Her work has led her to consult Olympians, a Nobel Peace Prize Nominee, politicians, and numerous influential spokespeople.
Raising her young family now on O'ahu, Hawai'i, impacted and informed by the liveliness of indigenous sovereignty, she is grateful for shared wisdom about health, abundance and sustainability from her host culture, her blood cultures and other indigenous cultures who share fundamental land and family based values.
Clarinda centers her work for her indigenous sisters and sisters of color, intimately knowing the hindrances to visibility and access. Battling with both inner-cultural expectations and outer-default narratives, the road to success and impact is a unique one.
She believes that "In the process of creating and unearthing our stories and position to speak from, our voices filled with our mana, we naturally claim our Matriarchal birthright that benefits all - our families, our clients and our communities at large".
FULL DAY INTENSIVE DETAILS
9.15am: Doors Open
9.30am: Training Sessions
1.00pm: LUNCH (Included!)
1.30pm: Circle Sessions
4pm: Pau
This is a family-friendly event. Child care can be made available for donation, but is limited. Please notify us at the time of booking if this is something that would be helpful to you.
This is FULLY CATERED! Lunch, tea/coffee, water and refreshments will be available throughout the day.
TUITION *SPACE IS LIMITED - Only 8 seats available*
FREE with donation of $150 or more to puuhuluhulu.com/donate (to the organization of your choice: Aloha 'Āina Support Fund, HULI, NDN Collective, OR donate 5000+ miles to Hawaiian Airlines Miles Drive).
***YOUR SPOT IS NOT RESERVED UNTIL YOU HAVE SENT CONFIRMATION OF YOUR DONATION***
Please respond to your Eventbrite ticket confirmation with your proof of donation (screenshot, email confirmation) to secure your spot.
More info at thematriarchalbusiness.com.