The Mastery of Event-Based Marketing - Get Visible & Get Profitable!

Thursday, August 16, 2018 from 11:30 AM to 1:00 PM (PDT)
Event Details
RSVP early to be entered into the contest to win Sarah Anne Dordel's mastery program, valued at $997!
Winner will be chosen at the event!  See you there!
---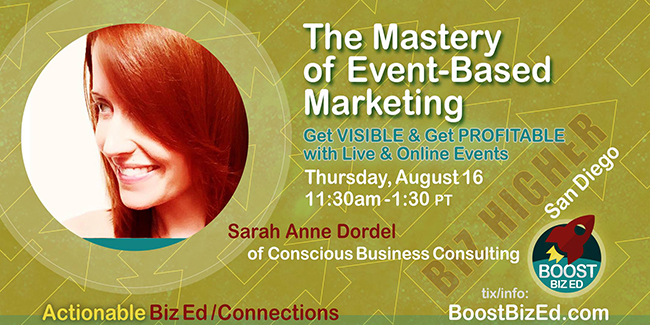 Why attend this business education event?
Is your business suffering because not enough people know about you and your amazing services?
If the answer is yes, then join us for a special presentation by visibility expert Sarah Anne Dordel, and get ready to learn how you can make your business more visible, profitable, and enjoyable at little to no cost!
Tips, Tricks & Topics that you will learn will include:
Empowering your event revenue potential by being a leader and influencer on Meetup.com

How to host events on Meetup.com & other platforms - without being a Meetup Organizer!

Building your list and your loyal relationships through in-person & online events

Creating an effective event page or website

Submitting your event to media and getting press

Perfect event posting on Meetup, Eventbrite, Facebook, LinkedIn & more!

Optimizing visibility for your event through press releases, blogging, and more

Minimizing event production stress & costs, and maximizing revenue

Masterful marketing of your event through email & social media

Harnessing the power of video for promoting your event
About our featured presenter:

---
Sarah Anne Dordel is a talented speaker, promoter, and conscious business consultant who provides huge visibility and rapid transformation for conscious entrepreneurs and businesses. She is the leader of the Conscious Business Network of San Diego, a thriving localcommunity of 2000+ professionals, and she recently founded the Conscious Business Chamber of Commerce in order to take her leadership global and support good people doing good things across the country and beyond!
Sarah Anne Dordel spent 15 years building an impressive corporate career as a business development expert who specialized in launching successful startups for companies & non-profits across a wide variety of industries. She lived in amazing cities like Santiago-Chile,Florianapolis - Brazil, New York City, Barcelona and San Francisco before settling down in her dream location, coast North County San Diego.
In 2014, and at the top of her career game, Sarah Anne's life started to crumble around her when she experienced a very abrupt and hostile job loss. This experience, although traumatic, was a gift, as it ignited her passion to advocate for leaders who are truly ethical and heart-centered in the world of work…
Sarah Anne quickly launched her own conscious consulting company, and by utilizing her business development expertise combined with masterful use of Meetup.com, she now leads a thriving local network of 2000+ professionals in San Diego and is in an emerging global leader in the realm of conscious business.
Sarah Anne prides herself on being a big dream ambassador, a passionate problem solver, and an expert in growing businesses organically & cost-effectively through intuitive branding, strategic relationships, top-notch educational events, & exceptional systems. Her passion is to elevate humanity through conscious business collaborations, compassion, and a hearty appreciation for imperfect life experience.
Learn more about Sarah Anne's consulting services at sarahannedordel.com, and her community via consciousbusinesschamber.com. 
---
Connect with Sarah Anne via:
https://www.facebook.com/consultingsarahannedordel
https://twitter.com/sadordel
https://www.linkedin.com/in/sarahannedordel/
---
RSVP early to be entered into the contest to win Sarah Anne Dordel's mastery program, valued at $997!
Winner will be chosen at the event!  See you there!
---
THANK YOU TO OUR PARTNERS:
Without the dedication of our Boost Biz Ed San Diego allies, this quality event would not occur.
Venue Ally: SPACES San Diego - University Town Center, 4660 La Jolla Village Drive Suite 100, San Diego, CA 92122 (https://www.spacesworks.com/san-diego/university-town-center/) 619-761-4203

Educator Ally: Sarah Anne Dordel, Conscious Business Chamber (http://consciousbusinesschamber.com) 917-293-4725 @sarahannedordel

Coordinator Ally:  Joanne Chen 

(http:// joannetchen.com)

Media Ally:  Cornelius Simon (http://corneliussimon.com)
RSVP early to be entered into the contest to win Sarah Anne Dordel's mastery program, valued at $997!
Winner will be chosen at the event!  See you there!
When & Where

SPACES San Diego - University Town Center
4660 La Jolla Village Drive
Suite 100
La Jolla, CA 92122


Thursday, August 16, 2018 from 11:30 AM to 1:00 PM (PDT)
Add to my calendar
Organizer
Sarah Anne Dordel, Chamber Founder, is a conscious business consultant and a tireless ambassador for good people doing good things. For the last three years she has been helping to create visibility for entrepreneurs and holistic professionals in San Diego through her Meetup & Facebook Group, the Conscious Business Network of San Diego, a membership of nearly 2000 members and growing. Earlier this year, Sarah Anne committed to creating massive upgrades for her network, and in response she has launched the San Diego chapter of her new national organization, the Conscious Business Chamber of Commerce.
The Conscious Business Chamber intends to be a centralized hub where all amazing organizations, purposeful businesses and visionary entrepreneurs can easily be found.
"We, members of the Conscious Business Chamber of Commerce, believe in passionate problem-solving, and our goal is to bring forward the greatest talent in San Diego to provide faster and better solutions for ALL conscious business entities in the city. We are dedicated to creating enhanced visibility for the live events, online products, and educational offerings of our members and Partner Organizations, and we are committed to facilitating greater ease of access to all of the educational tools, resources, vendors and other service providers that support our professional community. We are committed to sharing our own successes, and also identifying common struggles so that together we may find innovative ways to fill gaps in service so that all participating can thrive and help to quickly grow the expanding conscious business communities in our represented cities."
The CBCC membership site was launched in October of 2017, and is currently seeking membership from all individuals & businesses who aim to consciously affect human beings and the environment in a beneficial way.
Immediate benefits include:
• Enhanced visibility through the membership directory
• Easy access to other events that support Conscious Business throughout San Diego
• Opportunities to network with like-minded professionals during live monthly networking events as well as during regular online events that take place via a private Facebook group
• Sharing of experiences and best practices, as well as a container to call out pain points that need to be addressed by the community through innovative solutions
• Option to share expert tips and special offers in the collective blog and resources section
• Promotional support for live and online events, with the option to purchase event marketing upgrades
• Mentorship connections and education that is supported by the Chamber's thought leaders and Editorial Team
To learn more, or become a member or sponsor, please visit www.consciousbusinesschamber.com.