Location
Holland & Knight
One Arts Plaza
1722 Routh Street, Suite 1500
Dallas, TX 75201
Please join The Master's Conference at a 1-day in person conference in Dallas at Holland & Knight on Tuesday, October 11, 2022
About this event
By registering you agree to the COVID polices below.
The Master's Conference is back in Dallas with a one day conference on Tuesday, October 11, 2022. Master's is the leading legal technology conference that brings together industry experts to share knowledge and explore topics and solutions tailored specifically to their everyday challenges.
Founded in 2006, Master's is a boutique legal technology educational forum where a select group of speakers, vendors, and attendees convene to engage in a proactive collaboration on current challenges within the legal space including eDiscovery, cybersecurity and information governance. The team brings the best educational conference to many cities throughout the year.

Thank you to our sponsors for their continued support.

COVID Guidelines
The Master's Conference will follow local and government regulations along with the host firm regarding COVID protocols. We will email attendees with any updates prior to the conference. All attendees must agree to follow the protocols established for each conference or admittance will not be granted and will forfeit registration fees. As of 6/25/2022, there are no COVID protocols.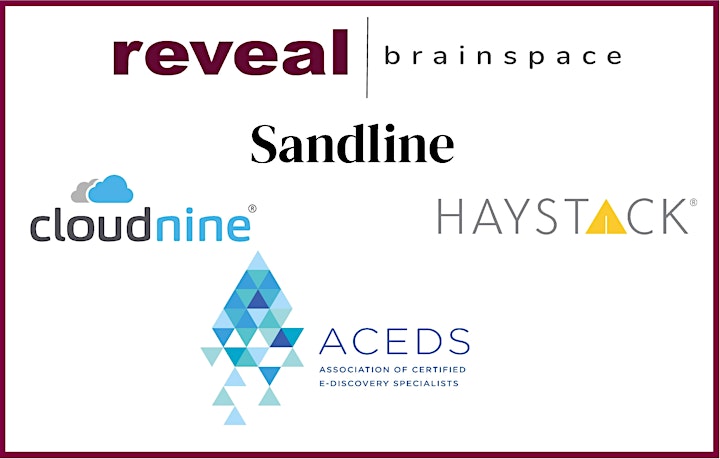 The Master's Conference Cancellation Policy
Full Refund within One Month of Conference: September 11
Half Refund (50%) within 2 - 4 weeks of conference: September 12 - September 27, 2022
No Refund within 0 - 2 weeks of conference: September 28 - October 10, 2022
Transfer Registration:
Like to Like transfer (Law Firm, Corporate or Government) transfer within one week of conference: October 4, 2022

COVID - 19 Cancellation Policy

Attendees can cancel within 1 day of conference for COVID related reason.
Proof of positive test required from 1 - 3 days before conference
Registration
If you are from a Law Firm, Corporation or Government, please choose "Law Firm, Corporation, or Government" option at check out.

If you are from a Service or Software provider in the legal industry, please choose "Service or Software Provider" at check out. If you choose "Law Firm, Corporation, or Government" you will be refunded your money and charged an $17.50 service fee. All personal emails will be checked.