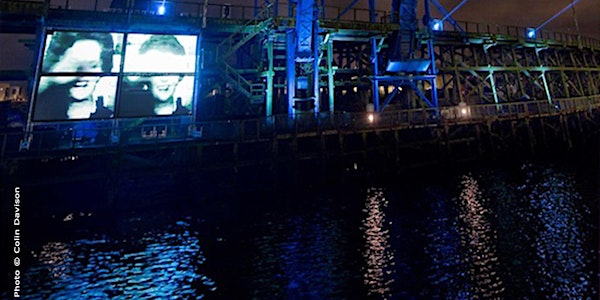 The Mark Fisher Memorial Lecture 2021 with Test Dept
This year's event titled "Notes from the Underground" features the collective Test Dept with cultural critics Alexei Monroe and Peter Webb.
About this event
"There is something very timely about the return of Test Dept … [they] have arrived just in time for the deep crisis of neoliberalism in the UK"
Mark Fisher, 2015.
When he visited Test Dept's DS30 installation in Newcastle, Mark Fisher found much to inspire him and met with the group. In a subsequent article he described their work as an example of radical 'popular modernism' which could still be highly relevant in the present day. Inspired by this, the group have worked with Alexei Monroe and Peter Webb to explore their legacy and its relevance to now.
Fisher described the documentation of their work in the book Total State Machine (2015) as an 'invaluable archive, an inventory of strategies, gestures and techniques'.
This two-part event will feature a new film work exploring Test Dept's archive with a commentary by Alexei Monroe and Paul Jamrozy exploring their legacy through the lens of some of Fisher's key concepts. This will be followed by conversation and Q&A facilitated by Peter Webb.
Test Dept worked intensively in and around Goldsmiths and the local area in the 1980s. The film and the conversation that follows will explore a series of key themes and questions, relating Test Dept's history and current work to the multiple political, social and cultural challenges of 2021.
Can popular modernism still have an effect in the 21st Century, as Fisher believed it could? What lessons are there for today in the way that Test Dept operated in harsh environmental, economic and political conditions? How did Test Dept create its artistic "fuel to fight" from ruinous conditions and spaces and is it possible to imagine something like this in our own increasingly ruinous political and economic conditions?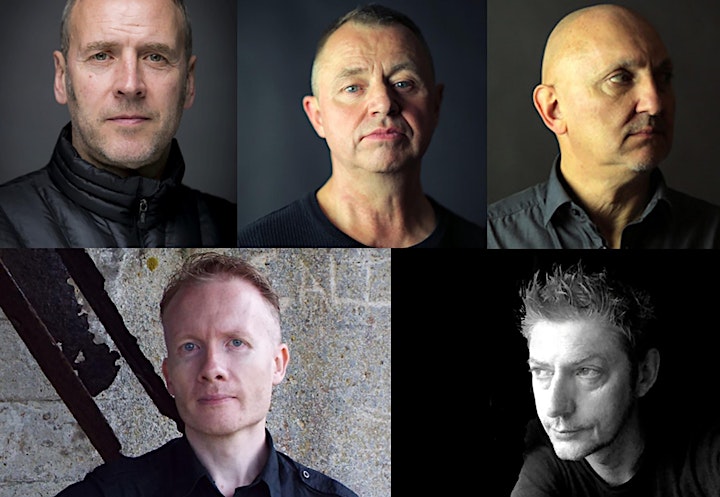 Top: Angus Farquhar, Graham Cunnington, Paul Jamrozy.
Bottom: Alexei Monroe, Peter Webb.
Biographies
Graham Cunnington /Test Dept Core Creative from 1981–1998 and 2013–Present
Graham was the co-originator and a founding member of Test Dept, which has involved recorded work and creating small and large-scale music, theatrical productions, touring internationally. He has worked on soundtracks for film and for theatre and dance productions as composer and musical director. In 1996 Graham devised, wrote and performed the autobiographical solo theatre production Pain, which premiered at The Royal Court Theatre, London, and toured the UK and Europe. In 2014 Graham co-produced the large-scale installation work DS30 for the AV Festival with Test Dept co-founders Paul Jamrozy and Angus Farquhar, and in 2015 the same trio co-authored the book Total State Machine documenting the work and archive of Test Dept. Graham has also been an active union rep for BECTU and in 2015 helped to set up the non-profit social enterprise Living Staff Living Wage which campaigned for a living wage for low-paid workers.
Paul Jamrozy / Test Dept Core Creative from 1981–1998 and 2013–Present.
Paul is one of the original members and co-founders of Test Dept. In 1998 Paul returned to education and completed an MA in Interactive Media at Goldsmiths in 2003. Since graduating he has worked on music and creative workshops with young and SEN people and has worked as a sonic artist and creative sound producer. For the last ten years he has worked in prisons and is currently running 'Radio Production' inside HMP Pentonville. In 2015 Paul co-authored the book Total State Machine about the work and archive of Test Dept.
Angus Farquhar / Test Dept Core Creative from 1981–1990 and 2013-2015.
Angus is the Creative Director of Aproxima arts and a freelance artist whose work spans performance, often set in unusual locations and music production; alongside creating temporary and permanent capital projects. He is an honorary fellow at Glasgow University and is currently working on a new wild garden with SWG3 in Glasgow. Born in Aberdeenshire and growing up in Edinburgh, Angus came south to Goldsmith's College to do an English and Drama degree in 1980. He was a co-founder of Test Dept in 1981 and worked with the group for 10 years. Moving back to Glasgow and Scotland in 1990, Angus was Creative Director of NVA organisation, from its inception in 1992 till closure in 2018. Ground-breaking NVA commissions included monumental landscape animations such as The Path, Glen Lyon and The Storr on the Isle of Skye. Ghost Peloton, for the Tour de France extended the world tour of Speed of Light, a signature contribution to the Cultural Programme for the 2012 Olympics. For 10 years NVA worked on the rescue of St Peter's seminary, the infamous modernist ruin.
Alexei Monroe is a Research Fellow at Burren College of Art, Éire and a cultural theorist holding a PhD in Communication and Image Studies from The University of Kent. He is the author of Pluralni monolit (MASKA 2003) and Interrogation Machine (MIT Press 2005) on Laibach and the Slovene arts movement NSK. In October 2016 his second book, Autopsia: Thanatopolis was published by Divus. Alexei's research interests include electronic and industrial music, Yugoslavia, Eastern Europe, architecture and the cultural history of the Stag. He is the editor of the Congress book State of Emergence (Ploettner Verlag/Poison Cabinet Press 2011) and co-editor of the book Test Dept: Total State Machine (PC Press, 2015). In 2016 he was a member of the organising committee of the 2nd NSK Folk Art Biennale, held at Burren College of Art. His work has appeared in Contemporary Music Review, Central Europe Review, Kinoeye, Maska, The Wire, New Moment, AS, Trebuchet Magazine and many other publications. https://pluralmachine.blogspot.com
Peter Webb is a writer, lecturer and musician who specialises in research into popular and contemporary music, subcultures, globalisation, new media, politics and social theory. He is currently a Senior Lecturer in the Department of Sociology at the University of the West of England, Bristol. His PhD was on the sociology of networks of musicians and their negotiations with the music industry. He has published a book on these networks and on social and cultural theories of music scenes entitled Exploring the Networked Worlds of Popular Music: Milieu Cultures (Routledge, 2010). Webb has also worked within an independent record label from 1996 – 2002 as an artist and tour manager and is a published musician with three albums, various singles and remixes under the names of Statik and Statik Sound System. He currently plays with the `post-punk' band Idiot Strength. In 2013 he set up the DIY publishing house PC-Press. He is co-editor of Test Dept: Total State Machine .