The Marionettes presents Bizet's CARMEN

Multiple Dates
Event Details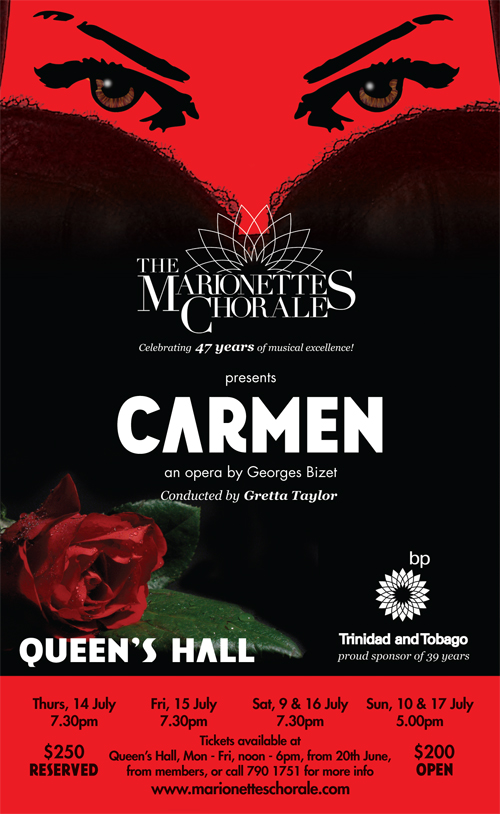 Performance Dates (Queen's Hall)

Tickets

Tickets are $200 open plan / $250 reserved, available from:
The Production

This July, the Marionettes Chorale will present Bizet's iconic opera CARMEN over two weekends at Queen's Hall.

The Marionettes' CARMEN features a stellar international cast of award-winning Trinidadian singers, some of whom are returning from work and study abroad to participate in this exciting event. The cast includes:

• Carmen: Candice Alcantara & Lesley Lewis-Alleyne
• Don José: Marlon De Bique & Nigel Floyd
• Escamillo: Arnold Phillip & Marvin Smith
• Micaëla: Natalia Dopwell & Feryal Qudourah
• Zuñiga: Nigel Pierre & Richard Pierre
• Moralès: Arnold Phillip & Garfield Washington
• Frasquita: Jacqueline Smith & Ayrice Wilson
• Mercédès: Patrice Quammie & Llettesha Sylvester
• Le Dancaïre (Dancaïro): Kashif Dennis & Stephan Hernandez
• Le Remendado: Raguel Gabriel & Errol James
• Lillas Pastia: Caroline Taylor
• Guide: Dwight Lewis 

The Marionettes – together with sponsors bpTT; partners Dr. Vertrelle Mickens of the University of Trinidad & Tobago (UTT) and Noble Douglas of the Noble Douglas Dance Company (NDDCI); members of the Love Movement's Lights of Love; and production team including Celia Wells, Margaret Sheppard, Randy Halfhide, Frank Agarrat, Leslie Clement, Maureen Clement, Giselle Langton and the Marionettes committee – look forward to sharing the journey with you to CARMEN! It will also be the first time the opera is performed with our national instrument, the steel pan.

See you in July!


The Marionettes Chorale
Founded 1964; Incorporated Nonprofit 2005; Sponsored by bptt since 1972
• Official website: http://www.marionetteschorale.com/
• Facebook: http://www.facebook.com/marionetteschorale
• MySpace: http://www.myspace.com/themarionetteschorale
• Twitter: http://www.twitter.com/marionettes
• YouTube: http://www.youtube.com/marionetteschorale
• iLike: http://www.ilike.com/artist/the+marionettes+chorale
• ReverbNation: http://www.reverbnation.com/themarionetteschorale
• CDs and MP3s on Sale: http://cdbaby.com/all/marionettes