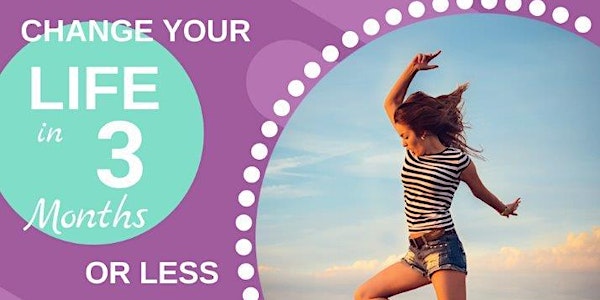 The Marilyn Devonish TranceFormation™ Programme
Date and time
December 16, 2018 · 12:30pm - June 30, 2020 · 11:30pm GMT
Location
Telephone or Skype Sessions Comfort of your own home Global / Anywhere
Description
THE MARILYN DEVONISH TRANCEFORMATION™ PROGRAMME
This is the biggest and most in-depth Programme I offer so it's definitely not for everyone. It is designed to run as a 3-6 month, and sometimes 12-month Program depending upon how quickly you want to work. You will find alternative options and suggestions towards the end of this copy if you are looking for less indepth. The New ONLINE Video Webinar Coaching Program gets fully underway at the end of January 2020. The first 2 Video Webinar Modules are now available.
A message from one of the first people to complete the TranceFormation™ Programme when I offered it in 2013:
"Love the write up Marilyn.
I am cheshiring from ear to ear.
I totally envy those new starters…what a fabulous journey they are about to go on and don't even know it."
We mentioned someone called Ammana in that video, and this is what she had to say upon watching it:
Ammana Shaka Hi Marilyn Devonish and Claudette I can certainly identify with the energy being expressed on this video . To onlookers who have not experienced the transformation all I can say is ...you change on a molecular level and your sense are heightened as Claudette vividly describes. Sending cyber hugs to you both...still transforming.... forever growing and inviting miracles into my life daily....and receiving just that!
WHAT IS THE TRANCEFORMATION™ PROGRAMME?
The Marilyn Devonish TranceFormation™ Programme is an in-depth, 3-6 month (depending on how fast you want to work), step by step process and plan for understanding, re-aligning, appreciating, and where necessary, changing and transforming your mindset so that you can get way more out of life.
Designed to bring together ALL of the cutting edge tools, techniques, therapies, and processes that I have specialised in over the years and is my most through process yet for effecting true and lasting transformation and change.
The TranceFormation Programme basically encompasses everything that I have learnt over the past 18 years. It has been 5 years since I made this fully available and I do not have future dates available or planned at this time.

We start off by delving into where you are on your Archetypal Journey. We then explore the Core Issues that keep you stuck and hold you back in terms of your soul.

We'll then go through the Soul Transformation Core Issue Therapy Interventions that relate to your specific core issues and separation patterns.

If it's relevant we then explore further back and so some Past Life Regression and Timeline work, before coming back to the present to clear old emotional like anger, sadness, fear, worry, anxiety, grief, and guilt.

We then look at any underlying limiting beliefs; the 'I'm not good enough' 'I'm not worthy enough' kind of thing and use a range of interventions to clear those, such as Huna, Access Consciousness, Hypnosis, OTH (Opening the Heart), EmoTrance, DNA Theta Healing, and whatever else is required to clear the old issues once and for all.

We then take a trip 'back to the future' with some Future Life Progression in order to go and dialogue with the best version of your future self.

Once we've done that it's a case of putting all of that knowledge into action and creating strategies and plans for the year ahead and beyond.

It's pretty full on and wonderfully intense so it has been designed so that you can go at your own pace. Previous participants have taken anywhere from 1-6 months to complete the TranceFormation Programme with a couple opting for 9 months in order to integrate and let things bed in and see what emerges. Our starting point is to determine what you want to work on and the pace at which you want to work.

Sessions are done via telephone or Skype in order to accommodate all geographic locations.

WHAT CAN YOU EXPECT AS A RESULT?

As one of the first participants in the Programme put it:

"As for the TranceFormation Programme, it does what it says on the tin. I am transformed!"

You can watch her testimonial video, and those from previous participants here.

WHY ARE THERE LIMITED PLACES AVAILABLE?

As you can imagine given everything that is included in the TranceFormation Programme it takes a fair amount of my time because in addition to the front facing work there are also things that I am both preparing and doing behind the scenes for the duration of the Programme. It therefore means that in terms of my schedule I can only allow a limited number of people onto the Programme this year.

HOW DO YOU BOOK A PLACE?

If you already know that this sounds right for you, you will find booking information above.
However, the first intake for the Programme was by invitation only and my preference would be to do the same this time round. Why? Because 3-6 months is a lot of time to spend working together so I wanted to be sure that people were:

A good fit.

The was the most relevant option for them given the range of things that I do and offer.

That I actually wanted to work with them.
If points 1 and 2 are ticked but point number 3 is missing, I am afraid that it will be a 'no' from me as I really do also want to have fun while I'm working. So if we've not met you might want to send me an e-mail so that we can arrange a time to have a chat about you joining the Programme.

E-mail: marilyn@tranceformationsTM.com and put 'TranceFormation Programme' in the subject line.
You can also book a free 20-Minute Consultation via: https://bookme.name/marilyndevonish
"I want my old self back. I want to be the authentic me."
"I wanted to get back to my old self after a head injury and The TranceFormation Programme has been like a a tonic for me. Marilyn has picked me up, shaken me around and helped me to see a brighter future. Marilyn's energy, knowledge and the ability to challenge me to move forward has been the basis of my life changes. The mix of modalities has helped me to discover more about who I am, and how to be the best version of me both now and in the future. I recommend Marilyn as a personal coach and mentor." Louise shares her experience in the video below:
WHAT HAVE PEOPLE SAID ABOUT THIS GROUNDBREAKING PROGRAMME?
Feedback from the clients that have embarked on this journey has been fantastic!
The first person to complete the TranceFormation Programme very kindly shared and gave a detailed summary of how they benefitted from taking part and their reasons for saying 'Yes' and signing up for the Programme. A snippet is below and you can listen to the full audio recording by clicking on the YouSendIt link the follows:
"Marilyn was running it for a start, somebody who I met many many years ago and I followed her with interest. I jumped at it without a second thought, in fact I did think that the price you were offering it at was really cheap but I wasn't going to look a gift horse in the mouth!
It's been brilliant, absolutely brilliant; Marilyn has been like the rocket to launch me into the stratosphere. I thought I was flying but there is nothing like seeing things from a rocket point of view but now something now seems clear. Even though I thought I was confident, I didn't really feel confident inside, everyone thought I was confident because that was the exterior that I gave them but after these sessions I know I am the dogs nuts!
It is just about having the time to dedicate to yourself, to look at yourself and have that coach lead you to think about things, look at things, and give you alternative ways of looking at things because that gives the answers that you already have. Sometimes it was revealing to me that I already knew the answers."
As for the TranceFormation Programme, it does what it does what says on the tin. I am transformed.
I know that life if a lot more exciting, I think there's something to learn every day, it is just absolutely fabulous, the links that are coming through, totally inspired. It's just made me notice more and take on board the messages that you are sometimes receiving and probably before this I was just going through the motions and watching it and or listening to something, where now I hear and I see because things are a lot clearer. It's like the scales have dropped off my eyes because I thought I was seeing but it's like getting a new pair of glasses and now life is like HD vision!" SENIOR LOCAL AUTHORITY MANAGER
DOWNLOAD THE AUDIO RECORDING & HEAR IT FOR YOURSELF!
I asked if they would like to say a few words about their experience of taking part, and 20 minutes later they still had plenty so say! You can listen to a copy of the recording at:
https://www.yousendit.com/download/ZUczS3dqMGM3N0M5TE1UQw
WHAT OTHERS WHO EMBARKED ON THE TRANCEFORMATION JOURNEY HAVE ALSO SAID:
"When people want a full life, a joyous life, if they want focus and direction, you're the person Marilyn to help with that. It's only been a couple of months really but I'm so different now, I'm lighter, I'm more accepting. Whereas before I'd be getting huffy and fighting things, my life now is so much easier. I hope somebody is looking after you in the same way that you as you are taking care of us."
"The TranceFormation™ Programme has been a tonic for me. Marilyn has picked me up, shaken me around and helped me to see a brighter future. Marilyn's energy, knowledge and the ability to challenge me to move forward has been the basis of my life changes. The mix of modalities has helped me to discover more about who I am, and how to be the best version of me both now and in the future. I recommend Marilyn as a personal coach and mentor."
"Marilyn thank you for the gift of being on this Programme."
"Marilyn you are so good it's scary."
"I've poo poo'd a lot of this stuff. I've done NLP so how come this stuff hasn't cleared before? That's interesting. I'm back to my authentic me!!"
"Marilyn I am so pleased I signed up with you, so pleased. I can't even believe that I had doubts about it, I suppose it was just a money thing, but thank you. Oh I love this!"
"This is so exciting, perfect, and at the perfect time for where we're at because we want to up level everything."
"I speak to you Marilyn and you're like the obia woman because everything you say comes true within a couple of days or a week! I'm continually having to say: Are you kidding me? You're not gonna believe this! Trust me, over the past few weeks that we've been working together I'm like: Really????"
"I like that way that the TranceFormation Programme is not absolutely set in stone. It feels like a journey that can be done gradually with no restrictions. The Soul Plan was the blueprint to start. The Archetypes was a fascinating insight into the world. We've done Skype, we've done phone, and you've not said 'right, you've got an hour or an hour and a half.' It's like a journey with magic steps along the way, and a magic wand with more and more clarity along the way. That's what makes it so special. It took guts to say I need help from someone that I totally trust and I feel you're authentic. I like the fact that it just flows, it's not regimented, it's just lovely."
"(On Access Consciousness) Every single thing you said I was thinking how does she know that? You're frightening me, lol! Some of the things you said I was like: Ah, yes, I wouldn't have thought of that. If you could see me I was like a nodding dog. I'm gonna put myself in a lead balloon so that you can't read my thoughts!"
"(On Past Life Regression and Future Life Progress) Wow. Thank you for that Marilyn. That was extraordinary!"
"I finally got my website set up after 2 years of procrastination, it's great! (Procrastination was one of the issues we were working on)."
"Every single session whatever we have talked about has been linked to something that happens afterwards, it's like creating roots. I am opening up to so many more things than I would ever have done. Everything I ask for, it's just there, thank you. Oh wow, it's fantastic."
Below is a message and post-Progrogramme update that I received from one of the TranceFormation Programme Participants who took the longer 12 month journey where things have been unfolding since we first began. To say what unfolded has been jaw dropping and mind blowing would be an understatement!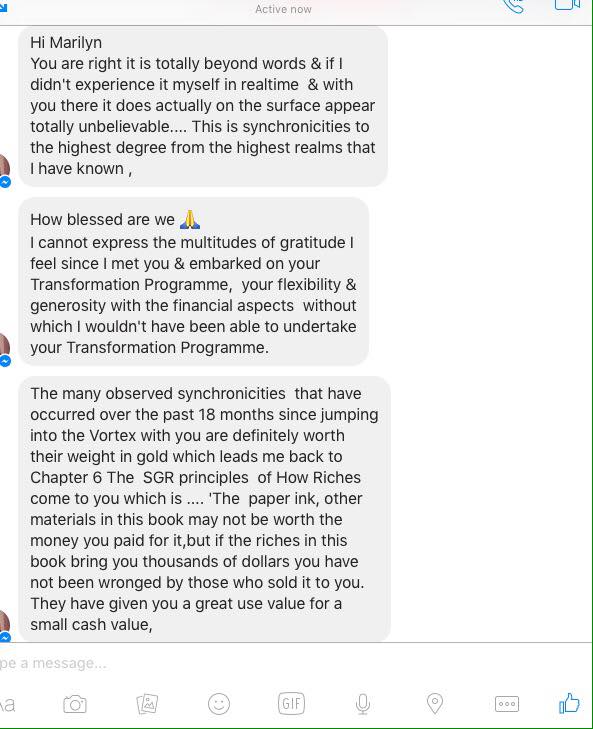 WHO IS THE TRANCEFORMATION™ PROGRAMME FOR?
If you ever had the sense that you are almost 'in the dark' when it comes to really living your life purpose, or that feeling of not truly knowing what you are here on this earth to do, this Progamme is for you.
If you are on the other side of that fence, frustratingly knowing exactly what you want and exactly what you want to be, do, have and achieve, yet for some reason you are not able to fully live, realise, and capitalise on your potential, this Programme is for you.
HOW IS THE TRANCEFORMATION™ PROGRAMME STRUCTURED?
For the first 8 or so years that I was in therapeutic and coaching practice I only did Breakthrough Sessions, 8-Hours, back to back, no messing, all in one sitting, job done. They are brilliant, and I still ocassionally offer them if I have the time.
And, I also appreciate there are many people out there that benefit from an unfolding process with more ongoing support. The TranceFormation™ Programme was originally designed as a 3-6 (and sometimes 9-12) Month Programme which can be condensed or extended to suit, depending upon how quickly or slowly you wish to work. I also had a couple of people who sped through in 4-8 weeks.
In a nutshell, the TranceFormation™ Programme is a 10-Part Process which includes the following:
The Soul Plan and Archetypal Journey Revelation

The Soul Transformation Core Issue Therapy Diagnostic

The Bespoke Soul Transformation Intervention

Huna and Access Consciousness Session

Tarot Readings

Strategy and Action Planning

Kinesiology Testing and Soul Plan Alignment

Future Life Progression

The Energy Creation Process

Implementation and Measurement
It is created as an almost step-by-step process for systematic and lasting transformation and change from the inside out. It also builds in that all important accountability which I have found to be key in ensuring action, momentum, and success.
WHAT ELSE IN INCLUDED?
Interwoven are specific modules relating to Relationships, Spirituality, Intuition, Work and Career, Health and Energy, Money and Wealth, Mindset and Accelerated Performance, and Self Love.
As with the traditional 1-Day Breakthrough Session you can choose the area of life which is of most concern. We usually then find that once that area is back into alignment, other areas also start to naturally fall into place and benefit from that magical ripple effect.
We will also be exploring and analysing your Soul Plan, your Archetypal Profile and the fulfilment of your Hero's or Archteypal Journey. For those that are so inclined we'll also be calling in some of the angel energy with the Angel Card Tarot Readings, and interweaving all of that with the cutting edge mind and energy TranceFormation™ methodologies that I have refined over the past 18 years.
Constructed over a period of 13 years, and combining all of the components that have become part of the legendary Breakthrough Sessions and Intuitive Energy Clearing Sessions, the Life TranceFormation™ Programme is an alchemic mix of the best strategies that I have both learnt and developed for my clients during that period of time. I think of it as a recipe for creating more mental and spiritual alignment, peace, and harmony in what has become an increasingly busy world.
In addition to the esoteric mix, I have also combined ideas and strategies from the business world which has been a signature part of my life since completing my Business Degree and the 35 years in industry that have followed. It is this unique blend of skills, knowledge, and cutting edge modalities that make this Programme something special.
WHAT AREAS OF LIFE CAN YOU FOCUS ON?
Whether you want to focus on career, relationships, your overall life purpose, or simply take things to the next level, the modules and processes are designed bring the area of focus back into alignment and then skyrocket things to the next level.
WHAT CAN YOU EXPECT AS A RESULT OF PARTICIPATING IN THE TRANCEFORMATION™ PROGRAMME?
Clients who have taken my regular programmes and Breakthrough Sessions have focused on and achieved greater incomes "My revenue is up 300% since working with you Marilyn!" Other have wanted to find their soul mates (I hope to be dusting off a few hats soon as there are some lovely hooks ups that have come to pass). Others have wanted to up new areas and opportunities for their business (see the video of one of these amazing storie below). Improved their health and well being, released negative thinking and the moods that have held them back, and created and started living the lives they have always dreamed of.
For client testimonials you can visit: http://www.tranceformationstm.com/testimonials.html
The TranceFormation™ Programme provides the tools, support, and accountability to really help get things back on track and keep them there. It is the most comprehensive and complete programme I have ever offered.
As well as removing old blocks, barriers, and limitations to living your best life, and attracting the things that you want, it is also about opening up the space for greater possibilities to be the person that you were truly meant to be, and creating and generating more flow, energy, fulfilment, peace of mind, and satisfaction.
WOULD YOU LIKE TO TAKE ADVANTAGE OF THE PART-SCHOLARSHIP PROGRAMME?
There is one scholarship place available with each intake. If that is no longer available you can join the waiting list. E-mail: marilyn@tranceformationsTM.com and put 'TranceFormation Programme Scholarship' in the subject line and we can arrange a free 20 minute consultation to see whether this approach and programme is right for you and discuss the qualification criteria.
IS THIS PROGRAMME FOR YOU?
The TranceFormation™ Programme is practical, outcome orientated, and dynamic, whilst leaving room for the 'un-measurable' and what I call the ripple effect. I discovered that people would do a 1-Day Breakthrough Session, go off back to their lives, and then notice as the weeks, months and years progressed that their entire lives had changed. However, it was often only when I ran into them years later, and reminded them of their goals and outcomes that the full extent of those changes would come to light.
With the TranceFormation™ Programme, rather than letting those wonderful changes go unnoticed into the ether, we will be tracking and measuring and building upon them for maximum results, effect, and impact. They say that what gets measured gets done and what you focus on expands, so this is about achieving results and expanding those areas that you would like to change, transform, or improve.
If that resonates with you and where you are on your life, soul, and life purpose journey, then this programme is definitely for you.
WHY THE TRANCEFORMATION™ PROGRAMME?
The more I delve into my work and the many modalities that I have trained and specialised in, the more I realise what it has always been about: Opening the heart and mind to greater possibilities and creating the space for lasting transformation and change.
The TranceFormation™ Programme is my way of finally delivering a consistent model out into the world.
WANT A BIT MORE DETAIL AND INFORMATION?
For those of that you like more information and detail instead of a few bullet points, I have outlined the TranceFormation™ Programme in more detail below.
If no openings are shown above please e-mail Marilyn Devonish to find out about availability for future slots on the Programme: marilyn@tranceformationsTM.com
TOO INTENSE FOR YOUR RIGHT NOW BUT STILL LOOKING FOR TRANCEFORMATION?
If this Programme is bigger than you are looking for you might want to check out the Power of 4 Coaching Programme. It includes a Soul Plan Reading, Angel Tarot Reading, Huna Energy Clearing, and Future Life Progression Session. Go to: https://powerof4combo.eventbrite.com
If making changes yourself is more suitable to where you are right now I recommend my Magic & Daily Gratitude eCoaching Programme and Lifetime Facebook Group. Transformational in oh-so-many magical ways, you will find further information at: http://themagic.eventbrite.com/
THE TRANCEFORMATION™ PROGRAMME OVERVIEW
PRE SESSION ASSESSMENT AND INTRODUCTION
The first part of the Life TranceFormation™ Programme is assessing where you are now and where you want to be so that you can benchmark your progress. We will do a review of the key areas of your life and make a decision about how best to prioritise their improvement, growth, or further development. We will also discuss the mindset, approach, and commitment required to successfully complete this type of work, and lay the foundations and ground rules that will help you to achieve and attain your desired outcomes, intentions and goals.
We will also do an Angel Card Tarot Reading to get a sense of anything that it is useful to uncover and bring to the surfact at the outset.
I will require your full birth name (i.e., the one on your birth certificate). You will also be required to complete a Pre-Programme Questionnaire.
PART 1 – The Soul Plan and Archetypal Journey Revelation
Part 1 of this Programme starts with uncovering who you are, and what you are here on this earth and planet to do. It also uncovers some of the reasons why you have found yourself in situations that have occurred in your life, and why certain challenges have not only come up, but persisted throughout your entire lifetime. This is a unique and powerful mix of looking at your unique birth name Soul Plan and your Archetypal Journey Profile. Often known as the Hero's Journey, your Archetypal Profile shows exactly where you are in the journey of your life. When combined with your Soul Plan, it offers and unprecedented insight into the hidden and unseen factors that have been governing your life, and what you can do to get out of a rut, change things that are no longer working for you, and enhance your natural skills, abilities, and talents.
PART 2 – The Bespoke Soul Plan Intervention
Having revealed the talents and challenges from the Soul Plan and the Archetypal Journey Profile, Part 2 of this Programme is about identifying what specifically needs to be done in order to work more harmoniously with the major influences, challenges, and shadow sides of your life. I realised very early on in my Coaching Career that I didn't want to be a one-size-fits-all Therapist so here we start creating a tailored plan of specific interventions to support your transformation. We are not intervening with what your soul has in mind, but working with your Soul and Archetypal Plan to enhance and make the most of your talents, and using your challenges to help you grow and expand as a person.
PART 3 – Uncovering the Root Cause
For the most part, the Soul Plan and your Archetypal Journey are relatively unconscious even though they can play out in dramatic and sometimes seemingly devastating ways in your life. Overlaid with this are the negative emotions, self judgements, limiting beliefs that get built up and accumulated. In Part 3 we identify the strategies, beliefs, and mental programmes that run in your life that no longer serve you. If these are not identified and uprooted they can become what I call the silent saboteurs, quietly and consistently holding you back, causing you to procrastinate, and sabotaging your best laid plans.
PART 4 – The Clean Up and Release
Here we review your Soul Plan, Archetypal Profile, and the limiting beliefs, judgements, and negative emotions that underlie everything that you do, and identify what on earth we can do about it! Many people can actually tell you chapter and verse what the problem seems to be, however that doesn't necessarily solve the problem. Here we come up with a plan to release long held patterns, behaviours, and beliefs that no longer serve you.
PART 5 - The Intervention Plan
There are some standard things that I would typically do with a client, and depending upon what your Soul Plan reveals, and the beliefs that underpin what you do, the interventions will typically include a combination of:
NLP to uncover strategies and almost re-wire the brain, mind and thinking
Hypnosis to change autopilot thoughts, strategies and beliefs
Time Line Therapy to go back and release limiting beliefs, negative emotions, and genealogical and past life programming
DNA Theta Healing to release old thoughts and beliefs that get stuck at various levels in the neurology
EmoTrance to soften and flow stuck energy and emotions out of the mind and body
EFT to re-stimulate the neurology and Positive EFT to install desired change
Huna and Ho'oponopono to connect with the Higher Self and release old relationships and ancestral ties from the past
Quantum Touch to entrain your energy and create higher levels of vibration
Energetic NLP to clear and set up your physical, emotional, spiritual and mental energy
Access Consciousness to release judgements, beliefs, limitations and expectations, and old ancestral family, and societal programming
Access Bars (in-person sessions only) to physically release old mental programmes and blockages
Angel Card and Tarot Reading(s) around relationships, life purpose, or gaining more clarity in certain areas
The Intervention Plan will be individually tailored to suit your personality, thinking modalties, learning style, and the issues that have been highlighted by your Soul Plan and Archetypal blueprint, and will be designed around and based upon your Soul Plan challenges, spiritual challenges, limiting beliefs, and Archetypal shadows.
The interventions will also be spread throughout the Programme because as you move forward new challenges which you would never have seen from your old vantage point can sometimes arise. This always looks like a huge part, however once the groundwork as been done, many of these processes can blow limiting beliefs out in a matter of minutes.
PART 6 – Strategy and Action Planning
Designing your Well Formed Outcome Plan and creating strategies in order to achieve its completion. The Plan, as with the Intervention will be tailored around your natural learning style and optimum motivation strategies. It is much more effective to do your planning and strategising once you have cleared and resolved any blocks and barriers from the past.
PART 7 - KINESIOLOGY TESTING & SOULD PLAN ALIGNMENT
The Kinesiology Planning
Once the plan has been outlined we will use a form of Kinesiology and what some clients have called the 'magic dowsing rod' to uncover and test any resistances to the plan and its achievement.
The Soul Plan Alignment
Getting alignment (or re-alignment) with your Soul Plan and Archetypal Profile based on your universal strengths, talents, and meta programme profiles.
PART 8 – Energetic Realignment & Future Life Progression
Using a combination of Huna, Access Bars, and Hypnosis, having shaken things up, often quite considerably, these sessions are about getting everything emotionally, mentally, and spiritually back into alignment.
PART 9 – The Marilyn Devonish Energy Creation Process
A heady mix of Time Line Therapy, Huna, Access Consciousness, Hypnosis, Heart Math, and Energetic NLP blended to create a powerful way to put energy into and behind whatever it is you are choosing to create. As one of my clients, a Master Trainer in NLP and many of the other modalities said of this process: "I've done some Time Line and goal setting stuff in my time, but what the @*%* was that? Wow, amazing, I've never experienced anything like it!"
PART 10 – Implementation and Measurement
This runs throughout the duration of the Programme and is a combination of ongoing Coaching, Therapeutic interventions, and accountability updates.
Implementation includes teaching you some of these approaches and processes for yourself so that you can become more self sustaining.
WHAT CAN YOU EXPECT AS A RESULT OF THIS PROGRAMME?
In addition to understanding your Soul Plan, Life Purpose, your individual Archetypal Journey, and working through a more systematic plan to change and transform your life, you will also:
Resolve old limiting beliefs

Clear out blocked physical and emotional energy

Create a space where you can forgive yourself and others

Let go of old judgements and self doubt

Pave the way for new opportunities and ideas to show up

Release yourself from the past and old genealogical and ancestral patterns that hold you back
One of the beauties of this work is that you don't even have to know exactly what it is you are trying to clear, with processes like Huna and Access Consciousness it is about unlocking the energy and limitations without your conscious mind having to try and figure it all out.
WHAT HAVE PEOPLE EXPERIENCED USING THIS DYNAMIC COMBINATION?
<span style="font-size: small; li
About the organizer
Trance FormationsTM offers Training, Coaching, NLP Facilitation, PhotoReading and Accelerated Learning & Development courses to corporations and individuals.
A pioneer in cutting edge change technologies, and with over 20 years industry experience, Trance Formations offers Coaching and Events that enable people to tap into their own innate potential.
Contact Information:
For details of PhotoReading one to one coaching sessions and corporate training courses, you can contact Marilyn Devonish on: 
Tel: +44 1923 337282
E-mail: Marilyn@tranceformationstm.com  Web: www.tranceformationstm.com