The Märchen Sagen Academy Pre Registration Event
Description
Our Pre-Registration Event Is Here! Registering kids ages 8 to 12 for our first cycle in August or any of the other 8 cycles in the 2016-2017 school year, now through June 3th, for a 20% Discount.
The pre-registration fee posted is already discounted 20% and includes a child's full 20 day tuition in advance, healthy snacks, a "Founding Crew" package and other goodies including a custom Märchen Sagen Academy collegiate style T-Shirt and their own USB Jump Drive. 3 day and 2 day Pre-Registration available for the 1st session only. Please remember, we are a nonprofit entity, and tuition collected supports our vision, maintaining our after care and the community outreach and lecture series. Also, all tuition paid is tax deductible. We are using Eventbrite for this pre-registration event to hold seats ONLY. Registered families will receive online instructions to complete registration forms and e-signatures on June 15th through our new online registration system. There will be a $25.00 application fee due at that time.
After the Pre-Registration Event, our normal rates will be as follows:
The Full Week | Mon-Fri $450 per cycle (5 days per week includes snacks and water | payable on the 15th of the month prior to the beginning of the cycle).
The Busy Week | Mon, Wed and Fri $390 per cycle (3 days per week includes snacks and water | payable on the 15th of the month prior to the beginning of the cycle).
Learners | Mon and Wed $270 per cycle
(2 days per week includes snacks and water | payable on the 15th of the month prior to the beginning of the cycle).
We are a nonprofit entitiy and all tuition and donations are tax deductible.
---
The Märchen Sagen Academy for Visual Storytellers is an aftercare program for young creatives. Daily, your child will be exposed to the magic, art and science of video and audio production. In the Houston House, your child will collaborate with other children and learn the fundamentals of video production, stop-motion animation, filming, script writing, beat making, recording, video editing and other exciting topics to help them learn how to create engaging and impactful videos and music!
A typical day at The Märchen Sagen Academy will be on a schedule like this:
2:45-3:15 Kids are Arriving.
Kids will arrive by drop-off, staff pick up at the Recreation Center or through our own passenger van.
3:15-3:30 Snacks and Restroom Break
Your child will have time to settle in and have a nutritional snack with friends. Prepackaged healthy snacks, fruit and bottled water will always be provided. Kids may also bring their own snacks to be consumed during this time.
3:30-5:00 Visual Storytellers Workshop
On any given day, your child can be the director, writer, on-screen talent, camera operator or music producer of an amazing video! Your child will create and work on audio and video projects daily. Using consumer level and professional equipment like iPads, Panasonic GH4s, Canon XTi's, Mac computers and production software, professional tripods, lighting, Rode mics, booms and green-screen technology, children will produce their projects together in small groups of 4 to 5 students called "Crews". Your child will assist the Crew in the planning, writing and production of the videos, musical tracks and songs produced at the Houston House. Crews will plan, write, record and produce all of the media required for the videos that they imagined together. The Crews will be guided and instructed on the correct way to sequence clips, produce music for video, record voice-overs, editing tips and techniques and other jewels and nuggets to make videos that express their voices and embody their own creativity. Rotating in and out of sessions in one of our video production classrooms or our recording studio, your child will hear and be involved in presentations on various topics like video and audio production techniques, lighting, creative storytelling, audio production, audio recording tools and techniques, voice-over production, making beats, scoring, video and audio editing and mixing records master classes.
The magic, art and science of producing videos and music is a fun and multifaceted discipline, with many amazing ways to learn and apply it's principles. Daily, using everyday equipment like Apple iPads, iPhones, Mac computers and software, as well as professional tripods and stabilizers and various other audio and video recording apparatus readily available, your child will learn to use their mind and some awesome technology to create amazing videos and music in an warm and inspiring environment.
5:00-5:30 Snack and Restroom Break
Your child is given a second opportunity to use the restroom and have a snack with friends. We understand that children are on different schedules and, if needed, will be excused during the class to take a restroom break.
5:30-6:15 Video and Audio Editing
A videographer knows that a good habit to develop is the process of going over your footage and recordings at the end of and during a shoot to make sure that you have what you need for editing. Your child will be guided through their projects individually or in small groups to edit and work through the moments and sequences of their footage to the completion of their projects.
6:15-6:30 Its a Wrap
Kids develop the habit and technique of accurately closing out and saving their projects and media. Thought and note is given to any parts of the project needed to produce the following day and allow time for your child to ask more questions and get more clarity on creating videos and songs.
6:30 End of Day
Crews sign off, get picked up and head home.
---
The Inaugural Year of The Märchen Sagen Academy for Visual Storytellers is upon us! We are very fortunate to be able to host our program in the historic Houston House, at 418 Church Street, right in the heart of Downtown Decatur. It is a warm house with amazing details and good "vibe", we hope to make a lot of awesome videos and records there! Additional information can be found on our site at: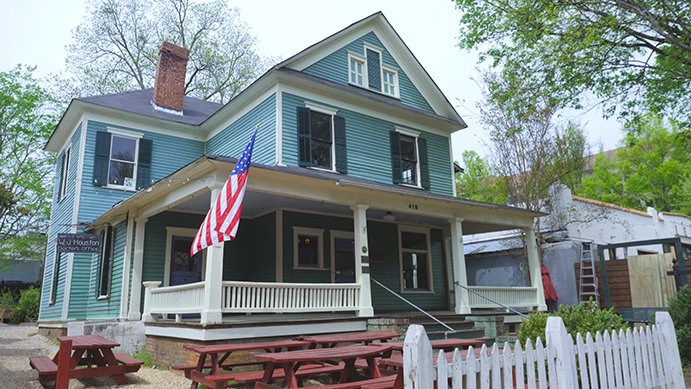 We are an aftercare for kids ages 8-12
As stewards of the Houston House, we intend to fill the space with inspiration and teach kids the magic, art and science of producing music and videos. Our "Crews" will learn fundamentals in video and audio production, recording audio and instruments, stop-motion animation, editing, shooting on green-screen, beat making, song composition, DSLR basics and many other facets of creating engaging, impactful videos and music.
The response to our opening announcement has been tremendous, and a blessing. With a great project plan and program, press in many local blogs and offers for television show filmings and podcasts, the community support and encouragment has been amazing! Please see some of our press below:
Decaturish.com!


Decatur Metro!


Curbed Atlanta!


The April issue of Decatur Focus magazine!


---
FAQs
Q: Are you serving children of all ages?
A: Only kids ages 8 to 12 will be able to attend the program.
Q: When will you be open?
A: We will be open in the Fall of 2016. Our first open day of aftercare will coincide with the first day of school in City of Decatur.
Q: What about adult supervision?
A: There will be at least 1 adult for every 10 children in attendance.
Q: Will you accept children from home schooled families.
A: We will accept kids ages 8 to 12 from all types of families.
Q: I want to sign up! Where are the applications?
A: All families registered between now and June 3rd will receive links to online applications and documents requiring parental consent on June 15th. They will be notified via email. We are migrating our forms into an online system that will allow e-signatures and confirmations on mobile and tablet. It will be great interface for the families and the staff at the Houston House.
Q: What are your rates for after school care?
A: Our rates are $65 per child per day or $325 for a full session. There are 9 after school sessions, with 20 days each, on the same days as the City Schools of Decatur Calendar. Tuition for the session is due on the 15th of the month prior to start of the session.
Q: What are my transport/parking options for getting my child to the Houston House.
A: We expect to meet some kids at the house via drop-off from family members, meeting them at the Recreation Center bus stop and walking over and pickup via our own van.

Q: Where can I contact you guys with any questions?
A: Please contact Couleen (Al) LaGon via email to set up a conference call.
couleen@marchensagen.org