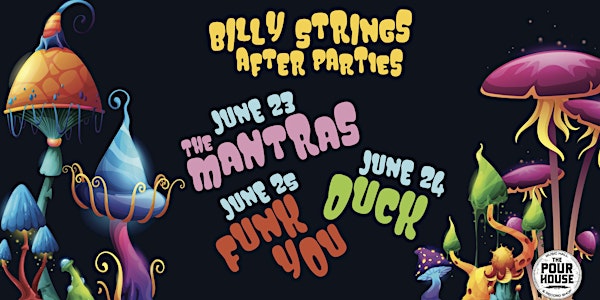 The Mantras: Billy Strings After Party Night 1
The Pour House Music Hall & Record Shop
Location
The Pour House Music Hall & Record Shop
224 S Blount St
Raleigh, NC 27601
Keep the party rolling after night 1 of Billy Strings with The Mantras! Doors 10pm, Show 11pm.
About this event
The Mantras, a five-piece rock band born of Greensboro, NC have been conquering crowds and melting minds all over the country progressively for over a decade. The band's music can be described with all types of varying rock and roll terminology, but is absolutely best defined by each listener's ear and, equally important, their experience.
Since the inception of The Mantras in the mid 2000's, the band has been touring the country and building a catalog of 7 studio albums and over 100 original songs. Performing an entirely different set of music each night is an integral part of the band's direction and mission as well as the ability to truly improvise in between orchestrated pieces. With eclectic influences of sounds from around the globe, The Mantras create a musical escapade during each performance, giving every ounce of emotion to their craft of expression and communication through music.
The Mantras are a family of rock; their closely-knit bonds can truly be felt by the crowd while the band performs. This is a critical feature of their community. One can easily tell that the musical pockets created by radical guitar riffs, gut checked bass lines, screeching synthesizers, a complete projection light show and two symbiotic drummers are no accident. The musical conversation on stage is simply beautiful to watch. The feeling is not exclusive just to the members on stage, however. The Mantras' loyal fan base can testify to the reciprocation of love between performer and attendee and in a scene where it is sometimes difficult to stabilize a fan base and a consistent identity, The Mantras do just that. It has all of the ebbs and flows, peaks and valleys and patterns of constriction and release that can hook someone for life. Each show is a story. Each story is unique.
In addition to the collaborative element between band and fans, The Mantras have shared the stage with some of the foremost titans of jam. Their most recent studio release, entitled Jam Bands Ruined My Life was recorded at Umphrey's McGee, axe man Jake Cinninger's home studio, where Jake is featured on two tracks. Shortly after recording, The Mantras opened for and shared the stage with Umphrey's McGee members while performing the thumping single entitled, "Kinetic Bump." In addition, The Mantras have collaborated with members of The String Cheese Incident, Tea Leaf Green, and Perpetual Groove among many others.