The Malvinas @ The Whirlybird - An intimate evening of fun & heart
Event Information
Location
The Whirlybird
Underground Location
South Louisiana
Opelousas, LA 70570
Description
- It's a Party, Y'all.... Feb. 25th - Potluck & BYOB starts at 7 pm - music at 8
The Malvinas have been coming back to play The Whirlybird in it's various incarnations and locations. What better environment for their feisty blend of jazz, traditional and folk-pop. With roots all over North America, the Malvinas pull together a broad palette of regional music including: the blues-tinged grooves of the deep South, the spicy Cajun flavours of Louisiana, the Celtic modes of Eastern Canada and the libertarian troubadour tradition of the Lone Star State. Join us for an intimate and fun evening. Bring something to eat and share and BYOB.
"There is a distinct strength in women's music and they tap into it brilliantly. Women with wide ranging influences…the Malvinas are serious and playful, often in the same song…The title cut was written by the trio's namesake, Malvina Reynolds, in 1964. It is as poignant today as it was then with these lyrics: "God bless the truth that fights toward the sun." One of the most fully realized folk albums of the first half of the year." - Mark Gallo
about our name
"Malvina Reynolds was a singer, songwriter and activist. Reflecting the cultural and political turmoil of the day, her powerful, sometimes somber, sometimes lighthearted songs address issues still pertinent today: environmental deterioration, women's rights, workers' rights, social justice, and the homogenization of culture."
- Smithsonian Folkways
the malvinas are
Lisa "I am not interested in what you think" Markley (banjo, guitar and vocals). After graduating from North Texas with a degree in music, Lisa melted down her trombone to make a belly button ring. Formerly a member of the way cool band Akoustik Nerve, Lisa is inspired by the music of Joni Mitchell and the Subdudes – and - she thinks that Patricia Barber is just the coolest thing since she discovered fresh cilantro sometime in the Spring of 1998. Lisa is also an award winning songwriter with a inimitable groove oriented edge.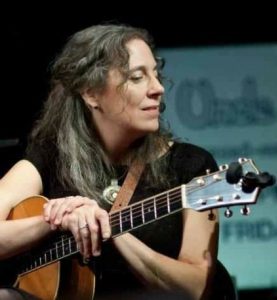 Lisa looking thoughtful
Gina "the hopeful romantic" Forsyth (guitar, violin, vocals). Since fleeing the Bible Belt an undisclosed number of years ago, Gina has been (in no particular order): a fiddle player in several Cajun bands, a folk DJ on a college station, a college student, a civil servant, a movie extra for a day, and a drummer in a punk rock band for all of five minutes. Her favorite artists include the McGarrigle Sisters, Ralph Stanley, Belton Richard, and a host of friends she has played and recorded with over the last several years.

Beth "the irritating optimist" Cahill (mandolins, tenor guitar and vocals). Beth decided to pursue music full time after nearly being crushed to death at a Violent Femmes concert. She never gets tired of listening to Glenn Gould's recordings of the Goldberg Variations and trying to explain 100 Years of Solitude by Gabriel Garcia Marquez. Her influences include: Rickie Lee Jones, The Roches, and Richard Thompson. She is from Canada and has no sense of humour.
Beth after a gig
Date and Time
Location
The Whirlybird
Underground Location
South Louisiana
Opelousas, LA 70570