Stay Safe, Get Jolly! Reserve a time to shop The Makers Show Holiday Market social-distance style. Co-curated by NYC PRIDE and DA SPOT NYC.
About this Event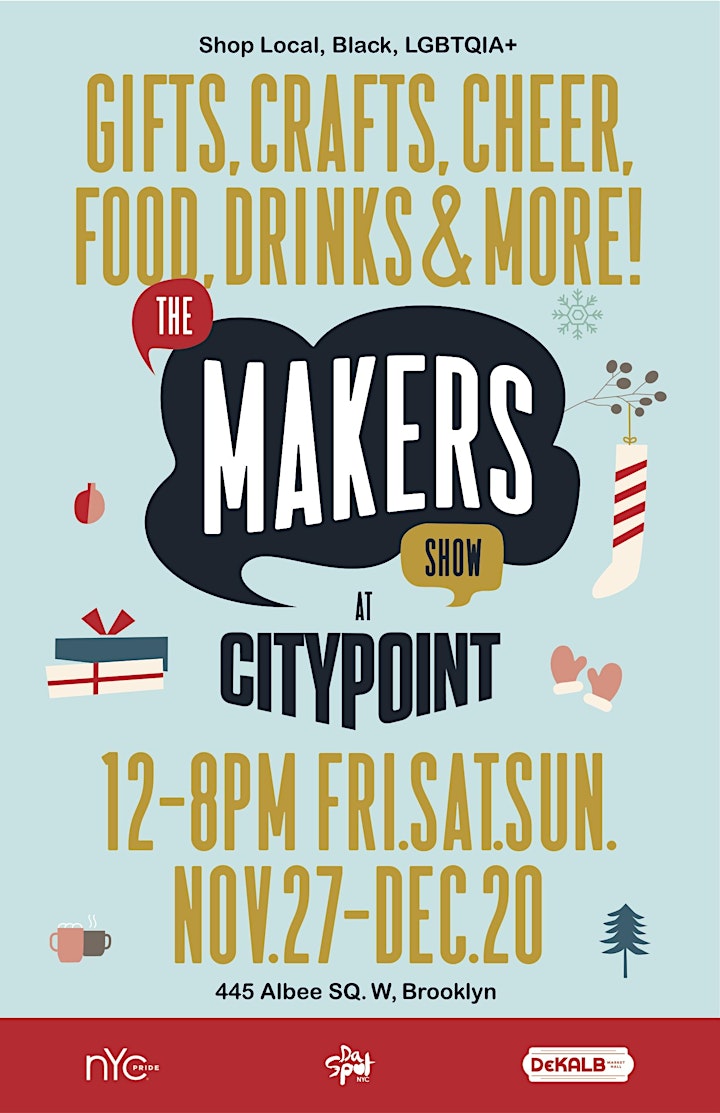 Come enjoy The Makers Show Holiday Market at City Point, while avoiding crowds and staying safe! You can reserve your free shopping window to enjoy the market ahead of time, and skip the line at the door.
Covid-19 regulations will be strictly enforced. The BKLYN Studios space will be kept to 20% capacity, and temperatures and contacts will be taken at the door. All vendor stations are separated by large plastic barriers, and there is one entrance and exit to the space.
Once inside, you can enjoy decadent hot chocolate from No Chewing Allowed, witty bags from Pamela Barsky, hilarious art that will make you blush from A&V Art, gorgeous textiles from Beriqisu, and much more! Holiday Libations (served to you through straws for under mask consumption)will be brought to you by Craft + Carry.
The Market is co-curated by NYC Pride and Da Spot, and features local Black and LGBTQIA owned businesses, and food & drink options to go by Dekalb Market Hall. All vendors will accept Apple Pay for a contactless payment option.
Mask up, stay safe, and get Jolly!
------------------------------------
Saturday night is Pride Night at The Makers Show!
Come shop and jam out to NYC Pride DJ from 4pm-8pm
Join us this Saturday (11/28) for a live DJ set by Stas THEE Boss
Stasia is a Tacoma, Washington born vocalist, producer and DJ. Formerly one half of the R&B/Hip Hop duo THEESatisfaction, with whom she produced, wrote and performed beginning in 2009. She signed with Sub Pop Records in 2011 and released two albums. She has toured the US and abroad touching France, UK, Australia, China, Portugal, Iceland and more. She's toured with Erykah Badu, Little Dragon, Shabazz Palaces & Sleater-Kinney.
Since disbanding from the group in 2016, she's released 5 digital projects: Stas For Hire, S'WOMEN, Voices, On The Quarner and Sang Stasia. S'WOMEN and On The Quarner released on vinyl through Crane City Music.
She continues her journey through recent collaboration with Witch Prophet, Nappy Nina, Shabazz Palaces, Knife Knights and more. She is a member of the Black Constellation, LucidHaus and Sway & Swoon DJ Collective. She currently spends her time jamming out in Brooklyn with her homies and letting the ancestors pour into her.
#ThisIsTheMakersShow
@themakersshow