Description
Come visit Calgary's first Maid Cafe Club and celebrate Christmas with your friends!
Included in your ticket is the following:
1 Artfully Crafted Set Menu and free drink refills (***please let us know any food restrictions when ordering for yourself or for friends, otherwise we may not be able to accomocate vegan or vegetarian on the day of the event)

2 Themed Icebreaker games with the cosplay servers
1 White Elephant Present Swapping Game (all presents are provided for; if you want to bring your own gift for this game please do; take your gift home!)

1 Guest Dance Performance
1 Group Photo with all the cosplay servers sent to your email
Seating is limited in order to prep dishes so make sure you buy your ticket and reserve a spot today! There are only 14 seats available!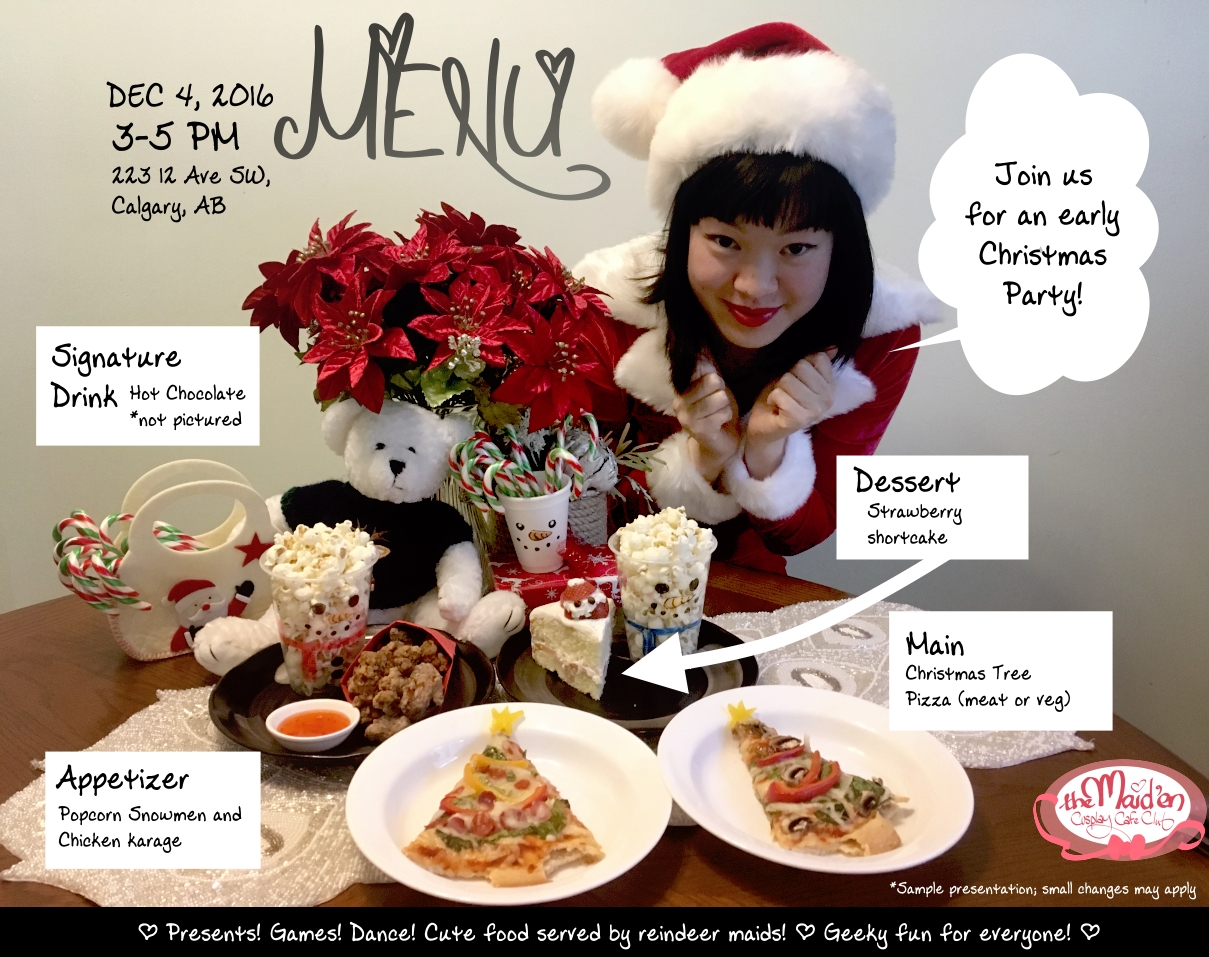 ***NOTE:
Street parking is free and can be found around the Central Memorial Library block.
---
FAQ
1. What is a maid cafe?
Maid cafés (メイド喫茶 / メイドカフェ Meido kissa / Meido kafe ?) are a subcategory of cosplay restaurants found predominantly in Japan. In these cafés, waitresses dressed in maid costumes act as servants, and treat customers as masters (and mistresses) in a private home, rather than as café patrons.
2. Are you an actual cafe?
No, we operate as a club and are run by volunteers. Club activities involve the simulation or role-play of an entertainment cafe experience.

3. Can I come in my cosplay even as a patron?
Please do!
4. Can I bring my kids? Is there alcohol?

Yes you can. Children under the age of 14 should come with an adult supervisor. We are alcohol free and we have no plans on obtaining a liscense. This is a seasonal party for all ages. Games, crafts and performances are child-friendly. Everyone loves creative and artful dishes!

5. Can I join the staff?
Staff positions are always open. Just come to one of our Meetup Dance Practices or a Themed Craft Workshops to get orientated.

6. How often do you host events?
We host events bimonthly on the last Sunday of each second month. Staff members still meet up between events to plan and prepare for the next one.