Multiple Dates
The Magic of Uni: Cooking Sea Urchin with Red's Best & Row 34
Description

The Magic of Uni: Cooking Sea Urchin with Red's Best & Row 34
Presented by The Trustees
Praised by foodies and chefs as the "butter of the sea," sea urchin (or as the Japanese call it, uni) is one of the most prized delicacies of our local waters. With it's one-of-a-kind flavor profile, uni is described as "umami at its best", the "ice cream of the sea," and "melts in your with its rich and creamy sweetness"..... but you'll just have to see for yourself. Quality uni is never fishy, but instead has has delicate traces of the ocean. We're lucky to have the highest-quality, locally-harvested sea urchin right here in The Boston Public Market, at Red's Best. Together with Red's Best, reknowned seafood restaurant Row 34. and The Massachusetts Wine Shop, The KITCHEN is bringing you an uni experience that you'll never forget.
In this unique workshop, Red's Best expert urchin diver, Doug Cassidy, will share his adventures underwater along the Massachusetts coast. Our culinary friends from Row 34 then lead attendees through a hands-on cooking class, preparing seasonal dishes using Doug's hand-harvested urchins. Attendees will learn about different local species, sustainable fisheries, buying seasonally, and how to prepare tasty, gourmet recipes using uni.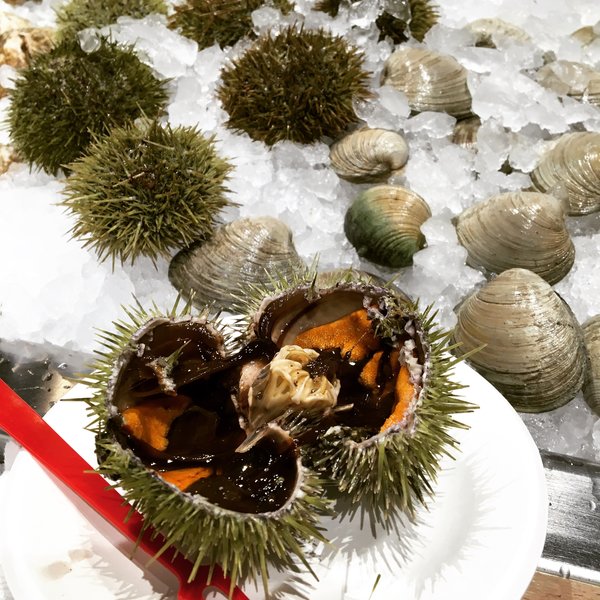 In the class, attendees will:
Learn to crack live sea urchin
Prepare

uni butter

Create two dishes with uni and uni butter
While you're learning about and eating these raw delicacies, the Boston Public Market's local wine expert will pour tastes of three different wines from Massachusetts wineries.
The Magic of Uni: Cooking Sea Urchin with Red's Best
Wednesday, November 8
6:00-8:00 pm
The KITCHEN at The Boston Public Market
100 Hanover Street, Boston
Cost is $52 for Trustees member and $65 for Non-Trustees Members. Members must bring their current member card and number. Join The Trustees and save! Members save between 20-40% off all classes in The KITCHEN.
This is a hands-on class, so prepare to get your hands dirty! Please RSVP in advance. We are limiting the class to 20 people, so it will sell out.
About Chef Max
A native of James Island, South Carolina, Chef Max first found his love for food and cooking in the kitchen with his grandmother. His love for food led him to Boston where he went from selling wine in Charleston, to cooking on a professional level. Since his start in Boston in 2012 he has worked at Lineage, Island Creek Oyster Bar, and Row 34. His passion for working directly with farmers and fishermen allows him to elevate his dishes and the quality of the meals he creates. His idea of a perfect meal is a simple meal enjoyed with family and friends with no interruptions.
About The Trustees and The KITCHEN
As one of the largest owners of agricultural land and the premier steward of the cultural and natural landscape of Massachusetts, The Trustees extends its leadership to transform the local food system by connecting residents and visitors back to the land and sharing the Commonwealth's collective agrarian heritage through innovative retail and educational experiences at the Boston Public Market in the heart of downtown Boston.
The KITCHEN is a community gathering place, managed by The Trustees, that is restoring the craft of seasonal cooking in Massachusetts, New England, and beyond through hands-on classes and educational experiences that celebrate the farmers and artisans of this region. Partnered with the Boston Public Market, The KITCHEN embraces a whole-food approach to eating and promotes cooking as an essential cornerstone of a sustainable food system.
Join The Trustees and receive 20%-50% off all classes, workshops, and events at The KITCHEN and all Trustees properties.