The Magic of TrueVOICE™: Stand and Deliver Your Personal Brand!
Description
Discover the best of your brand and share it in the most productive way with others!

I believe that each one of us is put here by the creator to make a significant positive contribution to the forward flow of human history. We all have both the opportunity and responsibility, therefore, to do anything that we can to help others achieve at higher levels. It simply is, the right thing to do! Giving each other feedback at minimum is within all of our capability. In fact, studies show that this might be the primary reason that we developed speech in the first place. Think about it. How could you warn someone not to eat a poisonous plant or that a saber-tooth tiger is stalking them if we didn't talk to each other about what's happening or the lessons we've learned?
Exploring your our unique stamp on the universe and discovering your gifts, your special place under the sun will help you to purposefully deliver the messages needed to gain and maintain your relevant and significant place amongst your peers. Influential leaders will immediately know that you can and will step up. People will quickly identify what they can and cannot count on you for and understand you in the most fulfilling way. Your TrueVOICE™ will help you to share your brand, and trademark your existence.
This course gives you strategies and tactics to take greater ownership of outcomes and increase your accountability so you can gain more visibility with the right people and capture the resources needed to achieve at high levels everywhere. Your friends will see you as this wise sage, the one with all of the answers. You will develop that special kind of swagger that people will have a hard time describing or putting into words. You will have a pragmatic type of optimism that helps you make great things happen. You'll learn how to negotiate even the most difficult problems, well. You know how to pull the right resources together at the right time even when the way seems impossible to others. You'll have what it takes to be the kind of professional, that remains in flow state all of the time.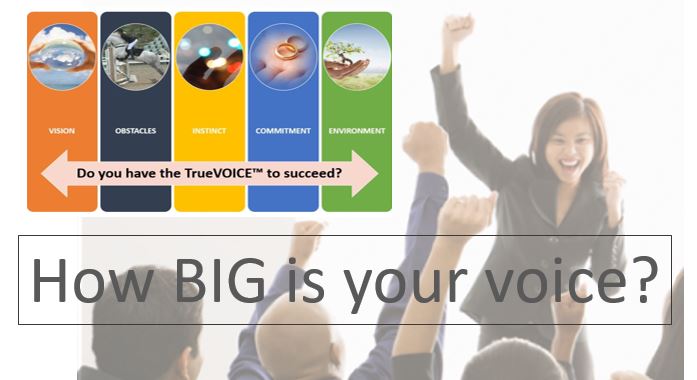 How You Will Benefit
You will have tremendous confidence when you meet with influential leaders

You'll know how to get the support that you need from hiring managers, investors, and referral sources


You will be able to develop team leaders and referrals sources like magic

You'll know how to build tremendous trust fast, even with strangers
What You Will Cover
The TrueVOICE™ Self-assessment and profile


The 5 phases of succesful brand messaging

The 14 most valuable questions ever asked

The tools needed to conduct super powerful informational interviews


Who Should Attend
Professionals with more than five years of work experience, a track record of achieving results and a commitment to greater accountability, who want to have a positive impact and make contributions that make a difference in their chosen profession.