The Magic of Mantra with Gen Rinzin - In Person and via Live-stream
Learn how the sacred practice of mantra recitation heals and protects ourselves and others.
About this event
Mantra means "mind protection" and reciting them can bring inner peace, healing and a sense of protection. They are also a way to bring benefit to others who are suffering. Join us as we learn how to incorporate this simple, powerful form of practice into our daily lives. This class is followed by chanted prayers to Buddha Avalokiteshvara at 12:15-1:00 pm. Learn his mantra and experience the peace of this sacred sound. No previous experience is necessary. Everyone is welcome!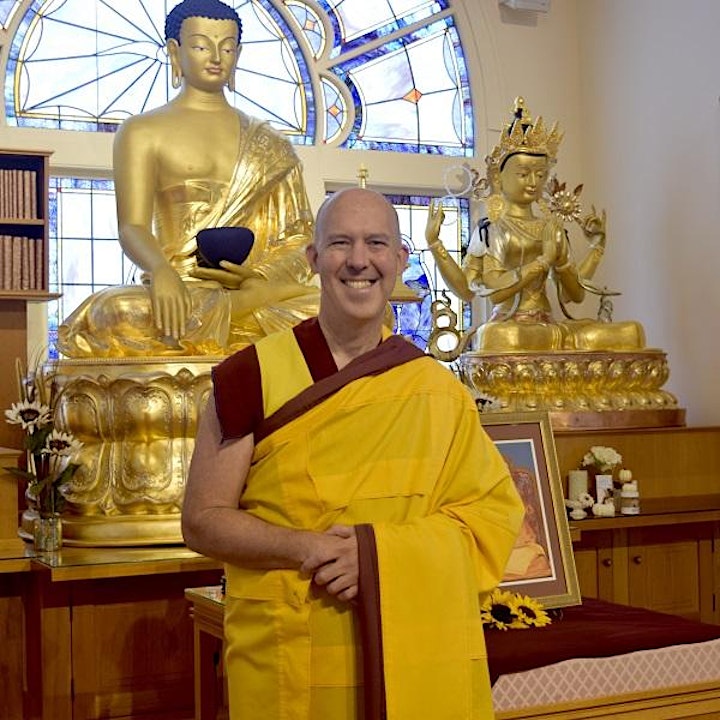 About the Teacher
Gen Kelsang Rinzin was ordained as a Buddhist monk in 2004 and taught at Heruka Buddhist Center in Fort Collins for 15 years. He was appointed to the Resident Teacher position at Kadampa Meditation Center Washington in October 2020. Gen Rinzin communicates his love of Dharma with a down to earth approach and humor that helps others to appreciate and understand the teachings and put them into practice. His teachings are clear and practical so that the listener can readily integrate the methods for keeping a peaceful mind into their busy, modern life.
Schedule
Session 1 - 10:00-11:30am
Optional Session 2 - 12:15-1:00pm
Registration
This is the first Saturday event being held in person at Kadampa Meditation Center Washington since March 2020! Registrants may attend in person - just show up with your mask! The sessions will also be live-streamed via Zoom; all registrants will receive a link enabling them to watch and listen by phone, tablet or computer.
COVID-19 safety protocols will be observed in the Temple to ensure protection for those that may not be fully vaccinated. These protocols include wearing a mask regardless of vaccination status, maintaining social distancing of six feet, and not singing.
Email info@meditateinseattle.org with any questions.
$15 ($10 for monthly supporters of Kadampa Meditation Center WA).
Organizer of The Magic of Mantra with Gen Rinzin - In Person and via Live-stream
Kadampa Meditation Center WA is a welcoming community of dedicated spiritual practioners, both lay and ordained, who gather together to find peace within their own minds. There are over 1100 Kadampa Buddhist centers and groups around the world, and thousands of people now practicing Kadampa Buddhism under the guidance of Venerable Geshe Kelsang Gyatso. This worldwide community is a global spiritual family who help us progress in our spiritual practice.