Sales Have Ended
Registrations are closed
Sorry, ticket sales for this event have ended. Please contact lisa@langellphotography.com if you would like to be notified of future similar events.
Sales Have Ended
Registrations are closed
Sorry, ticket sales for this event have ended. Please contact lisa@langellphotography.com if you would like to be notified of future similar events.
Description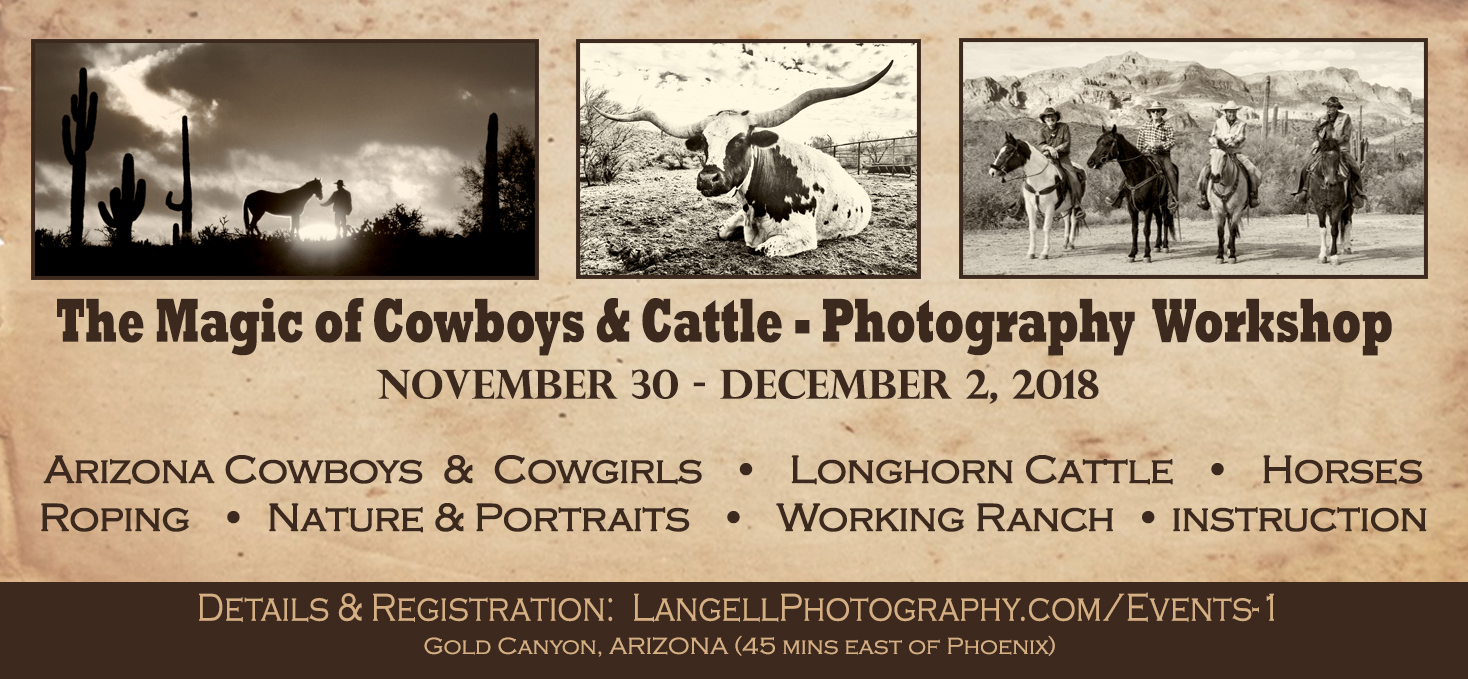 Dates: Friday, Nov 30, 2018 (6pm with pre-workshop sunset shoot at 4pm) -- Sunday, Dec 2, 2018 (6pm)

$1199/person. ($600 deposit holds your seat.)
Includes specially prepared meals, lots of helpful instruction, refreshments, a follow-up interactive webinar show-and-share + processing tutorials, door prizes and more.

LIMIT: 12 PARTICIPANTS

Highlights:
Located against the stunning backdrop of the legendary Superstition Mountains on 5,800 acres of pristine Sonoran desert in Gold Canyon, Arizona, the D-Spur Ranch will be the setting for our 3-day Western Ranch Photography Shoot! Weather permitting, we are planning photo opportunities* that include, but are not limited to:
Working ranch shots of cowboys, cowgirls
Cattle drive with cowboys on horseback where the rare Longhorn Cattle will be driven into and around the ranch. We will be coordinating with the cowboys via radio to optimize our photography opportunities.
Portraits of cowboys and cowgirls using both natural and strobe/studio lights combined with phenomenal western setups and backgrounds on the ranch
Staged, high-action western-style scene reinactments with authentically dressed actors!
Landscapes and nature images of this stunning area that features the legendary Superstition Mountains and saguaro cactai as our backdrop
Flat-lay photography with western themes! We provide the special gear and instruction!
Evening entertainment at the campfire with singer/songwriter Steve Holmquist
Photography of roping, herding, and other related work that occurs on the ranch
Optional 2-hour horseback ride through the desert
Post-processing tips and instruction (following workshop, via webinar)
Evening campfire conversation and night photography with our cowboys under the stars
Optional: Get a roping lesson from our cowboys! We'll use a steel "steer" as target practice and you can learn some of the tricks of the trade--Arizona style!

One of two Western Photo Sets avaiable for our use.
---
Detailed Agenda
(*All activities and times are guidelines, but are subject to change due to weather or other factors. We will adjust accordingly to maximize shooting opportunities and accommodate creativity, opportunities for light, action, weather, group needs, cattle behavior, and more.)
Friday, Nov 30, 2018:
4pm-6pm: Check-in. Optional pre-workshop opportunity to photograph sunset among the mountains at the ranch. (We know some of you cannot get out of work until 5pm so the early offering is for those who have the chance to arrive at 4pm and get in some preliminary shooting!)

6pm-9pm: Meet-and-greet, dinner and camaraderie with participants and the cowboys. We'll have a ranch-style dinner and photo-ops while sitting around the campfire and listening to the incredible singer/songwriter, Steve Holmquist play his guitar and share original songs about the history and folklore of the region.
9pm: Head to hotel.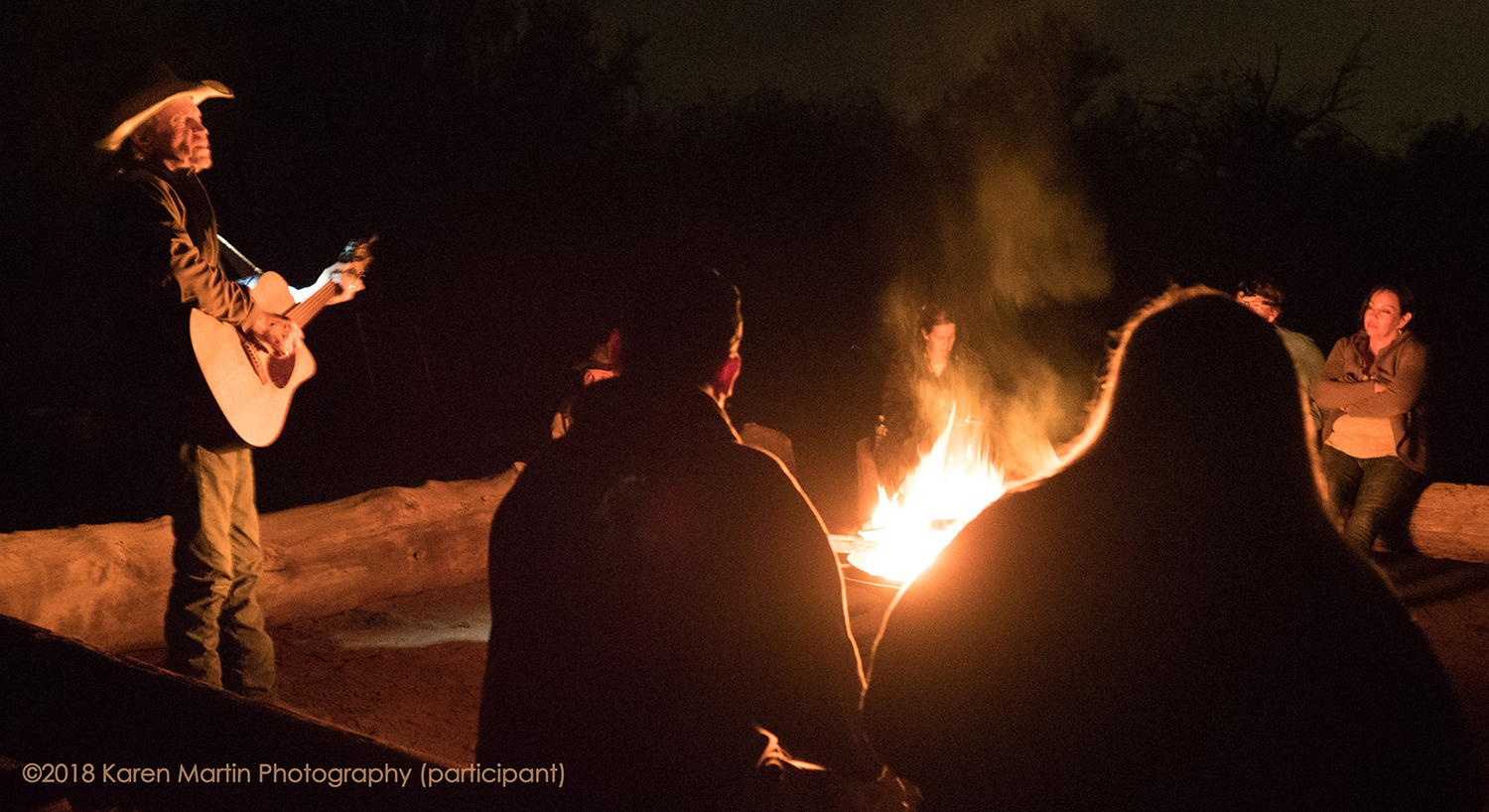 Saturday, December 1, 2018:
7:00am: Arrive at the ranch to be ready to photograph sunrise by 7:00am! Come earlier if you want early morning opportunities to independently photograph the blue hour or early golden hour. We'll be working with a photogenic cowboy and horse as our subjets for stunning silhouettes and rim-light shots! This all takes place in the land of stunning cholla, saguaro, prickly pear cacti, mesquite trees and blooming flowers. Morning photography is incredible among the beautiful foothills of the Superstition Mountains! You'll be able to snag some stunning landscapes as well!


Mid-Morning: Cattle call!! This is a working ranch. We'll be photographing the longhorns, cowboy(s), cowgirls and some of the daily activities of the ranch. This includes opportunities to photograph the longhorn cattle, roping, cattle driving and other classic ranch activities that provide incredible photographic moments! If you're lucky, you'll capture incredible shots of "Bonus," one of the largest longhorn bulls in the region with horns so long it'll take your breath away!


Lunch: A full catered lunch will be served! We'll be eating and talking with the men and women who live this lifestyle daily, including Shelley Donnelly, the owner of the ranch!


Afternoon: The ranch hands and cowboys will be working over the herd in the corrals on the ranch. You will photograph these activities, which may include roping, handling of calves, and other herd management activities. We will also be witness to an amazing show from real, authentically dressed (from the period) western actors who will put on a high-action show for us to photograph! Just like it all happened in the wild west!

We will also begin teaching you the basics of portrait photography using lighting setups! For those who don't need a lesson--continue shooting the ranch activities and then join in the photo shoots where we will feature real working cowboys, cowgirls, and other "characters" that are a part of this incredible weekend event!


Evening Meal & Photography: We will provide a casual, but hearty meal on-premises in order to maximize our ability to photograph the cowboys, horses and/or cattle during sunset. Our goals (weather permitting) will include mountain/desert sunset landscapes, wildlife, and/or silhouette shots -- your choice -- at the ranch and/or in the adjacent desert.


Night Photography Option: For those who have a bit more energy left from the day, we will teach you the basics of night photography and light-painting!


9:30pm: Head to the hotel.



Sunday, December 2, 2018:
7:00am: Silhouette and morning nature photography during sunrise. Arrive at the ranch to be ready to photograph sunrise by 7:00am! We'll have our cowboy(s) and horse(s) up early so that we can capture silhouettes or other amazing moments with them at sunrise.

The Superstition Mountains offer gorgeous views for morning landscape and nature photography. The Sonoran Desert may also provide us with opportunities to photograph blooming wildflowers, coyote, jackrabbit, desert cottontail, collared peccary (Javelina), lizards, and numerous birds common to the region. These birds include Gambel's Quail, Phainopepla, Roadrunner, Mourning Doves, Mockingbirds, Curve-Billed Thrashers, Cactus Wren, Harris Hawk, Red-Tailed Hawk, Verdin, and Ravens. We will explore the area and photograph it at first light. We will also be photographing cattle once our cowboys ready them for the morning's shoot.


Mid-morning: Time for portraits! We will prep for our portrait shoot with the cowboys and cowgirls. We'll then apply the skills we learned the day prior to work with these amazing guys and gals during the shoot. You will also have the chance to learn how to do Flat-Lay photography with western themes, plus use other setups we provide for creative, unique images!


12:00pm: Lunch. Lunch will be on-site.


1:00pm: Optional Horse-back ride (separate fee). Take a ride through the desert and capture additional photographic moments during the day! Our wrangler will lead you and your horse through some of the same areas that history was written in the Wild West of Arizona. Those who do not want to photograph the horses may use this time for independent shooting with supported guidance and instruction as-needed! Or, take a rest -- you've earned it!


3:00pm – Get along, little doggies: We will work with our ranch hands one last time for a late-afternoon shoot with multple horses, cowboys, cattle and antics! The action will be happening with these fabulous riders--watch how things are really done on the ranch! Get those shutter speeds up and ready for many frames per second of fantastic shooting!


5:00pm: Sunset shoot and conclusion. We'll wind down the day with one last opportunity to photograph the sunset and then say goodbye to our friends, fellow participants, and the ranch hands who helped make this weekend memorable and photographable.


6:00pm. Conclusion/Dismissal.


Follow-up Webinar: Date TBD based on group availability. We will login to show and share our work, discuss processing tips, and reminisce about the event!



---
Meals, Lodging, Transportation and Services:
Meals: Meals will be catered on-property. We will provide delicious meals specially selected to fit our western lifestyle for the weekend! Because of our limited options for food provisions and refrigeration/prep at the ranch, we may not be able to accommodate certain dietary requirements. If you require a special diet, please contact lisa@langellphotography.com. Should you wish to purchase additional groceries or sundries, there are several stores and Basha's Grocery Store in the area, along with various restaurants and convenience stores.

Lodging: Optional lodging is available via a special group discount rate: 2 nights for a total of only $222 (including tax). This is for a room with two queen beds. (King bed upon request, based on availability and may result in a price change.) Breakfast is served at the hotel at 6:30am, giving you time to grab a bite before heading to the lodge. Lodging is at the Best Western Gold Canyon, which is a short drive from the lodge and is your closest option. IMPORTANT: You must contact the hotel no later than October 28, 2018 to secure your room. Any unsold rooms from the discounted block reserved will be returned to the hotel by October 29.

Camping: Dry camping is available right at the D-Spur Ranch (our workshop location) for $40 per night with an outhouse. No electrical or water services available. Inquire with the ranch for details and reservations.

Transportation:

Air: Phoenix Sky Harbor Airport is the primary airport in the region. It is approximately 40-50 minutes west of Gold Canyon, AZ and about one hour from the ranch. (Drive times may vary due to traffic). Mesa Gateway offers flights primarily through budget airline, Allegiant Air. It is about 30 minutes southwest of Gold Canyon, AZ. If you are coming from out-of-town, rental cars are available via both airports. The workshop will conclude by 6:00pm on Sunday evening.

Driving: Rental cars are available from both Phoenix Sky Harbor International Airport and Mesa Gateway Airport. You will find shuttle/cab services via SuperShuttle, Lyft, Uber or Taxi as well. The ranch is located just a few miles down a well-maintained, easily driveable dirt road that any sedan can easily handle.

Services: Gold Canyon, AZ offers a major grocery store, fuel station, several restaurants, a few fast-food options, and lodging at the Best Western Gold Canyon. There is an Urgent Care in town (hours may vary) and major medical services are available within approximately 30-minute drive.


---
FAQs
What should I bring?

Camera Gear & Technology: A complete packing list will be sent to you via email (via URL) upon registration. You will likely be photographing portraits, landscapes, wildflowers, wildlife/birds, and the cattle drive. Thus, a variety of lens lengths is recommended, from about 18-400mm+ for most needs. Minimum gear we recommend includes your primary camera, a back-up camera in the case of loss/damage, a variety of lenses for landscapes, portraits, macro, and action/wildlife. You will also want to bring ample memory cards, charged batteries, a tripod and tripod head. A remote trigger may also be useful for certain landscape shots (wired triggers are just fine for this purpose.) Optional: Your laptop computer with charger and plenty of storage (or an external hard drive and cords to back up your images each night). You are welcome to bring additional gear as you see fit. There are plenty of places to store your gear during the day. You will be in close proximity to your car, which will all be on private property. Please bring your camera's manual or have an electronic copy available.


Clothing & Weather: In the Valley of the Sun, the days in November are usually in the mid-60's during the day and mid 40's at night. That said, we occasionally get winter storms, rain, and unseasonably high or low temperatures. For this shoot, be prepared for diverse weather. We recommend packing clothing you can layer, such as a t-shirt, fleece, and outer jacket that is wind/weather resistant. Jeans or cargo style pants are recommended (not shorts) due to the environment we will be in. We are on a working ranch and will also potentially be walking short distances on trails in the desert. For early morning or evenings, you may wish to bring gloves or a hat, especially if we have unseasonably cool weather. Please wear comfortable (i.e., broken in) hiking shoes or boots that can handle dust or mud, depending on the weather. Sneakers, flats, flip flops, etc. are NOT recommended. If you plan to horseback ride, you must wear proper footware. Inquire with the D-Spur Ranch directly for any questions regarding the horseback riding options, physical requirements and clothing requirements.


Extras: A folding chair may be helpful for you. We have a very limited supply available so if you can bring your own, it will likely be helpful to you.


What photography skills do I need for this workshop?
We welcome all photography enthusiasts! That said, it is especially helpful to you if you attend already familiar with basic ISO, Shutter Speed and Aperture settings and the basic functionality of your camera. We will support your learning at whatever level you are at when you arrive and work to take you further along in your journey of learning and photographic experiences.
Physical / Health / Age Requirements:
You must be 18 years of age or older to participate in this event.

This workshop may involve substantial standing and/or walking of distances up to approximately 1/8 mile at one time on relatively even terrain. Typically, the walking will be far less than that. Some may choose to walk on trails in the Sonoran Desert with mild inclines/declines with occasional rocks. If you have physical limitations that prevent you from walking out on the trails, you are welcome to stay near the ranch and/or drive to certain locations (not all are road-accessible). A large portion of the shooting will be available within very short, flat walking distances.

For the optional horseback ride, please contact the D-Spur ranch for information on physical requirements for weight and mobility.

For those with "hay fever" or other environmental allergies: We will be in the open desert on a ranch with a large number of cattle, horses, plants and dusty roads/trails. We encourage you evaluate whether allergy medication or other accommodations will be needed.

Please inquire with Langell Photography at lisa@langellphotography.com if you have additional questions or needs.
What is the culture of this workshop?

Langell Photography workshops and classes emphasize a fun, open, down-to-earth, caring culture of learning experiences. We welcome all who are friendly, positive, open to learning, open to sharing, and believe negativity, arrogance, inflexibility, and strong ego are detrimental to everyone's learning process and experience. We are not judgmental about what gear you have, your level of photography knowledge, or what you do/did for a living. We want to create a respectful, emotionally safe, enjoyable and positive learning experience for anyone who attends. We do not tolerate disrespectfulness, rudeness, ill treatment toward guests, harassment, or off-putting behavior by guests or staff. To put it simply, we believe in the Golden Rule and expect our attendees to do the same. After all, photography should be FUN!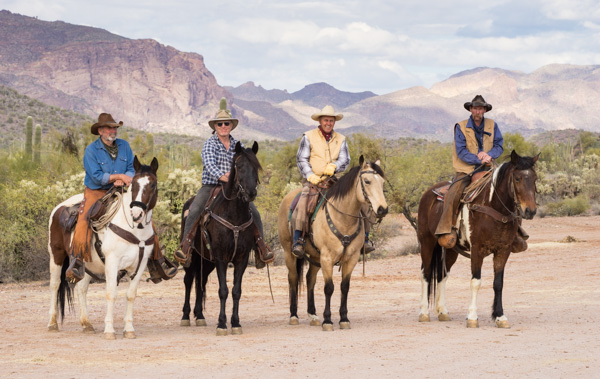 ---