The Madiba Code: Discover the Secrets of Charismatic Leadership (Cape Town)

Thursday, October 19, 2017 at 9:30 PM

-

Friday, October 20, 2017 at 4:30 PM (SAST)
Event Details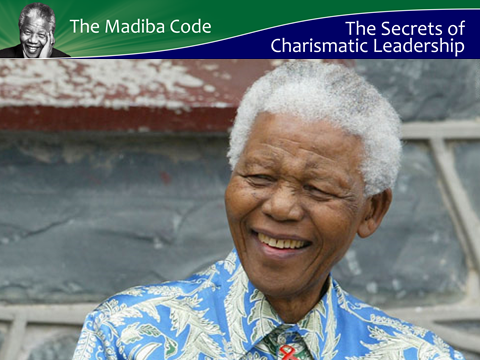 Overview
This one-day MasterClass, presented by international brand leadership expert and historian, Dr Nikolaus Eberl (co-author of the Soccer World Cup Brand Ambassador Program and featured regularly on CNBC Africa, Carte Blanche, and The Business Day) will teach you how to develop both the leadership skills and the charisma that helped Nelson Mandela unite South Africans behind a common goal and become the most celebrated leader of the 20th Century.
Would you like to
Dramatically improve the results you get from the people who work for you?
Become significantly more productive and successful, and at the same time?
Develop an impact on others that sets you apart from other Leaders around you?
Be one of those leaders who seem to have a natural gift with everyone they meet?
Which makes you more successful in all aspects of both your business and personal life?
The X-Factor of Leadership
According to Forbes Magazine, Charisma is the "X factor of leadership: that elusive quality that makes you seem more interesting, more attractive, wiser and more influential than those who lack it – a better bet for investors or a more likely candidate for a job at the top table." 
And there's evidence to show that charismatic leaders promote better team performance – they're more inspiring, so better able to boost their team members' loyalty, engagement and productivity.
What exactly is Charisma?
According to the Webster's New World College Dictionary, Charisma is defined as "a special quality of leadership that captures the popular imagination and inspires allegiance and devotion".
The renowned scientist Arthur C. Clarke famously said, "Any sufficiently advanced technology is indistinguishable from magic." It is a classic human tendency to describe anything we do not fully understand in magical or mystical terms.
The ancient Greeks observed that some people, generally their leaders, had what they perceived to be a mysterious quality that enthralled others and made them want to follow them. Because they didn't understand what this quality was, and because they couldn't quite pin it down, they decided that it must be a magical or God-given gift. They even created a special word for this mysterious attribute. They called it kharisma – which means "divinely conferred gift or power".
Why Charismatic Leadership?
The world of both business and public service has seen some tough times over the last few years, and in these challenging times all of us have struggled to come up with a magic formula for success. There is just one formula for achievement in modern times – get your people on board and invested in your success and the success of your organization.
All other things being equal, success in business and public service comes down to engaging your employees and providing them with the kind of charismatic leadership that Madiba exemplified.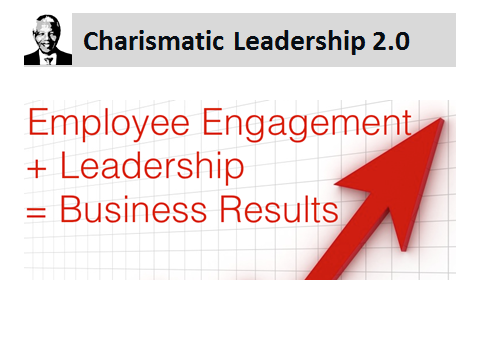 What Charismatic Leaders achieve
A number of extensive studies on this subject have shown that Charismatic Leaders
create and maintain a work environment where people are emotionally and intellectually committed to the organization's goals;
build an energetic and positive attitude in others and inspire them to do their very best;
In doing so they create a common sense of purpose where people are more inclined to
invest extra energy and even some of their own time in their work
What drives Employee Engagement?
Many studies have shown that employee engagement is a function of job fit and enabling people to leverage their areas of strengths rather than focusing on the old paradigms of weakness focused performance reviews. However, for many years, the available literature has overlooked the role played in organisations with high levels of employee engagement by leadership.
Fortune magazine's "100 Best Companies to Work for" study revealed that an engaging workplace is driven by three interconnected relationships:
The relationship between employees and management;
The relationship between employees and their jobs;
The relationship between employees and other employees.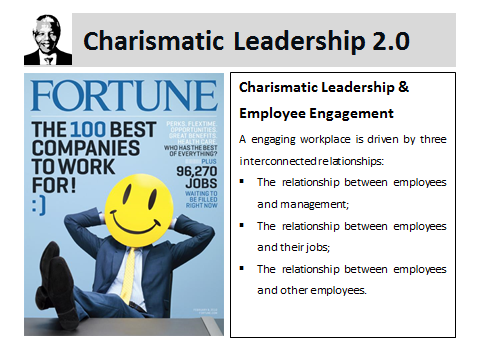 The Missing Link to Employee Engagement
As evidenced by the Fortune 100 Study, at least two thirds of the responsibility for an engaging environment falls on the leader. This is often forgotten: employee engagement, and all the positive business benefits it brings with it, is largely driven by those we put in charge – the managers and leaders at all levels of our organizations. Anyone who supervises or leads people has an enormous impact on engagement, for better or worse.
Employee Engagement Defined
The Conference Board defines employee engagement perfectly as: "a heightened emotional connection that an employee feels for his or her organization, that influences him or her to exert greater discretionary effort to his or her work."
Charismatic leaders create and maintain a work environment where people are emotionally and intellectually committed to the organization's goals. They build an energetic and positive attitude in others and inspire them to do their very best. In doing so they create a common sense of purpose where people are more inclined to invest extra energy and even some of their own time in their work.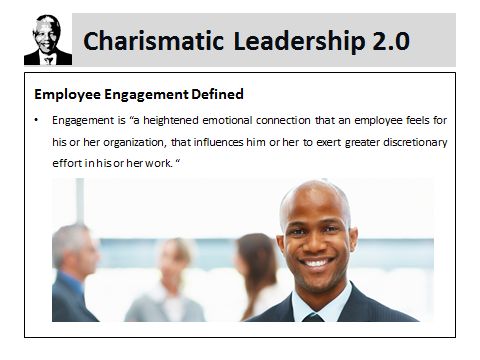 Employee Engagement ROI
One of the largest studies ever undertaken on the topic of engagement and profit was completed recently by Towers Perrin. Their 'Global Workforce Study' surveyed nearly 90,000 employees in 18 countries. They found:
Companies with high employee engagement had a 19% increase in operating income and 28% growth in earnings per share.

Conversely, companies with low levels of engagement saw operating income drop more than 32% and earnings per share decline 11%.
Cumulatively, this translates into a difference of almost 52 percent in one-year performance improvement in operating income between companies with low employee engagement and companies with high employee engagement.
The low levels of employee engagement both in business and public service are currently posing the greatest threat to peace and prosperity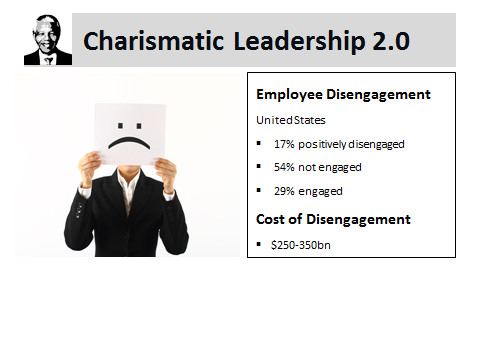 Are Charismatic Leaders born or made?
Research conducted by Profiles International, an independent research body specializing in assessing leadership capability in 140 countries, revealed the following astonishing findings:
Out of 40,000 manager-leaders assessed for their leadership charisma by almost 400,000 direct reports, 97% showed that charisma is a learned behaviour. In other words, charismatic leaders are almost always made, not born.
According to leadership expert, Olivia Fox Cabane, the author of 'The Charisma Myth', charisma is a learnable skill that anybody can master with the sufficient amount of practice.
Says Cabane: "Charisma gets people to like you, trust you, and want to be led by you. It can determine whether you're seen as a follower or a leader, whether your ideas get adopted, and how effectively your projects are implemented."
Due to the advent of social media, your leadership charisma has now become the single most valuable skill in the sharing economy, as success is determined to a large degree by how much people like, know and trust you (in fact, the 'know-like-trust' trifecta has become the new success mantra of social leadership).
As Wharton School business professor Robert House notes, charismatic leaders "cause followers to become highly committed to the leader's mission, to make significant personal sacrifices, and to perform above and beyond the call of duty."
SCHEDULE DAY 1                                         
08:30 – 10:30 |Session I:
Introduction to CHARISMATIC LEADERSHIP
Charismatic leaders create and maintain a work environment where people are emotionally and intellectually committed to the organization's goals. They build an energetic and positive attitude in others and inspire them to do their very best. In doing so they create a common sense of purpose where people are more inclined to invest extra energy and even their own time in their work.
v  What exactly is Charisma?
v  Exploding the Charisma Myth
v  Are Charismatic Leaders born or made?
v  What are the Benefits of Charismatic Leadership?
CHARISMATIC LEADERSHIP: The Madiba Code
Hailed around the world as the most charismatic leader of the 20th century, Nelson Mandela exemplified the principles of charismatic leadership. This session sheds light on the life and times of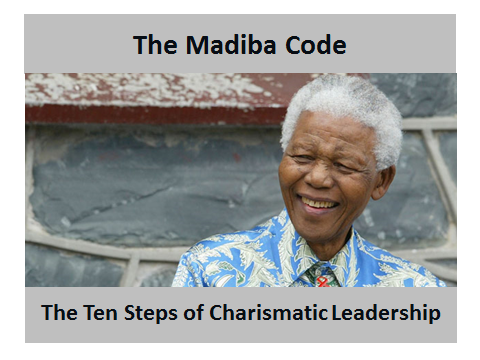 Madiba and the ten steps of Charismatic Leadership (in the framework of The Hero's Journey, the internationally acclaimed paradigm of personal and organisational transformation):
1.

      

Discerning Identity: Claim Your Archetype
2.

      

Call to Adventure: Declare Your Mission
3.

      

Secret Weapon: Engage Your Mentor
4.

      

Crossing the Chasm: Poke Fun at Yourself
5.

      

Overcoming Obstacles: Assemble Self-Confidence
6.

      

Assembling Your Army: Make Everybody Feel Bigger
7.

      

Final Battle: Express Your Physical Charisma
8.

      

Deserting the Cause: Maintain an Optimistic Outlook
9.

      

Returning to the Cause: Energize Your Batteries
10.

  

Sharing the Elixir: Share the Human Spirit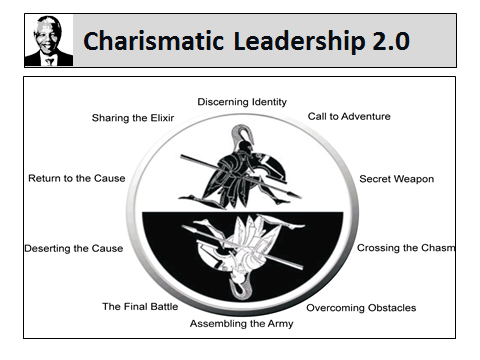 10:30– 10:45 | Morning Break
10:45 – 12:45 | Session II:
The madiba code - Step 1: Claiming Your Archetype
Archetypes are the ultimate twelve personality types that are common across cultures, gender, background and education, as first identified by Carl Jung. Archetypes have been called the DNA of the soul and are the single most potent tool for leaders to connect with their audience and establish a relationship of trust.
This session covers the following elements
v  How Archetypal Branding engenders Trust and Loyalty
v  Discover Your Personal Archetype (Self- Assessment)
v  Discover Your Organisational Archetype (Assessment)
v  How to express your Personal Archetype
v  How to communicate Your Archetype
v  Madiba's Archetypal Transformation
v  Deciphering Madiba's Archetype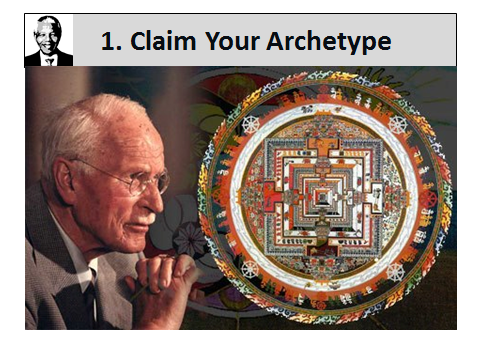 12:45 – 13:45 Lunch |
13:45 – 15:45| Session V:
The madiba code - Step 2: DECLARING YOUR MISSION
"Nothing serves an organization better – especially during these times of agonizing doubts and paralyzing ambiguities – than leadership that knows what it wants and communicates those intentions clearly." Warren Bennis, Founder of the Leadership Institute, University of Southern California. Charismatic leaders always have a sort of missionary zeal – a sense that they know exactly what they want and that they will do whatever it takes to get it.
This session will take a deep dive into how a compelling mission drives engagement, loyalty and dedication.
v  How a compelling Mission drives Charisma and Employee Engagement
v  How to discover Your Personal Mission Statement
v  How to rally People behind Your Mission
v  How to engage the Opinion Leaders
v  How to sell the Big Picture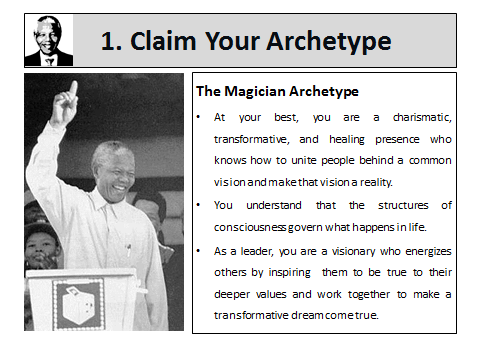 SCHEDULE DAY 2                                         
08:30 – 10:30 |Session I:
The madiba code - Step 4: Charismatic Communication
Charismatic Leaders excel at the so-called Secrets of Charismatic Communication. And Madiba was a master at applying these ten skills of great communicators.
This session will equip you with the tools to become a highly charismatic communicator.
1.

      

Asking for Advice
2.

      

Keeping it Upbeat
3.

      

Communicating one-on-one
4.

      

Poking Fun at Yourself
5.

      

Promoting the Good News
6.

      

Displaying Common Courtesy
7.

      

Communicating with Crystal Clarity
8.

      

Congratulating your Team Members
9.

      

Listen carefully without interrupting
10.

  

Creating a Comfortable Climate for raising Concerns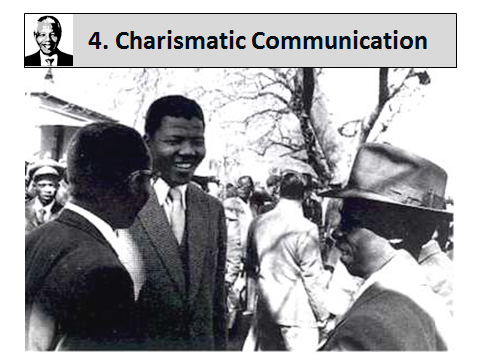 10:30– 10:45 | Morning Break:
10:45 – 12:45 | Session II:
The madiba code – STEP 5: EXPRESSING YOUR PHYSICAL CHARISMA
Resarchers as far back as Darwin have pointed out the importance of nonverbal communication in the relationships between people. Much of what is meant by 'charisma' can be understood in terms of emotional expressiveness, in other words your ability to communicate non-verbally. This module examines your emotional expressiveness  within the eight modalities of non-verbal cues.
v  The Charismatic First Impression
v  The Charismatic Handshake
v  The Charismatic Eye Contact
v  The Charismatic Presence
v  The Charismatic Posture
v  The Charismatic Touch
v  The Charismatic Smile
v  Charismatic Gesture
13:45 – 16:00 | Session VI:
The madiba code - Step 6:  
THE CHARISMATIC POWER OF BELIEF IN PEOPLE
In summing up the leadership qualities of Nelson Mandela, former US President Bill Clinton stated that Madiba "inspires us all to be the best human being we can possibly be." Termed 'The Charismatic Equation', the extent to which you are seen as charismatic, is largely the extent to which people feel or fare better after each encounter with you.
"Outstanding leaders go out of their way to boost the self-esteem of their personnel. If people believe in themselves, it's amazing what they can achieve" (Sam Walton, Founder: Walmart)
v  The Law of Expectation: How to inspire others to Peak Performance
v  Harnessing the  Pygmalion Effect:  How to instil Confidence
v  Leveraging the Galatea Effect: Boosting Peoples' Self Belief
v  Recognizing the Greatness in Others
v  Applying the Critical Belief Challenge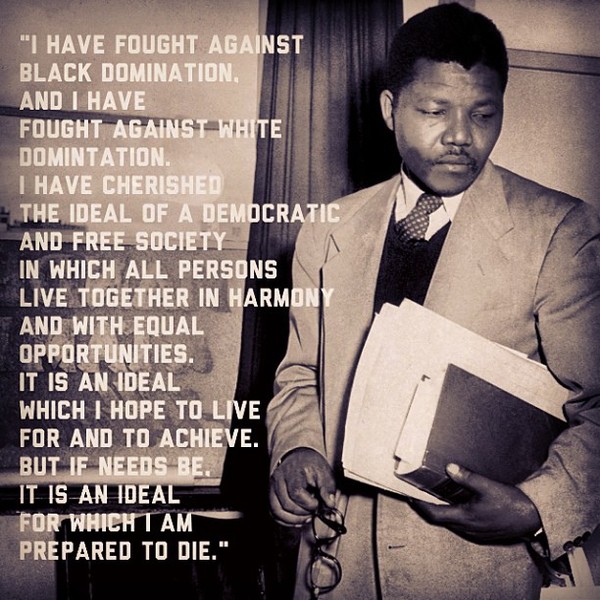 The madiba code – STEP 7: ASSEMBLing SELF CONFIDENCE
Much of the behaviour we display to the outside world, is a reflection of the inner world we all occupy and live in from day to day – the world inside our heads where our likes, dislikes, attitudes, moods and beliefs about ourselves rule our every thought and, in turn, many of our outer behaviours. There are many inner factors that foster a successful development of sustained charisma, but none is more important than self-confidence.  This module delves into the role that goals and affirmations play in assembling inner self confidence and eliciting a charismatic response.
v  Why does Self-Confidence elicit a Charismatic Response?
v  Creating a Daily Visualization Routine
v  How to make Goals work for You
v  How to inspire with Your Vision
v  How to control Your Mind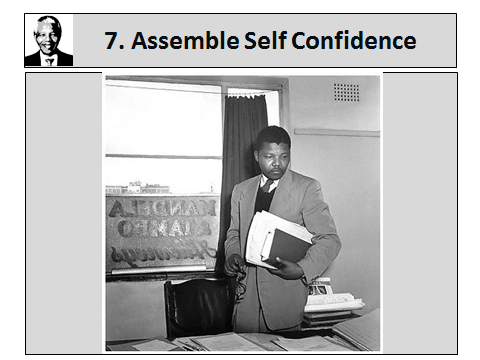 The madiba code – STEP 8: ENERGIZING YOUR BATTERIES
Energy and enthusiasm are fundamental elements of charisma. To become charismatic you need to master them. According to Jack Welch, the former CEO of General Electric, "the first essential trait of leadership is positive energy – the capacity to go-go-go with healthy vigour and an upbeat attitude through good times and bad. The second is the ability to energize others, releasing their positive energy to take any hills."
This module explores the sources of high energy and enthusiasm available to you as a leader.
v  Charge Your Batteries Every Day
v  Tap into Your Inner Enthusiasm
v  Make Optimism a Routine
v  Go on a Mental Diet
v  Apply Envirodynamics™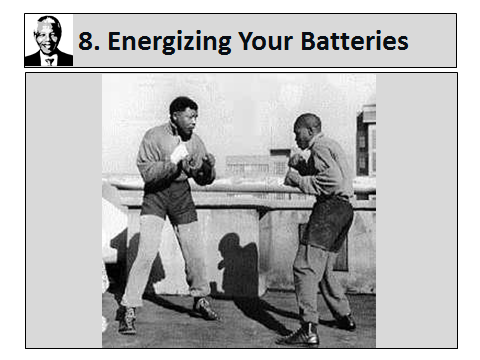 All delegates will receive a signed copy of the forthcoming book "Charismatic Leadership: The Madiba Code" as well as access to the online Charismatic Leadership MasterMind (Monthly Episodes on best practice case studies from around the world)
Have questions about The Madiba Code: Discover the Secrets of Charismatic Leadership (Cape Town)?
Contact Dr Nik
When & Where

Atlantic Imbizo
301, Clock Tower Silo Centre, Victoria & Alfred Waterfront, V & A Waterfront, Cape Town, 8002
Cape Town, 8002
South Africa

Thursday, October 19, 2017 at 9:30 PM

-

Friday, October 20, 2017 at 4:30 PM (SAST)
Add to my calendar
Organizer
Dr Nik
The author of the bestselling book "BrandOvation: How Germany won the World Cup of Nation Branding", and the sequel "The Hero's Journey: Building a Nation of World Champions", Dr Nikolaus Eberl holds a PhD from the Free University of Berlin and a Postgraduate Diploma from The Johns Hopkins University, Baltimore. Dr Nik headed the Net Promoter Scorecard research project on South Africa's Destination Branding Success Story during the 2010 Soccer World Cup, and he is the co-author of the World Cup Brand Ambassador Program and co-founder of the FAN World Cup™.
Dr Nik is the author of "The Seven Secrets of IziCwe: Conquer Life!", a uniquely South African Life Skills Program, and "a must for anyone who wants to overcome career and personal challenges!" (The Business Day). The sequel, "The IziCwe Code: Intenovate or Die!" was introduced to the international media at the Global Leaders Summit, sharing the platform with leadership gurus Tom Peters, Rudy Giuliani and Michael Porter.
Dr Nik's book, "BrandOvation: How Germany won the World Cup of Nation Branding", was featured extensively in the local and international media (CNBC, Carte Blanche, Business Day, The Star, The Mercury, 702, SAfm, MetroFM etc). His work has received acclaim from a number of eminent African leaders:
"We share a vision for the development of leaders and strongly believe in building the capacity of people and society at large."

(John Samuel, CEO Nelson Mandela Foundation)
"A uniquely South African formula for mustering the will to succeed and conquer life!" (Herman Mashaba, Founder of Black Like Me)
"Nikolaus Eberl and Herman Schoonbee have thrown down the gauntlet. It is up to us to take up the cudgels to unearth pearls of wisdom from other great Africa Leaders." (Reuel Khoza, Chairman Nedbank, President: Institute of Directors)
"Using the analytical tools contained in the passages taken from The IziCwe Code, we can say that the brand image of a democratic South Africa conveys a credible promise of vibrant and limitless possibilities for a better life for all … When our country meets this expectation, we will be able further to build our brand image, enlarging the 'corner of the consumer's mind', the identification with 'the brand character', that constitutes 'the most valuable real estate in the world.' (President Thabo Mbeki, Letter to the Nation: The New South Africa)
Dr Nik is a Proudly South African Brand Advocate who focusses on Nation Building in an effort to promote Nelson Mandela's Call to Action "Let us commit towards our Common Goal, A Nation where all of us are Winners. Let us build a Nation of Champions!" He is currently part of the Commonwealth Games Legacy team and tasked to drive sustainable youth skills development. Dr Nik has been featured extensively on the following channels:

The Madiba Code: Discover the Secrets of Charismatic Leadership (Cape Town)