Description
Can dreams enhance creativity? Is it possible to cultivate artistic ingenuity? How do we foster innovative thinking?
Come hear the scientists studying these questions and many others tell their favorite stories about the nature of imagination, intuition, inventiveness and other sparks of brilliance. Join Springer Nature Storytellers, The Story Collider and Scientific American for a fun evening of cocktails*, refreshments and stimulating insights inspired by Scientific American's special issue, "The Mad Science of Creativity."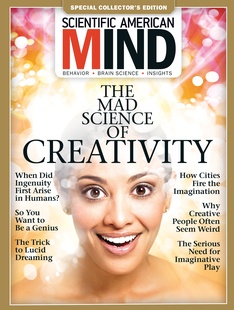 Doors open at 7PM and show begins at 8PM.
Featuring:
Scott Barry Kaufman
Brian Levine
Susana Martinez-Conde and Steve Macknick
Jean Mary Zarate
Andrea Gawrylewski
This is a sponsored event that is open to the public. Attendance is free with pre-registration.
*First 300 RSVPs include one free drink!