Description
**This event will be livestreamed on PEN America's Facebook page.**
Presented in collaboration with The Muslim Protagonist.
The latest presidential executive orders regarding the temporary ban of refugees, visa restrictions from Muslim majority countries, and the "shutdown of borders" signal how quickly bigoted rhetoric can transform into discriminatory policy with dire consequences for targeted communities. The resulting climate of unbridled racial and religious discrimination forces many Muslim Americans from all walks of life to encounter vicious trolling on social media and other platforms, both online and in the street. Prominent Muslim leaders like Linda Sarsour—co-organizer of the Women's March on Washington, the largest political protest in U.S. History—face character assassination campaigns aimed at delegitimizing their work to unite and empower Muslims and all Americans.
For our second installment of The M Word, Wajahat Ali moderates a conversation between award winning fantasy novelist G. Willow Wilson, AJ+ journalist Ahmed Shihab-Eldin, poet Afaq Mahmoud, journalist Noor Tagouri, and former National Security Council member Rumana Ahmed, all of whom have chosen to use their stories and platforms to speak out for marginalized communities. This town hall-style discussion will explore the role artists, athletes, and other public figures choose to play when their own communities are under attack.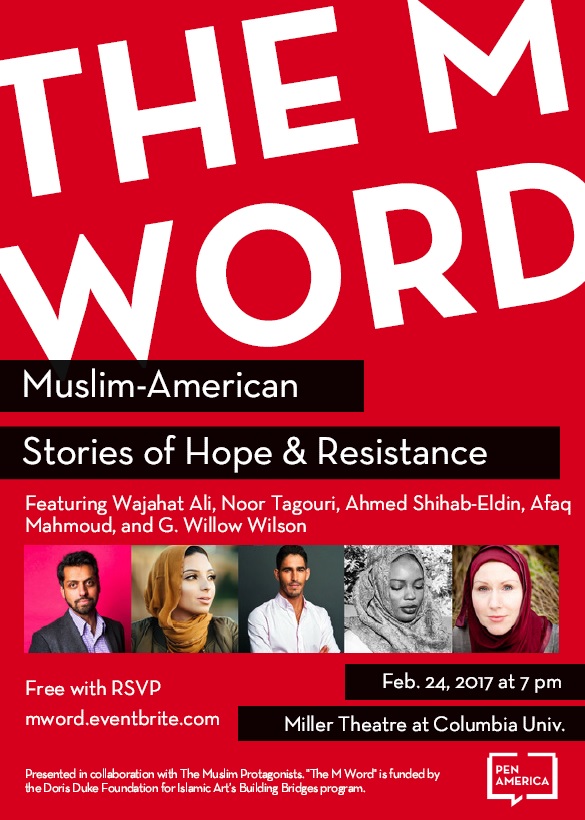 'The M Word,' a series funded by the Doris Duke Foundation for Islamic Art's Building Bridges Program, provides a platform for Muslim American writers to address audiences on their own terms—highlighting the art forms, narratives, and identities that influence their work—and to challenge the prevailing narrow representations of highly diverse Muslim communities comprised of more than three million Americans.

Programming note : Due to an unforeseen scheduling conflict Ibtihaj Muhammad will no longer be able to participate in the event.