Description
Jazzy Girls Luxury Hair Collection and g.l.a.m. LLC present
The Luxury 2013 All-Star Shopping Brunch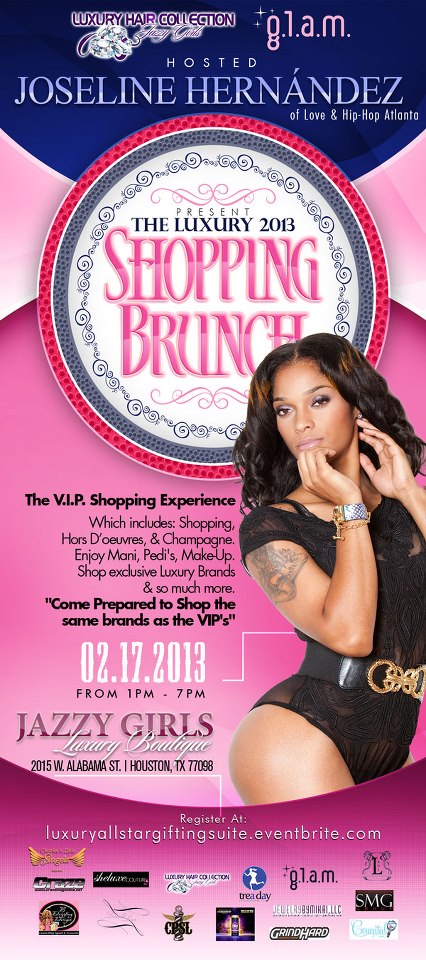 Looking for the perfect event to pamper yourself and enjoy a day of food, beverages and fabulous people? Look no more, the 2013 All-Star Shopping Brunch is that event!
Join us at The Luxury 2013 All-Star Shopping Brunch with celebrtity host, Love and Hip Hop Atlanta's, Joseline Hernandez!
The Shopping Brunch is open to both men and women and you and your girlfriends/guyfriends will enjoy the 'celebrity shopping experience' and gain VIP access to a selection of high-end brands like barber to the celebs, Vince the Barber, trendy boutique, lavishluxe and designer to the stars, Sheluxe! Plus many more brands from both popular and rising designers in hot fashion, unique jewelry, fabulous shoes, and trendy accessories.
The pampering event will also feature beauty experts and fashion consultants offering a range of glamour services, including hair and makeup, manicures, pedicures and massage. All guests of the Luxury 2013 All-Star Gifting Lounge & Shopping Brunch will enjoy complimentary hors d'oeuvres, wine and cocktails -- gifts, goodies and more.
Come out and celebrate the All-Star festivities the right way while enjoying the company of Joseline Hernandez and other fabulous people!