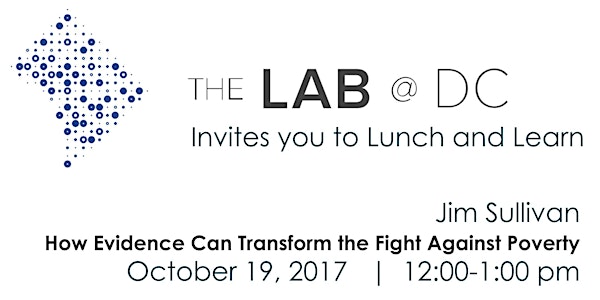 The Lunch @ DC with Jim Sullivan
When and where
Location
1350 Pennsylvania Ave. NW G9 Washington, DC 20004
Description
How Evidence Can Transform the Fight Against Poverty
Despite spending billions of dollars fighting poverty in America, we know very little about the effectiveness of programs that target those most in need. There is a growing effort to measure the impact of these programs so that we can do more to help the disadvantaged. Understanding what works at the local level is key to this effort. This talk will discuss ways that local providers can measure the impact of their programs, and how this evidence will change the way we fight poverty in America.
Professor James X. Sullivan is the Rev. Thomas J. McDonagh, C.S.C. Associate Professor of Economics at the University of Notre Dame. He has been a visiting scholar at the National Poverty Center at University of Michigan and a visiting professor at the University of Chicago. His research examines the effectiveness of anti-poverty programs at the national, state, and local level. He also studies the consumption, saving, and borrowing behavior of poor households, as well as poverty and inequality measurement. He has published numerous journal articles and book chapters, and his work has been covered by major media outlets including CNN, the Washington Post, Forbes, Fox News, Barron's, Bloomberg News, Slate, the Atlantic Monthly, the Wall St. Journal, the Chicago Tribune, National Public Radio, and others.
Sullivan currently serves as Director of the Wilson Sheehan Lab for Economic Opportunities (LEO), a research center he co-founded in 2012 that works with service providers and policymakers to identify evidence-based solutions to poverty in America. LEO evaluates program effectiveness using randomized controlled trial experiments and quasi-experimental methods. In 2015 he testified at a U.S. House of Representatives subcommittee hearing on evidence-based policy. Sullivan received his bachelor's degree from the University of Notre Dame and his Ph.D. in economics from Northwestern University.
The Lunch @ DC hosts leaders in their field to foster thinking and discussion with D.C. government leaders and the community on a wide range of topics related to evidence and experimentation in government. It's a time to listen, discuss, and socialize!