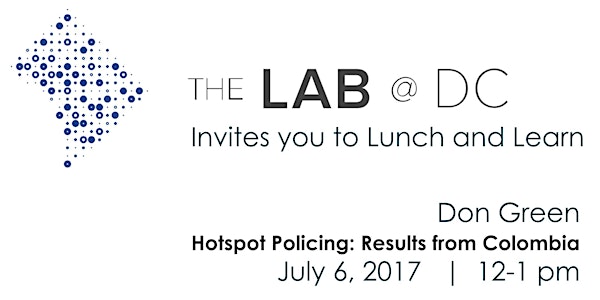 The Lunch @ DC with Don Green
When and where
Location
John A. Wilson Building 1350 Pennsylvania Avenue Northwest G9 Washington, DC 20004
Description
How do we deter crime? Hotspot policing, or when police spend increased time in higher-crime areas, has become one of the most common approaches to crime reduction. But is it effective or does it simply displace crime to less-policed areas, leaving the overall level of crime in the city unchanged? Green shares his findings from administrative crime data and victimization surveys in Bogota and Medellin, Colombia.
Donald P. Green is J. W. Burgess Professor of Political Science at Columbia University. Professor Green is the author of four books and more than one hundred scholarly articles spanning a wide array of topics: voting behavior, partisanship, campaign finance, hate crime, and research methods. Much of his current work uses field experimentation to study the ways in which political campaigns mobilize and persuade voters. With Alan Gerber, he conducted the first large-scale randomized field experiment on the effects of voter mobilization tactics on voter turnout and the development of long-term voting habits. He later collaborated on the first large-scale randomized study of television advertising in the context of a gubernatorial election campaign. Other innovative works use field experiments to assess the effects of civic education classes, soap operas, and criminal sentencing. With Alan Gerber, he co-authored a textbook on this research method titled Field Experiments: Design, Analysis, and Interpretation (W.W. Norton, 2012).
Prior to joining the faculty at Columbia University, Professor Green taught at Yale University (1989-2011), where he was A. Whitney Griswold Professor of Political Science and served five terms as Director of Yale's Institution for Social and Policy Studies. He was elected to the American Academy of Arts and Sciences in 2003 and has received numerous awards, among them the Heinz I. Eulau Award for best article published in the American Political Science Review. He co-founded the Experimental Research section of the American Political Science Association and served as its first president.
The Lunch @ DC hosts leaders in their field to foster thinking and discussion with D.C. government leaders and the community on a wide range of topics related to evidence and experimentation in government. It's a time to listen, discuss, and socialize!