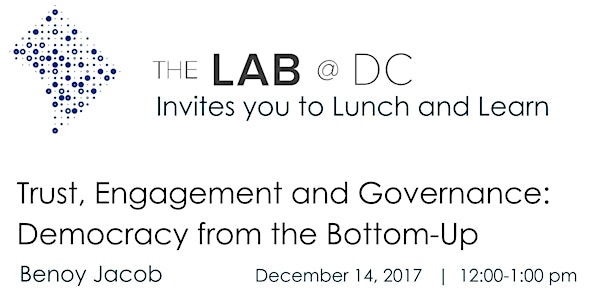 The Lunch @ DC with Benoy Jacob
When and where
Location
John A. Wilson Building 1350 Pennsylvania Ave. NW Room 527 Washington, DC 20004
Description
Trust, Engagement and Governance: Democracy from the Bottom-up: By most measures civic engagement is declining in America. One explanation for this, is that increased economic inequality has eroded our 'trust in others.' In this talk, Benoy will explore the relationship between trust and civic engagement and what it means for the governance of the country which, he argues, is driven from the "bottom-up." The talk will consider policy alternatives and analyses that might further facilitate trust and civic engagement in America's communities.
Benoy Jacob is an Associate Professor in the School of Public Policy and Leadership at UNLV's Greenspun College of Urban Affairs. He also serves as the Program Coordinator for the newly established Urban Leadership Program. Benoy earned his PhD (in 2008) at the University of Illinois – Chicago (UIC), where his dissertation focused on the intersection of land-use regulation and tax systems. His work was awarded a Lincoln Institute Land Policy dissertation fellowship. Benoy's research trajectory focuses on the growth and governance of cities; in particular, public finance, state and local relationships, and social equity and diversity. His research has been published in the National Tax Journal, Urban Affairs Review and the Public Administration Review.
Benoy is active in many nationally recognized organizations. He serves as an executive committee member for the American Society of Public Administration's (ASPA) Section on Intergovernmental Administration and Management. He also serves as a Research Advisor to the Alliance for Innovation, which is a national professional organization that represents a subset of local governments in the ICMA (International City Managers Association). He also sits on the editorial boards for the Urban Affairs Review Journal and the State and Local Government Review Journal.
The Lunch @ DC hosts leaders in their field to foster thinking and discussion with D.C. government leaders and the community on a wide range of topics related to evidence and experimentation in government. It's a time to listen, discuss, and socialize!