The Lunch Circuit: January 2020, Kris Wheeler

Wednesday, January 8, 2020 from 11:30 AM to 1:00 PM (EST)
Event Details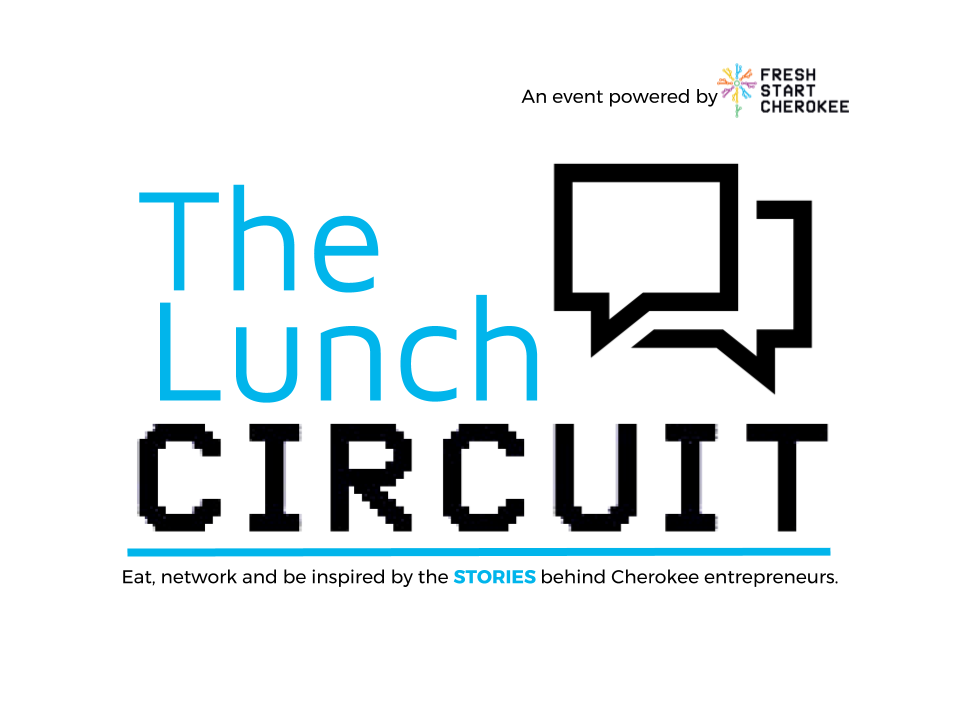 Powered by Fresh Start Cherokee, located at The Circuit, and hosted by the Cherokee Office of Economic Development.

---
 The Lunch Circuit is the first official event series of Fresh Start Cherokee. It is an exclusive monthly lunch gathering to build community and learn the stories behind Cherokee County entrepreneurs (lunch included in ticket price).
Entrepreneurs can meet other local entrepreneurs, both current and aspiring, share a meal and learn the story of a Cherokee County entrepreneur. At each Lunch Circuit, we interview a different entrepreneur on wins, losses, and lessons learned on their adventure. Then, we finish up with audience Q&A giving up-close-and-personal and exclusive access to the community.
UP NEXT ON JANUARY 8, 2019 - Kris Wheeler, documentary filmmaker and freelance entrepreneur.
Kris Wheeler is an award-winning documentary filmmaker and commercial content creator. The entrepreneurial journey of this Cherokee County native is rooted in a foundation of journalism and storytelling... and has been in a state of constant growth and evolution since launching his first business venture in 1994. 
In the past year alone, Wheeler's film work has garnered coverage in national publications and media outlets, including: Billboard Magazine, USA Today, Garden & Gun Magazine, Paste Magazine and NPR World Cafe. 
In November 2018, his film, Revival: The Sam Bush Story, became a hit with Amazon viewers, quickly climbing into the "Top 10 Best Sellers" list for documentaries. Revival earned Wheeler and co-director Wayne Franklin, four "Best" film awards on the indie film festival circuit, including "Best Music Documentary" in its World Premiere at the Nashville Film Festival. 
Wheeler's storytelling skills were developed early in his career, in route to becoming an award-winning newspaper journalist and feature writer. After covering the Summer Olympic Games in Barcelona in 1992, he moved quickly through the publishing ranks, and was named the following year as Managing Editor at Rural Press USA, the world's largest publisher of agricultural magazines. 
At age 32, Wheeler kicked off his journey as an entrepreneur, publishing a series of magazines over the ensuing years, including Atlanta House & Home and Coastal Homes & Lifestyles. 
In 2008, he walked away from the publishing world to pursue a life-long dream of filmmaking. Since then, he has gone on to write, direct and produce three feature-length documentary films, while establishing a successful production company focused on creating story-driven content for a diverse range of clients, including ad agencies, global corporations and national healthcare brands. 
Wheeler's current projects include two new on-demand TV series — "Ride To Extraordinary," currently available on Amazon; and "Undiscovered," coming to Amazon later this year. 
Career highlights include: 
● Reporter/Feature Writer: Northwest Florida Daily News. 
● Cockpit ride-along with The Blue Angels (Feature Story). 
● Covering the 1992 Olympic Games in Barcelona for Freedom Newspapers. 
● Managing Editor — Rural Press USA. 
● Publisher — Atlanta House & Home Magazine, Agri-Alternatives Magazine, Cattle South Magazine, Coastal Homes & Lifestyles Magazine. 
● Covering the World Festival of Sacred Music in Fez, Morocco for CNN's Inside Africa. 
● Writing, producing, co-directing three feature-length documentaries, including Revival: The Sam Bush Story (four "Best" film awards/Amazon Top-10 Best Seller). 
● Creator/Director — Ride To Extraordinary, a new on-demand TV series available on Amazon. 
● Creator/Director — Undiscovered, a new on-demand TV series coming soon to Amazon.
Here is how this event* will flow:
11:15 am - Check-in begins, Networking
11:30 am - 11:50 am Lunch and Conversation
11:50 am - 12:00 pm Welcome & Introduction
12:00 pm - 12:40 pm Live Interview with our featured entrepreneur.
12:40 pm - 12:55 pm Audience Q&A
12:55 pm - 1:00 pm Conclusion, announcing our next month's entrepreneur
*Event cost is $20/person and includes lunch, community, and the program. Seats are limited to 30. We prefer for attendees to be an aspiring or current entrepreneur.
This is one in a series of Fresh Start Cherokee programs designed to create a culture of entrepreneurship in Cherokee County and help entrepreneurs launch and grow their business and startup close to home. Hosted by the Cherokee Office of Economic Development and located at The Circuit.
---
Please reach out with any questions or ideas to:
Jonathan Chambers
Community Manager of Entrepreneurship for the Cherokee Office of Economic Development.
770.345.0600 | jchambers@cherokeega.org
---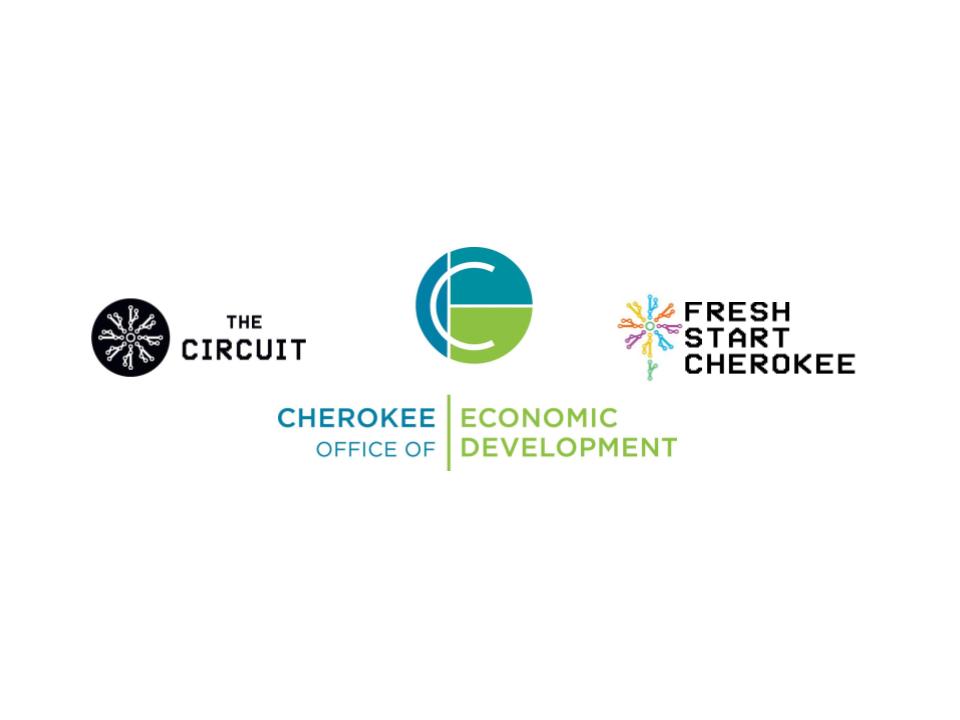 Save This Event
When & Where

The Circuit
1 Innovation Way
Woodstock, GA 30188


Wednesday, January 8, 2020 from 11:30 AM to 1:00 PM (EST)
Add to my calendar
Organizer
Fresh Start Cherokee is an initiative of the Cherokee Office of Economic Development designed to provide educational programming and support for startups in Cherokee County. The program is envisioned to speak to entrepreneurs across the county and help in educating the next generation about entrepreneurship and startups. Whether you're a first-time entrepreneur, a student looking to learn more, a seasoned entrepreneur or executive with advice to give, or an angel investor, we invite you to join us in building your startup community close to home.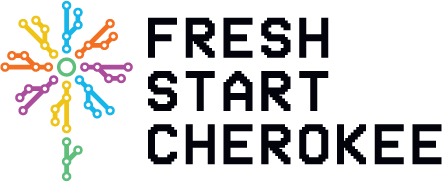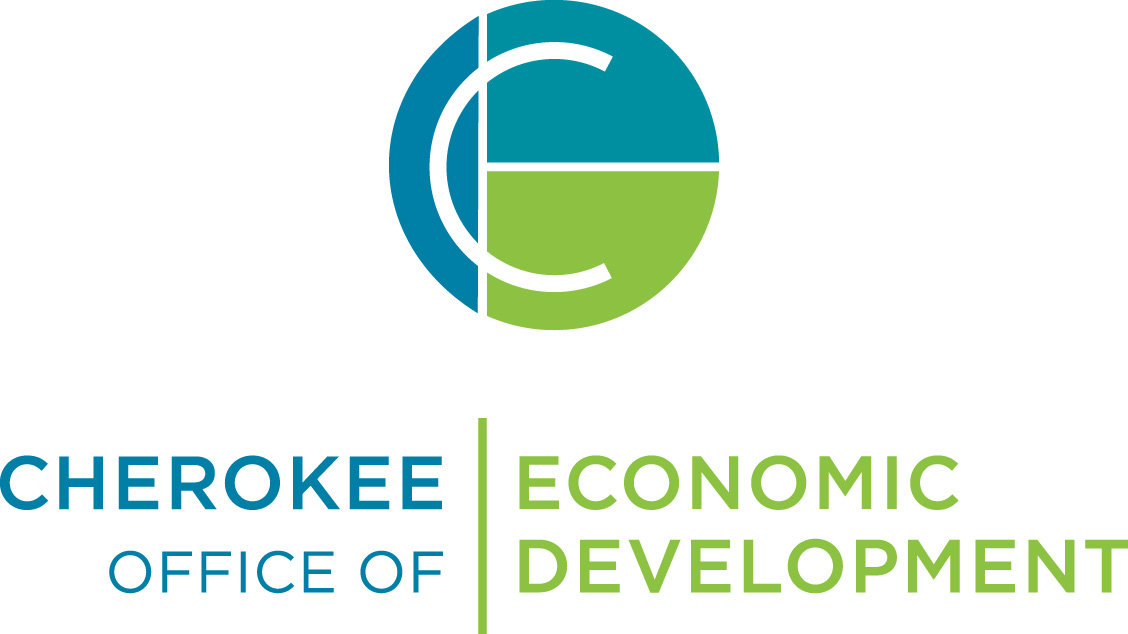 -------------
Fresh Start Cherokee will offer a host of programs to help entrepreneurs launch and grow their startup and business close to home. These programs will include things like workshops, lunch 'n learns, seminars, speaker panels, networking events, mentorships, Meetup groups, conferences, classes, a coding school, a makers lab and other innovation and entrepreneurship initiatives.
The first physical product of Fresh Start Cherokee is The Circuit: a coworking and innovation hub in Woodstock, Ga. and a collaborative partnership between Chattahoochee Technical College (CTC), the Cherokee Office of Economic Development (COED) and the Woodstock Office of Economic Development (WOED).