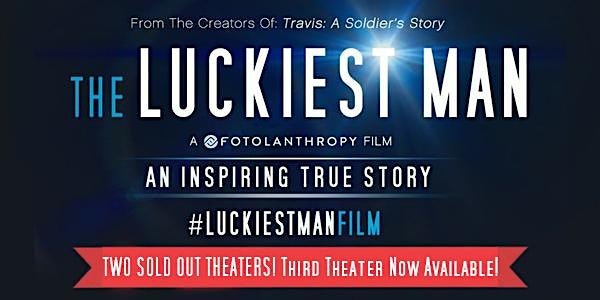 The Luckiest Man Red Carpet Film Premiere
When and where
Location
Angelika Film Center 5321 East Mockingbird Lane Dallas, TX 75206
Refund Policy
Contact the organizer to request a refund.
Description
Thank you to everyone for your generous support of this special event honoring John Paine. Due to an incredible response, this event has SOLD OUT three theaters!

Please be advised that tickets will not be available for sale at the door.
You will find information for any future screenings on our website and Facebook page:
www.fotolanthropy.com | www.facebook.com/fotolanthropy
Just Announced: Special Musical Performance by Jason Castro
**Click image to watch the official trailer**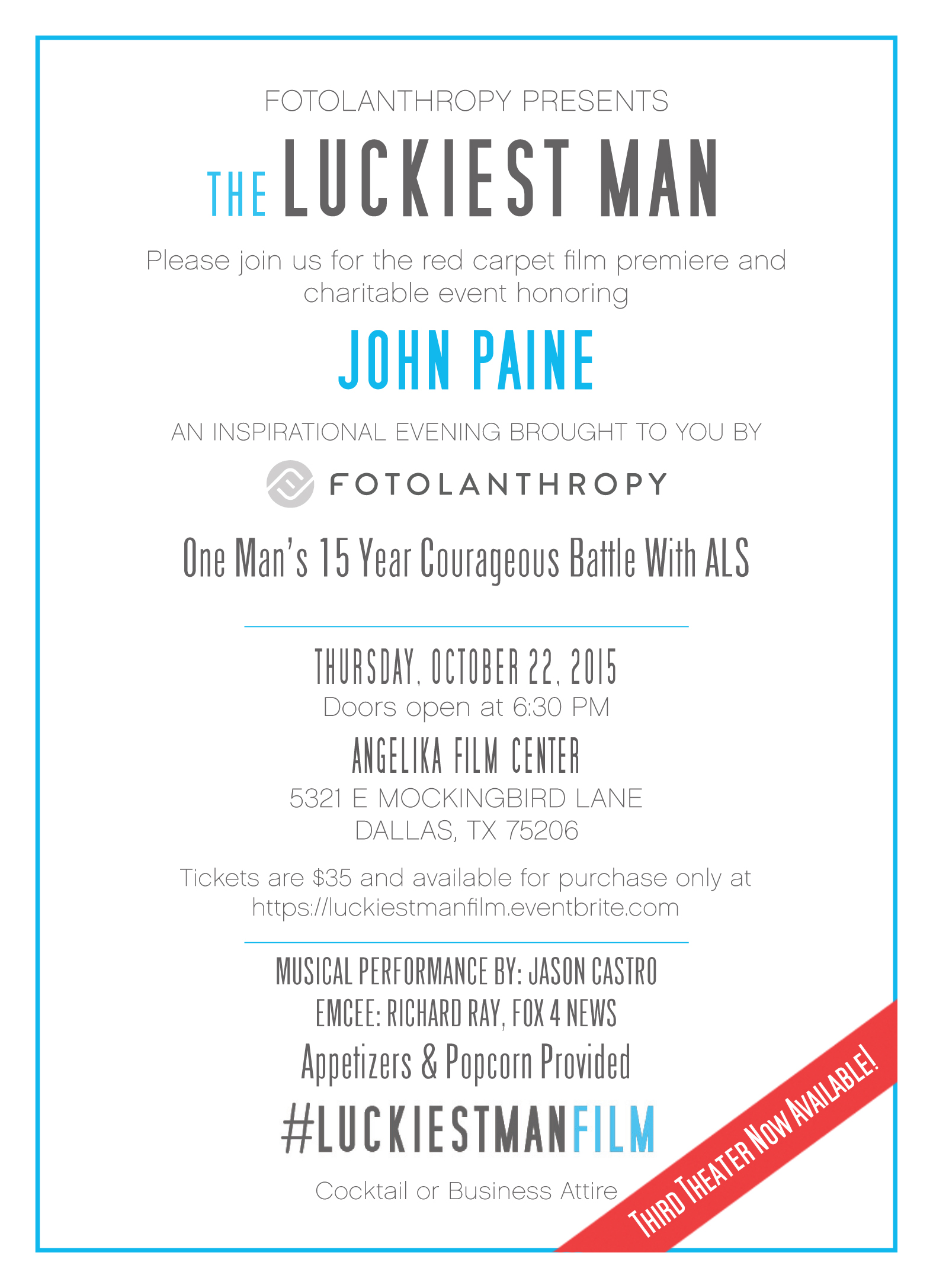 Honorary Chairs:
Bart Hansen, Founding Board Member of Ransomed Heart Ministries
Don Stephens, President of Mercy Ships
Neil Tomba, Senior Pastor of Northwest Bible Chruch
David Vobora, Founder of Adaptive Training Foundation
When and where is the event?
October 22, 2015
Angelika Film Center, Mockingbird Station
5321 East Mockingbird Lane
Dallas, Texas 75206
Doors will open at 6:30pm
What is the schedule of for the evening?
6:30 PM: Check in, Pre Reception, Red Carpet
7:00 PM: Welcome, Introduction of the Paine Family and musical performance by Jason Castro
7:30 PM: Seating Begins
7:45 PM: Screening of The Luckiest Man
9:00 PM: Special message from John Paine
9:05 PM: Dismissal
Is this event open to anyone or do I have to receive an invitation?
The premiere is open to the general public; however, seats are limited. Tickets are available only on Eventbrite.com
Do I have to bring my printed ticket to the event?
Yes, please bring your printed ticket to the event. You will receive a wristband to enter the red carpet event.
Can I purchase my ticket at the door?
No. Seating is limited, and it is requested that you purchase your ticket online. Our premiere event for Travis: A Soldier's Story in 2013 sold out!
I am unable to attend the Dallas film premiere. Is there still a way for me to donate to the benefit?
Thank you for your consideration! Yes. If you are unable to attend but would like to make a donation to the benefit you may do so on Eventbrite.com or on our website: http://fotolanthropy.com/donate/
Is my donation tax-exempt?
Yes! Fotolanthropy is a not-for-profit organization recognized as tax-exempt under Internal Revenue Code secion 501(c)(3). Donations to Fotolanthropy are tax deductible to the extent permitted by law. Tax Identification Number: 46-1376576
Is there an age limit to enter the event?
While the film is family friendly, due to the subject of the film and the nature of the event we do recommend that no children under the age of 12 attend the premiere.
What is the attire?
Cocktail or business attire.
Is the red carpet available for everyone?
All guests have access to the red carpet and photos will be available online after the event.
Will the Paine family be in attendance?
Yes! The Paine family will be in attendance. You will have the opportunity to meet our guests of honor and also watch the film with them!
Will I miss any portion of the event if I am in the other theater?
No. The introduction of the family and remarks will be during our pre-screening reception so that everyone will have a chance to meet the family and hear their words.
Where can I contact the organizer with any questions or press inquiries?
Feel free to email info@fotolanthropy.com with any questions or press inquiries.
Is there a way for me and/or my business/organization to become involved with this screening?
Yes. Sponsorship opportunities for both businesses and individuals are available for this event. Please email info@fotolanthropy.com for detailed sponsorship tier information. Sponsorship options include various levels of logo/name reciognition, complimentary VIP tickets to the premiere, sponsorship of seating at the premiere for ALS patients, and more.
Where can I get the latest updates?
Fotolanthropy.com/LuckiestManFilm
Facebook: Fotolanthropy
Twitter: @Fotolanthropy
Instagram: @Fotolanthropy
#luckiestmanfilm
Where can I find more information about Fotolanthropy?
Please visit www.fotolanthropy.com to learn more about this non-profit organization that has created The Luckiest Man
I want The Luckiest Man to screen in my town. Who do I contact?
Please email info@fotolanthropy.com to learn more about future screenings.
What are my parking options for the event?
The Angelika is conveniently located in Mockingbird Station. Free public parking is available in parking garages adjacent to the theatre. If you are in the City of Dallas, we recommend considering Uber for an easy transportation option. Complimentary valet is also available.
What hotels are closest to the Angelika?
5300 E Mockingbird Ln
Dallas, TX 75206
Magnolia Hotel | Dallas Park Cities
6070 North Central Expressway
Dallas, Texas 75206
A special thank you to our sponsors!
Fotostrap
Splendor Films
Rusty Nail Creative Studio
Thomas Reprographics
Urban Taco
Cafe Express
Tiff's Treats
Rockfish
Starbucks
North Texas Dental Implants/ The Bob McNeill Family
Maile Shea
James Donald Duke Family Partnership
Accura Systems Inc
Steve and Donna Jenkins
Robert G. McNeill DDS
Uber
Piccolo Mondo