Event Information
Location
Venue to BE ANNOUNCED!
LOCATION TBA
Holland, MI 49423
Description
The LS Youth Empowerment Series is a 6 week program TEACHING FROM REAL LIFE EXPERIENCES! Instructor LS (Lalo Salcedo) will speak from real life experiences and use his real life experiences to help empower, inspire, and guide youth to THINK positive, MAKE positive decisions, so they can LIVE a more POSITIVE LIFE.
We will meet every Saturday 12:00pm-2:30pm for 6 weeks:
February 11
February 18
February 25
March 4
March 11
March 18
The schedule line-up for each meeting is currently being organized and I, LS, will post it to this site by Janurary 1st. This 6 week program is only $45. The $45 sign-up fee covers all 6 weeks + snacks + drinks + material + more. We will cover a lot of topics and the kids will meet new people, enjoy snacks and drinks, build confidence, gain wisdom, and gain a lot during these 6 weeks. I guarantee this series will be an investment in your child's life and the community + it doesn't end with this 6 week program, it's just the beginning.
SPACE IS LIMITED! RESERVE YOUR CHILDS SPOT ASAP!
Keep in mind 6 weeks divided by $45 is only $7.50 per week. A small price to pay with lots to gain.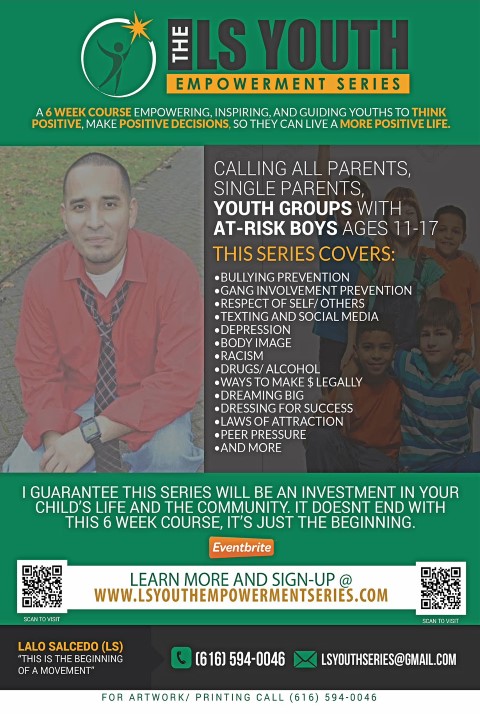 Date and Time
Location
Venue to BE ANNOUNCED!
LOCATION TBA
Holland, MI 49423