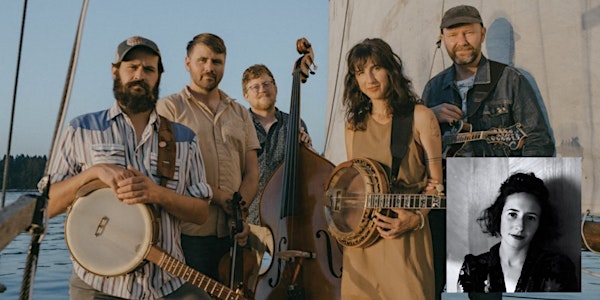 The Lowest Pair, Ollella @ BALLARD HOMESTEAD
Abbey Arts presents: The Lowest Pair, Ollella live at the Ballard Homestead
When and where
Location
Ballard Homestead 6541 Jones Avenue Northwest Seattle, WA 98117
Refund Policy
Refunds up to 7 days before event
About this event
During the spring and summer of 2020, The Lowest Pair (Kendl Winter and Palmer T. Lee) found themselves camping and sharing songs around the fire with two dear friends and incredible musicians Adam Roszkiewicz and Leif Karlstrom of the instrumental duo Small Town Therapy. Founding members of the progressive string band Front Country, multi-instrumentalists Adam and Leif bring a new dynamic palette of colors to Kendl and Palmer's own instrumental prowess and expressive lyricism.
After sharing a handful of new songs and tunes, (and making immediate fans in the campground) there was no doubt that a record was in the future, and In August of 2020 they spent a week out in Enterprise, Oregon recording at the OK Theater.
The new record "Horse Camp" leans towards each member's string band roots and showcases brand new Lowest Pair songs Kendl and Palmer wrote during the strange times of the pandemic. The album also includes an instrumental by each musician involved. It's an awesome display of how a simple collaboration of friends can result in music that is as organic as it is undeniable.
"The Perfect Plan is masterfully crafted." -American Songwriter
"Ollella's career as a musician started early, when she sang before she could talk. Trained as a classical cellist since the age of nine, the Seattle indie-folk musician merges her technical background with authoritative vocals, live-looping, and improvisation. Described as "really outstanding" by NPR Music's Bob Boilen and "so tastefully done" by Michelle Zauner (Japanese Breakfast), Ollella blends the acoustic with the contemporary, folk with pop, and tenacity with softness. Her playing has been featured in films screened at Film Festivals such as Sundance and Aspen Film Fest, on recordings with others including Grammy-winning artist Peter Kater, and has shared the stage with popular Americana acts such as the Shook Twins and Rising Appalachia.
"Ollella" is pronounced oh-lel-uh."
-Artist Bio
7p doors, 7:30p show
All ages, mostly seated
@ Ballard Homestead
--------------------------------------------------
EVENT & VENUE INFO:
Check tickets for show times
Ballard Homestead is ADA accessible
Service animals as defined by the ADA are allowed. Service animals are defined as dogs that are individually trained to do work or perform tasks for people with disabilities.
Please refrain from talking during songs.
Please enter quietly if the show has already begun.
Please leave quietly, it's a very quiet neighborhood. I sense a trend here.
Quiet Picnics Welcome. Big surprise there right?
Light snacks & non-alcoholic beverages may be available for purchase, but no other food or bar service at Ballard Homestead shows.
We have a mix of normal chairs, some tall chairs, and standing room in back.
Seating is not reserved unless noted.
Please limit photos during the show so as to not distract other attendees from the experience.
We are an all ages venue. Kids 10 & under are free at Abbey Arts concerts & arts events unless noted.
Entering the venue indicates agreement to adhere to the Abbey Respect Policy. All are welcome.
--------------------------------------------------
ABOUT ABBEY ARTS, SEATTLE:
NONPROFIT 501C3, NON-RELIGIOUS, EST. 2005
Presenting welcoming music, arts & cultural experiences for people of all ages & incomes.
Home Venue: Fremont Abbey, 4272 Fremont Ave North, Seattle, WA 98103 / 206-414-8325 Ballard Homestead: 6541 Jones Ave NW, Seattle | + South Park Hall, Woodlawn Hall Greenlake, UHeights Auditorium (UDistrict), St Mark's Cathedral (Capitol Hill), & more
--------------------------------------------------
See Updated Public Health Safety Info at the bottom of this page under Abbey Arts Presents. All Abbey Arts venues adhere to WA State & King County health guidelines. Thanks for helping keep our community safe!
--------------------------------------------------