Description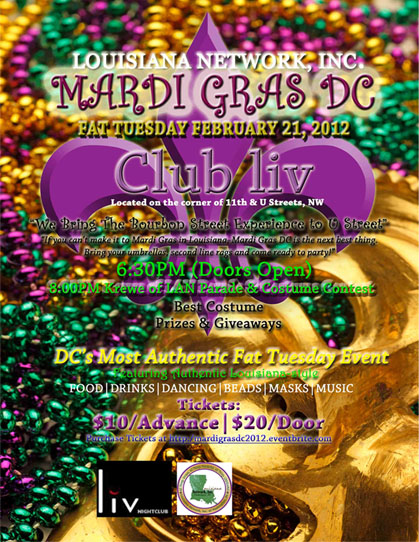 Join us for Mardi Gras DC 2012
We're bringing Bourbon Street Flavor to the DMV for Mardi Gras!!!
Club LIV
Doors open at 6:30PM
Food | Beads | Masks | Music
If you can't make it to New Orleans come on down to U Street and bring your umbrellas, second line rags, and lets celebrate!!!!
Tickets: $10/advance | $20/ at the door
Organizer of The Louisiana Network Presents: Mardi Gras DC 2012!
The Louisiana Network, Inc., is one of the most progressive and diverse interest groups in the Washington Metropolitan Region. The Louisiana Network is a nonprofit organization, which provides Washington, D.C. metropolitan area professionals of Louisiana heritage or affiliation, an arena for community and social networking opportunities.
Embracing a few hundred individuals hailing from the great state of Louisiana, the organization seeks to preserve their unique native heritage at home and abroad.