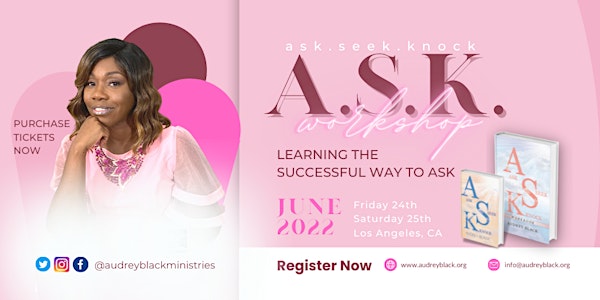 The Los Angeles A.S.K. Workshop /Fri .10:30am & 6:30 PM / Sat.10:30 AM
THE A.S.K. WORKSHOP is here! This eye-opening event focuses on the principles of prayer to bring your requests to pass. Come and Expect God!
When and where
Location
Omni Ministries 12601 Wilmington Avenue Compton, CA 90222
About this event
The A.S.K. workshop is a two-day event, consisting of four sessions filled with faith, and interactive teaching. It gives you insight on how to request from God and it reveals information regarding prayer that will unlock doors. During this workshop you will learn to:
Session 1
Recognize God's Voice
Understand God's Ways
Prevent Asking Amiss
Session 2
Promote Personal Growth on Purpose
Implement Principles to Access Promises
Session 3
Recognize Confusion is Planned for the Enemy.
Mix Faith With What You Heard
Session 4
Obtain Your Desires from the Lord
Enjoy the Benefits of Delighting in Him
As you join us to discuss the intricacies of the book ASK, it will assist you with posturing yourself in God's will. (Topics are subject to change without notice)
Friday - June 24th, 10:30 am Session 1
Friday - June 24th, 6:00 pm Session 2
Saturday - June 25th, 10:30 am Sessions 3 &4
Order the full A.S.K. bundle and receive it all! Both days, the A.S.K book, the A.S.K workbook, the T-Shirt and the book marker.