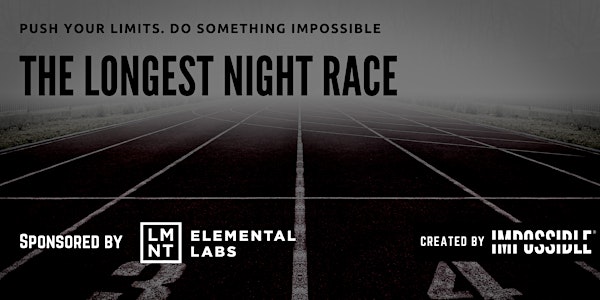 The Longest Night Race - IMPOSSIBLE® Race
Watch the trailer here. IMPOSSIBLE's "The Longest Day" Race is a race from sun-up to sun-down. Wherever you are, when the sun comes up on t
About this event
IMPOSSIBLE's "The Longest Night" Race is a race from sun-down to sun-up. Wherever you are, when the sun goes down on the Winter solstice - start running
Step 1. Get the sun-down and sun-up times for you city here (https://www.timeanddate.com/sun/usa/austin?month=6)
Step 2. Get your running shoes and a GPS watch and clear this with your local track.
Step 3. December 21st - We run.
Count your laps for your quarantine number.
 No course. No obstacles. No spectators. No medals.
Just you and the track. Go.
FAQs
Why are you charging for a virtual event?
Two reasons.
Number 1 - Put your money where your mouth is. If you sign up for something, you're more likely to do it.
Number 2 - we're going to send out some dope exclusive merch to people who sign up so the people who know - know.
What's the refund policy?
All sales are final. No backing out - sorry.